Few have been as proud of a beer can as the team at TWeatherford Inc. A bowtie-shaped lump of aluminum, striped with Budweiser's red and white label, sits in a corner cabinet in the company's Noblesville lab.
The beer giant's parent, AB InBev, unveiled the thin-waisted can in May and trumpeted it as a "revolution" because it required less aluminum to make. The can also holds slightly less beer than the traditional aluminum vessel, but goes for the same price.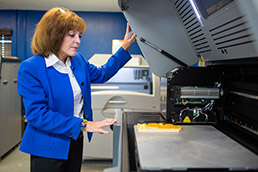 TWI co-owner Cindie Weatherford (IBJ photo/Aaron P. Bernstein)
TWeatherford Inc., or TWI, at a mere 10 employees and 7 years old, played a role in that revolution by providing the prototypes that traveled around the country for feedback.
"All their market research—'Do you like the can? Do you not like the can?' They go all around to all these colleges and universities to do this stuff. And it's lots of money, and it's lots of time," said Tim Weatherford, who owns TWI with his wife, Cindie. "So they did it completely with prototype parts and never built a can. To them, it was a huge cost savings and it was getting products to market quicker."
The company launched in 2006 as a reseller for additive manufacturing equipment, often called 3D printers or rapid prototypers.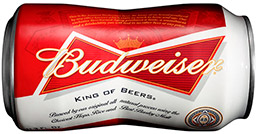 TWI's 3D printers have made everything from a prototype for a new style of beer can … (Photo provided)
The Weatherfords say they've done well with the machinery sales and rentals as they approach $3 million in revenue this year.
However, they expect revenue and employee head count to double in the next few years as the company begins providing actual manufacturing services on a larger scale.
With that expansion, the Weatherfords are eyeing new cities. They've hired a sales rep to pursue business in Detroit. Cleveland, Louisville and Nashville, Tenn., could be next.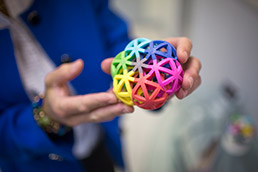 … to decorative widgets that demonstrate the machinery's complexity. (IBJ photo/Aaron P. Bernstein)
"I hate to use the phrase 'game changer,' but it's what we call disruptive technology," Cindie Weatherford said. "It is the biggest thing since the Internet. It's changing the way you make things. It's changing your competitive position as a manufacturer."
Industry sparks interest
TWI, which has a home office in Cicero, opened a lab last year in Noblesville that serves as both a showroom for selling machines and a production center.
"We're printing parts for our customers because their printer might be down or they have not justified a printer yet," Cindie Weatherford said. "We have not gone out and knocked on a door and said, 'Hey, can we print your parts?' because that was not the intent. The intent was to sell a printer."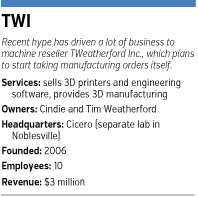 Some of 3D printing's biggest players, including TWI's machine supplier, 3D Systems, started by making and selling the printers, then began to provide manufacturing services.
The entire 3D printing industry grew 28.6 percent globally in 2012, according to the research firm Wohlers Associates in Fort Collins, Colo.
Production service revenue outpaced machine and material sales $1.2 billion to $1 billion, respectively, said Terry Wohlers, the agency's president and principal consultant.
Some of the world's largest manufacturers, including General Electric, have adopted 3D printing. President Obama rallied interest in his February State of the Union speech when he described the technology as a way to "revolutionize the way we make almost everything."
Initial failure
The 50-something parents of four admitted their hesitations after they previously dabbled in the technology—unsuccessfully—in the 1990s before they shifted to jobs in the software industry.
Tim, an IUPUI-educated mechanical design and technology engineer, was vice president of sales for Tempe, Ariz.-based Systems 3 Inc. Cindie, who has a business degree from Indiana University, worked in maintenance support before the two ventured into their own 3D printing company.
"Several people thought we were crazy to think about getting back into it because we had such a bad experience with it early on," Tim said. "The technology wasn't there yet."
But the machines cost less than they did a decade ago. Printers that once cost $1 million have come down to about half that or less, and they can work with more materials.
At the same time, the Weatherfords say, they've picked up business as R&D has become more complicated for manufacturers.
Previously, companies would come up with a new design, then retool their equipment to make a prototype or send that work to an independent shop. Those shops have moved overseas where the labor is cheaper, but shipping takes longer and product quality is lower.
"Especially as the economy went down the tubes," the Weatherfords said, "a lot of the tool shops went out of business in southern Indiana and along the [Ohio] River. Those that did not go out of business were bought by larger customers.
"It leaves you with a shortage of machinists, a shortage of tool shops, and so everyone's trying to figure out, how do we beat China? How do we change the game again?"
Manufacturers sign on
It still took a little time for the Weatherfords to fully embrace 3D printing. They started TWI as a reseller for computer-aided design and other engineering software.
A deal with Indianapolis-based Lawler Manufacturing Co., which makes valves that control water temperatures, confirmed that the couple should pursue 3D printing more.
Bob Eveleigh, Lawler's president, said it was too expensive and time-consuming for his company to wait on a tool shop in another country to make prototypes. So he turned to TWI to create a part—and ultimately sell a machine.
Rather than spending $200,000 on a prototype, Lawler can now keep those costs to a few thousand dollars with 3D printing, Eveleigh said.
"That whole industry is in its infancy, and it's really going to change the whole business," he said.
Since Lawler, TWI has scooped up business with companies as large as Cummins Inc. and Roche Diagnostics.
Cindie, who serves as CEO and president, has 51 percent of the business in her name, and Tim, the vice president, has a 49-percent stake. Cindie's ownership is enough to declare it a Women's Business Enterprise—a certification that grants the company preference in government contracting.
Department of Defense contracts or subcontracts—a $366 billion cash pot in fiscal 2012—would be a major boon. But the company takes on customers as small as individual inventors wanting to make a prototype before they start a business.
"We always tell anyone when they come on board: 'Everybody's in sales. You are continually a representative of our company and you're always selling,'" Cindie said. "In other words, 'Keep your ears open. If you hear a customer need when you're fixing a printer, we'd better hear about it.' "•
Please enable JavaScript to view this content.