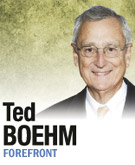 Those of us who have seen the progress Indianapolis has made over the last several decades are justifiably proud of what has been accomplished. At the same time, most thoughtful observers agree on the need to address a range of problems—notably crime, fiscal pressures, education, transportation and neighborhood development.
A recent study identifies an equally disturbing statistic that Indianapolis shares with Cincinnati, Columbus, and other metropolitan areas primarily in the Midwest and Southeast.
According to the study, Indianapolis ranks near the bottom of U.S. cities in the opportunity for upward economic mobility. Specifically, the percentage of Indy children raised in households in the bottom 20 percent of income who achieve middle- or upper-class incomes is significantly lower than the national average. To make matters worse, the U.S. average is below that of many other developed countries.
Interestingly, mobility was not correlated with the wealth of the community. Areas with higher average incomes did not display significantly higher opportunity for advancement. And mobility was not materially enhanced in areas that had more generous tax credits for the disadvantaged or higher taxes on the wealthy.
The makeup of the citizenry seems equally irrelevant. Areas with larger minority populations showed lower mobility than other cities, but mobility within a metropolitan area was similar among racial groups.
So what did seem to matter in making a metropolitan area fulfill the promise of America as the land of opportunity? Two of Indy's hot topics—public education and public transportation—turn out to be center stage.
As you would expect, the study concluded the quality of an area's primary and secondary schools is one factor highly correlated with higher mobility. Better-educated kids do better. Similarly, children fared better in cities with stronger support networks—for example, higher percentages of two-parent households and more engagement in religious and community groups.
A good public transportation system enhances opportunity. Inability to get to a better job in a reasonable time is a deterrent to advancement. And there is collateral economic and social damage apart from the inconvenience to those willing to endure long commutes. Hours spent riding a bus to work leave less time to raise children or obtain skills to qualify for a higher-paying job.
Metro areas where different income levels live relatively close to one another showed increased upward mobility. In contrast, if poorer households are concentrated over large areas, fewer escape the lowest income levels.
A recent book presents a more optimistic view of urban America. Perhaps as a result of governmental gridlock at the federal and state levels, "Metropolitan Revolution" points to metropolitan areas across the country that have emerged as innovators, finding paths to prosperity and improved quality of life tailored to their unique mix of strengths.
The book notes a dark side. Legislatures in some states regard this progress more with envy than pride and become obstacles, not facilitators.
To the extent that phenomenon is true of Indiana, it is extremely short-sighted. The Indianapolis metropolitan economy is an important economic engine that contributes far more to the state's budget and quality of life than it takes out. It must be allowed to grow and thrive as a place of opportunity and hope to benefit the entire state.
For example, if improving public transportation will further that goal, the state should get out of the way.
The mobility study is described at http://www.nytimes.com/2013/07/22/business/in-climbing-income-ladder-location-matters.html?pagewanted=all&_r=0.•
__________
Boehm is a retired Indiana Supreme Court justice who previously held senior corporate legal positions and helped launch amateur sports initiatives in Indianapolis. Send comments on this column to ibjedit@ibj.com.
Please enable JavaScript to view this content.