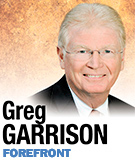 They will call it Northern Colorado if they can get the job done. Ten counties in the rich area north of Denver produce almost all the agriculture and most of the gas and oil that comes from the Mountain State. Its residents pay well over half the taxes but garner a fraction of the representation in the Democratic-controlled Legislature.
The cities and suburban areas surrounding places like Denver and Colorado Springs enjoy a powerful plurality of legislators, and recently those lawmakers have turned so sharply left that the folks up north have had enough.
Not seceding but instead separating like West Virginia did during the Civil War and Maine did from Massachusetts in the nation's formative years, they claim to have been so disenfranchised by the cliff dwellers and the lefty hacks that they want to form their own state and rid themselves of the socialist agenda they claim is choking them.
Well, it might happen and it might not, but such issues as mandatory implementation of alternative energy and patently unconstitutional curtailment of gun rights nettle folks in the producer class all over the country.
And, of course, as all these high-minded and authoritarian scams continue to pop up even in the face of huge popular rejection, there are people throughout the heartland who are ready to take their productivity, their religious faith, their constitutional views of limited government, and their tax contributions, and blow that popsicle stand of statist graft and corruption.
Two questions persist, and really define the deep conflict boiling below the societal surface: Do these productive folk owe a duty to the cities and consumers whose needs they provide? Second, if they find a way to stop the subsidies of what they consider to be gluttonous and immoral demands, what will happen to all those takers?
As to duty, the answer is emphatically yes if you ask the people benefiting from the alphabet soup of programs and handouts. As we know, nearly half the population pays no federal income tax, and the top 10th of 1 percent pay nearly a quarter of all the feds collect—and consume.
Moreover, the number of people deriving their sustenance from disability, unemployment compensation, food stamps, welfare and a whole host of other wealth transfers more closely approaches half of us every year.
If you behave yourself and produce, the answer is likely "the hell you say," or some iteration thereof.
These people also use up massive taxes for police and other criminal justice necessitated by the ridiculous amount of crime perpetrated in the cities. Makes a fella wonder if there's some kind of correlation between piling people up on top of one another and the number of bad deeds they commit.
Of course, mass secessions are difficult to accomplish, requiring both state and federal legislative approval, and we need not wonder how the beneficiaries of all that productivity will react to the specter of having to start paying market prices for life's necessities.
But the second question is the show stopper. Politicians long ago perfected the fine art of taking; maybe it's time to try some tough love on our growing drone class.
If staying home and receiving everything from flat screens to medical care without cost is no longer an option, might chaos be the result? The makers say "so be it"; enough already. Without some fundamental reordering of things, that production will eventually cease.•
__________
Garrison is a partner in Garrison Law Firm LLC in Indianapolis and a talk show host on WIBC-FM 93.1. Send comments on this column to ibjedit@ibj.com.
Please enable JavaScript to view this content.