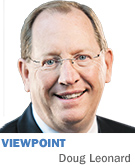 Following the federal government's release of data on hospital charges for Medicare patients, much has been written nationally about how health care providers determine prices, the variation in charges for the same procedure, and the willingness of hospitals to "come clean" on the issue of price transparency.
As president of the Indiana Hospital Association, representing 164 Hoosier hospitals and health systems, we fully embrace price transparency. Our members welcome the opportunity to help patients better understand the costs associated with the round-the-clock care they need, the quality of our care, as well as the value all patients receive when seeking treatment—no matter how severe their situation.
The cost of treatment is difficult to measure, made complex over the years due to the system created by the government for patients who receive their health care through Medicare and Medicaid benefits—often at costs that far exceed what is paid to hospitals. The demands for discounts by private insurance companies create further complexity for hospitals and patients to determine the true cost of any given procedure.
Most important, however, is the fact that each patient is unique. A procedure performed on a 27-year-old, otherwise healthy male will likely cost less than the same procedure performed on a 57-year-old male who is overweight and diabetic.
Meanwhile, the rate of care for which hospitals are not compensated at all continues to grow. In 2011, Indiana hospitals provided nearly $3 billion in uncompensated care for the uninsured and underinsured.
Shifting these costs has long been part of our complex health care system. Thus, what hospitals charge rarely reflects how much hospitals are ultimately reimbursed by government or private insurers.
Despite these difficulties, moving toward price transparency is a priority. Already, the Indiana Hospital Association and its members are working to find the best solution. That solution must include cooperation from private insurers and the business community without whom health care providers are unable to report accurate pricing information to consumers.
Nevertheless, the word "transparency" is nothing new for Indiana's health care industry. Hoosier hospitals have for many years embraced greater transparency of their quality reporting.
In 2001, the Institute of Medicine released a comprehensive report on health care quality measures. The report revealed inconsistent care and a lack of evidence-based practices across the country, leading the Centers for Medicare & Medicaid Services to release quality measures on all hospitals. This effort at improving quality transparency was embraced by hospitals and has revolutionized the focus on quality and patient safety.
Achieving greater price transparency will take time, effort and commitment from all parties involved to make the necessary changes to our systems, to our payer contracts, and to our bills. And this effort will not eliminate the complexity of providing medical care to human beings.
Nor will it eliminate the demands that continue to cause health care spending to grow. Price transparency is just one piece of the health care puzzle, but an important and critical one that must be addressed.
Despite the progress Indiana hospitals have made by improving quality, and the work begun to ensure price transparency for patients, are we where we need to be? No, but we are getting closer.
By working with private insurers so consumers get a complete picture of their out-of-pocket charges, and collaborating with the business community to report that information, together, we might finally succeed in delivering the health care system Hoosiers deserve.•
__________
Leonard is president of the Indiana Hospital Association. Send comments on this column to ibjedit@ibj.com.
Please enable JavaScript to view this content.