A couple of downtown office buildings with large chunks of space available could be poised for a rebound despite their recent ownership problems.
The Landmark Center at 1099 N. Meridian St. and the historic Century Building at 36 S. Pennsylvania St. are both in receivership but attracting interest from potential buyers and tenants, local brokers say.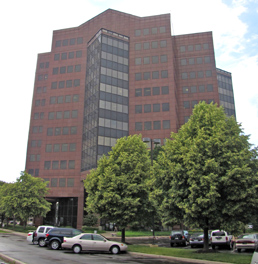 Six full floors soon will be vacant in the Landmark Center, which could attract a big tenant. (IBJ photo)
With 312,740 square feet, the Landmark Center is downtown's 12th-largest office complex, according to the IBJ statistics. The Century Building's 115,526 square feet ranks it 20th.
The Landmark Center is slated to be listed in a Sept. 18 sheriff's sale after the lender pulled it from a June sheriff's sale. Ownership of the Century Building, meanwhile, reverted to lender U.S. Bank during that same June sale.
Typically in sheriff's sales, the lender on a mortgage will reclaim the building to protect its investment and then will attempt to resell the building at a later time.
The seven-story Century Building was constructed in 1901 and was 89-percent occupied before tenant Steak n Shake purchased the Ober Building on the opposite corner of Pennsylvania and Maryland streets, where the company is moving.
Casting more uncertainty on the building is the June sale of locally based email marketing firm ExactTarget for $2.5 billion to San Francisco-based Salesforce.com ExactTarget occupies 70,200 square feet in the building.
Still, the building could fetch a buyer soon, brokers say. Local developer PK Partners confirmed that it is among those interested in purchasing it.
"There's definitely interest, and there has been for some time," said Rich Forslund, an office broker at Summit Realty Group. "The vibe of the building now is that young techie, hip-type feel."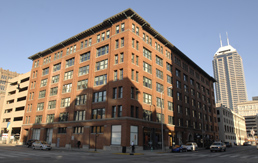 The Century Building has picked up some hip cachet with ExactTarget as a tenant. (IBJ photo)
An atrium at the center of the building, large floor plates measuring 27,000 square feet, and solid first-floor retail tenants (O'Reilly's and Tin Roof) make the building appealing, Forslund said.
U.S. Bank filed in February 2012 to foreclose on the building, which was owned by Century Building Investment Group LLC, a unit of California-based Blue Real Estate. The balance on the loan was $8.4 million.
Like the Century Building, the Landmark Center is about to lose a large tenant—in its case, Baldwin & Lyons Inc.
The trucking and auto fleet insurer was to vacate 81,000 square feet when its lease expired in August but signed an extension to remain in the building until the end of the year, company spokeswoman Tonya Simms said.
The company plans to move to The Congressional at 111 Congressional Blvd. in Carmel, but redesigning 110,000 square feet there is taking longer than expected. Baldwin & Lyons plans to spend $20 million to $30 million to buy the 181,000-square-foot building from local developer Lauth Property Group and build out its space.
Baldwin & Lyons' departure from the Landmark Center will leave a 75,000-square-foot hole, taking the building's occupancy to less than 50 percent, said Darrin Boyd, a Cassidy Turley office broker and Landmark Center listing agent.
Six full floors totaling 160,000 square feet will become available once Baldwin departs.
Boyd said he's fielding calls from companies searching for large blocks simply because there's not a lot of contiguous space available downtown.
"That's one of the positives coming out of a large vacating like that," he said. "It's not always a referendum on the building."
Michigan-based Quantum Investments paid more than $30 million to acquire the 12-story building in 2008. The owner is a trust affiliated with New York-based JPMorgan Chase & Co.  
Boyd said the lender likely will attempt to get the building fully leased before shopping it to a potential buyer. One strategy would be to market it to a company that would occupy space within the building, as Baldwin & Lyons is doing at The Congressional.
"That's a way you could kill two birds with one stone," Boyd said.
Visibility from Interstate 65 and on-site parking are among Landmark Center's biggest assets, brokers said.
 
Please enable JavaScript to view this content.