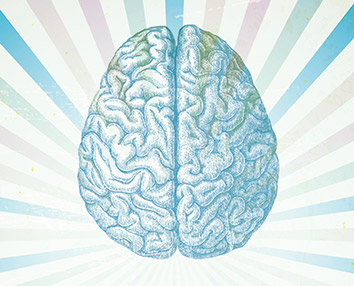 It's one of those statements so undisputed it requires no proof.
Indiana has a problem holding on to young people with bachelor's degrees.
Everyone knows this is true.
But is it, really?
An IBJ analysis of surveys of the nation's college seniors shows Indiana has less of a brain drain than most other states. Instead, what ails Indiana is the lack of a "brain gain" of educated adults.
The data up-end two popular notions that lie behind countless economic development initiatives over the past decade and a half.
First, that young people can't wait to leave Indiana and exit the state in droves. Compared with other states, they do not.
Second, that Indiana is a magnet for mid-career professionals with families looking for cheap housing and low cost of living. Compared with other states, it is not.
Those findings should lead to an about-face by Indiana's leaders, said Ball State University economist Michael Hicks.
Instead of fighting the brain drain by focusing on connecting young people with employers—as Lilly Endowment Inc., the Indiana Chamber of Commerce and Central Indiana Corporate Partnership have done—Indiana leaders instead need to focus on making more communities in Indiana attractive places for educated professionals of all ages, Hicks said.
"The brain drain efforts in Indiana have largely identified the wrong target and applied a lot of resources to it," Hicks said. "The problem lies not in how many people we're educating or how we're educating them, but in having places that they want to live."
IBJ.COM EXTRA
Click here
to read why college graduates in science, technology, engineering, mathematics and business leave the state.
There is plenty of evidence to show that a large chunk of college graduates do leave Indiana immediately after graduation. Of course, this is also true of every state in the nation.
The United States is a highly mobile society, and large numbers of young people leave their hometowns and states to seek fun and fortune.
This migration is even greater now than it was 20 years ago, according to the most recent data from the giant Baccalaureate & Beyond survey conducted periodically by the U.S. Department of Education.
So even as the brain drain has worsened in nearly all states, Indiana has done a better job than most of keeping its graduates.
Among students from Indiana who graduated in the 2007-'08 school year, 81 percent lived in Indiana a year later.
That performance ranked Indiana 11th best in the nation, out of 46 states for which the survey had enough data. The average retention rate among all states was 78 percent.
Indiana's showing in those years was better than the two previous classes that were surveyed by the Baccalaureate & Beyond project.
The first survey found that 80 percent of college graduates from Indiana in the 1992-'93 school year were in Indiana a year later. But the national average back then was 82.5 percent, and Indiana ranked just 21st out of 38 states with adequate data.
Retention rates had dropped across the country by 1999-'00, the next academic year the Baccalaureate & Beyond study was conducted. Among college graduates that year, 77 percent of those hailing from Indiana remained in the state a year later, nearly identical to the average for all states.
Indiana's performance that year ranked it 19th out of 42 states.
It is possible that Indiana's ranking improved in 2008 and 2009 because of the recession, which made it harder than it had been in decades for young people to find work. But the percentage of Hoosier college graduates living with their parents in 2009 was no greater than the percentage across the country.
Indiana's good performance in 2008 and 2009 was not completely out of character.
When the Baccalaureate & Beyond survey followed up with the 1993 graduates 10 years later, it found that 67 percent of college graduates nationally were in their home state.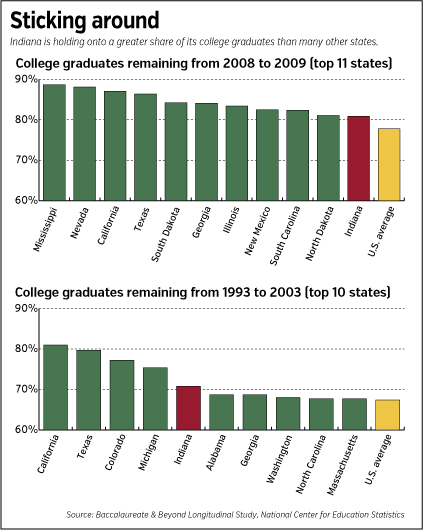 But 71 percent of Hoosier college graduates were living in-state a decade later. That ranked Indiana 5th out of 27 states with adequate data.
The data suggest Indiana has never done terribly at holding on to its college graduates. If anything, the recent efforts to get more graduates to remain in Indiana have improved what was already a decent rate of retention
But the data did not convince the organizations doing most to fight the brain drain that their mission has been accomplished.
"It is difficult to make true comparisons between how Indiana is doing now versus 20 years ago, but we know that our state still has a long way to go," said Ronni Kloth, spokeswoman for Lilly Endowment, which has granted $57 million to Indiana colleges over the past decade to find ways to keep graduates in the state.
Now, Lilly Endowment is asking colleges for proposals to make a third round of grants in the program, which Lilly Endowment calls its Initiative to Promote Opportunity through Educational Collaborations.
"Indiana ranks very low in bachelor's-degree-educated adults as a percentage of the adult working-age population," Kloth added, "despite a steady supply of four-year college graduates, and it continues to have a low ranking in per-capita income."
Indeed, Indiana ranks 42nd out of 50 states for the percentage of adults that hold a bachelor's degree. About 23 percent of Hoosier adults have that much education, according to Census Bureau data, compared with a national rate of 28 percent.
Another piece of evidence that shows Indiana struggling in the game for educated talent is that per-capita personal income has been on a free-fall versus the rest of the nation for nearly 50 years. Hoosiers now earn an average of 85 cents for every dollar earned by the average American, after having peaked at 100.1 cents in 1965.
These poor rankings have persisted even though Indiana ranks No. 2 for net gain in college students. In 2008, for example, Indiana colleges attracted about 8,000 more students than the state saw leave to attend universities in other states, according to data from the National Center for Education Statistics.
"No matter how you count, we are doing pretty well at graduating people from colleges in Indiana and we are doing pretty poorly at actually having jobs for them," said David Johnson, CEO of Central Indiana Corporate Partnership.
The shortfalls in educational attainment are real and significant, Hicks said. And, he added, it feels like a "brain drain" of young people is occurring in most parts of Indiana, because lots of young people do leave their home communities and move to places like Indianapolis and Bloomington.
But the real culprit for low education levels in Indiana is the state's failure to attract as many educated professionals from out of state as most other states do.
According to the American Community Survey conducted annually by the Census Bureau, Indiana ranked 40th among all states in the percentage of adults who moved to the state from 2007 to 2011 with a bachelor's degree—only 19 percent.
By contrast, 27 percent of adults moving to Illinois had a bachelor's degree.
A 2011 analysis by Ball State University found the same thing among working-age adults. Looking at Census Data from 2006 through 2008, Ball State researchers found that 487,000 working-age people moved to Indiana, but that only 20 percent of them had a bachelor's degree.
During the same time, 73,000 working-age Hoosiers left the state, and 37 percent of them had bachelor's degrees, wrote Hicks and three of his Ball State colleagues.
"These numbers suggest," they concluded, "that a larger and less-educated working-age population is moving into the state than is moving out of the state."•
Please enable JavaScript to view this content.