Gov. Mike Pence will have met with every major Japanese employer in central Indiana by the time he returns Sept. 14 from his first overseas trade mission. Pence is trying to drum up new investment while thanking the companies that have had a presence here for decades.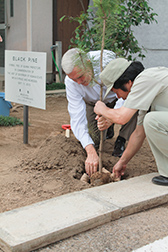 On Shigeru's campus, Gov. Mike Pence planted a black pine next to the tulip poplar former Gov. Robert Orr planted in 1987. (Photo submitted)
First up were NSK Ltd. and Mitsubishi Heavy Industries. NSK Ltd. is the parent of NSK Corp. and NSK Precision America, which is headquartered in Franklin and in June announced plans to invest $30 million in the local operation. Mitsubishi Engine North America will invest $10.8 million in the Mitsubishi Heavy Industries Climate Control campus in Franklin, where it will make turbochargers for cars.
Pence spent a second day on meetings in Tokyo with Mitsui & Co. Ltd., which has joint ventures in Seymour Tubing and PK USA in Shelbyville; Mitsui Mining & Smelting, parent of Greensburg-based GECOM; Sony Corp.; Mitsubishi Corp.; and Keihin Corp., which has several locations including the Keihin North America headquarters and research and development center in Anderson.
Traveling to Ota, Pence visited the headquarters of Subaru, which plans to invest $450 million to build the Impreza car at its Lafayette plant. He also met with executives from TOA Industries, which has a manufacturing plant in Mooresville, and Shigeru Co. Ltd., the parent of Heartland Automotive in Greencastle and Lafayette.
Pence and Shigeru executives discussed the company's expansion plans for Lafayette, which could create "hundreds" of jobs, according to the Indiana Economic Development Corp. While on Shigeru's campus, Pence planted a black pine, the official tree of Gunma Prefecture, next to the tulip poplar former Gov. Robert Orr planted in 1987.
Pence was scheduled to round out his trip with visits to automotive big guns Yasuyuki Yoshinaga, CEO of Fuji Heavy Industries, and Takanobu Ito, CEO of Honda Motor Co. in Tokyo. Traveling to Nagoya, Pence was scheduled to meet with executives of Toyota Tsusho Corp., Sugiura Seisakusho Co. and an unnamed company considering a presence in Indiana.
The final day of Pence's trip was to include meetings at Toyota Group companies.
Please enable JavaScript to view this content.