The staff at U.S. Water Systems Inc. noticed an anomaly in its marketing data this summer.
Fewer customers—at least those using Google Gmail—were reading the company's messages. The 2-percent slip wasn't cause for panic at the Indianapolis water-filter retailer, but it caught the company's attention, said marketing director Ben Reckelhoff.
After all, Gmail boasts 425 million active users, and the company relies on monthly emails to generate business.
A handful of comments on the company's blog and tweets from customers provided an explanation: People were missing messages because Gmail had changed its inboxes.
Google this summer began rolling out a tabbed inbox that separates emails into a main inbox and folders for "Social" media and corporate "Promotions." The change set offa wave of concern among firms that market directly to customers through email, and among companies like ExactTarget Inc. that facilitate the communications.
Google determines which messages wind up in a "Primary" email tab, while most emails companies send to opt-in customers wind up in a separate tab. Emails with updates from Facebook, Twitter and other social networks also go into their own tab.
The change led to an immediate drop in email open rates, from about 13 percent to 12.5 percent, according to MailChimp, an Atlanta-based email marketer, which analyzed 1.5 billion emails it sent around the time Gmail changed.
That works out to 7.5 million fewer sets of eyes looking at promotions over six weeks.
Soon after Gmail's change, retailers and other consumer-based businesses, including some of Indianapolis-based ExactTarget's major customers, quickly shot off emails to newsletter and coupon subscribers to tell them how to steer promotional messages back into their main inbox.
Users can right click on an email in the promotional category and chose to move it to the main inbox. They can then opt to permanently receive emails from that sender in the main inbox.
"We've seen changes like this before," said Chad White, ExactTarget's principal of marketing research. A similar panic happened in 2010, when Gmail began separating messages with another filtering system.
Even though the sky hasn't fallen yet, Indianapolis—as the self-declared "marketing technology capital of the world"—needs to keep an eye on the change, email and marketing experts say. After all, Gmail could set a precedent for other major email services such as Yahoo! and Microsoft's Outlook.
Gmail slides overall
A lot of marketers aren't worried about Gmail's reformatting because its direct users—those using Gmail.com or a Gmail app—only amount to a 3-percent market share, which ranks the service 8th overall.
Apple's iPhone email software leads with a 24-percent market share, which includes people who use it to access Gmail, according to Litmus Email Analytics. Those users do not see Gmail's new tabbed inbox.
Fewer people bother to read messages because they receive too many, industry data show.
Email recipients opened only 10 percent of marketing messages in the second half of 2012. That's down from 13.2 percent in the first half of 2008, according to a July report by email marketing firm MailerMailer in Washington, D.C.
It's tough to act on those kinds of statistics, though, because looking at an email in no way means someone will click on a link or, ideally, buy something, White said.
"They should not give a flip about open rates," he said. "But that's where a lot of this fervor has come from."
Businesses respond
Gmail's new tabs have prodded Groupon, an ExactTarget customer, further away from its historic reliance on using email to distribute coupons.
Company spokesman Nick Halliwell downplayed emails' importance, saying they are responsible for less than 40 percent of all North American transactions as more revenue trickles in through a mobile app.
Still, Groupon and other businesses saw it necessary to respond to Gmail's new tabs.
The company sent instructions to Gmail users to make sure emails appeared in the Primary tab instead of Promotions. Others, including Gap Inc. and Delta Air Lines Inc., did the same.
"Let's be honest. Gmail is huge," said Brian Paison, director of product strategy at Indianapolis-based Delivra, which develops software for email marketing. "It's the behemoth in that industry on the consumer side. Those folks [retailers] were paying attention."
Little steps
Smaller companies are taking more of a wait-and-see approach before they do anything.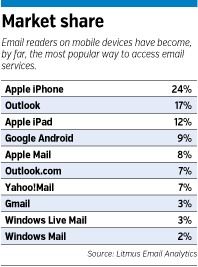 U.S. Water Systems' Reckelhoff said he is conducting tests to see how he should adjust email marketing strategies, if at all.
"I think it's not so much a concern," he said. "It's just something you've got to keep an eye on."
Facebook and Twitter tend to be much more effective anyway, especially for smaller retailers that can't afford professionally developed software suites, such as what ExactTarget or Delivra offer, said Elizabeth Garber, owner of Best Chocolate in Town.
The Massachusetts Avenue chocolate shop does not follow a rigid schedule for its newsletters, reserving them for major announcements.
"The email newsletter is less important to me than my general social marketing on Facebook and Twitter," Garber said. "I feel like, just watching my own responses to how I'm being marketed to and then watching the 20-somethings and a lot of my staff, they are all on their smart phones. … Heck half of them don't even email anymore."
Quality counts more
The tab system actually could benefit email marketing if companies "follow good practices," said Delivra's Paison.
"Their message is now arriving in an inbox that is less cluttered," he said.
Google's move reaffirms two basic digital marketing principles, said Lorraine Ball, owner and creative director at Indianapolis marketing firm Roundpeg.
First, companies need to make sure people subscribe to the promotions.
Second, they need to make sure they are promotions that people actually want.
"If spam complaints and [canceled subscriptions] didn't bury them, this will be the final nail in their coffin," Ball said.
ExactTarget's White warned against companies tweaking their messages to make sure their promotions land in the Primary inbox.
Some have tried to send all-text emails so they show up in main inboxes or send advertisements from email addresses used for billing, which typically count as Primary messages.
"Google is very smart," he said. "It routinely changes its algorithms to punish people who game the system."
Time delays
Ball began studying Gmail's tabs when her own weekly newsletter wound up in promotional inboxes.
It hasn't hurt readership, she said, because she makes sure to write about things people want to know.
The biggest difference is that people read the emails later. The firm sends out its weekly newsletter to its 4,000 subscribers at 7 a.m. every Wednesday.
Before, most of the readers—usually about 20 percent of the email recipients—opened the message by 9 a.m. It now takes a day or two for that many people to open the email.
But they're still opening the newsletters.
The new inbox setup could make it more challenging for time-sensitive emails—like one-day-only discount offers at stores or restaurants, and news alerts—to gain traction, she noted.
"Because of this delay factor, unless you know that you can get into somebody's email and they will see it, you may end up frustrating your readers."•
Please enable JavaScript to view this content.