Noblesville officials hope to begin building a 200-acre park on the city's east side with the help of fees paid by developers who want to use more of the property around it.
Common Council members this month approved changes in the city's land-use law that will allow residential developers within a half-mile of public parks to set aside less property as open space—for a price.
The idea is simple: Since residents are more likely to use a municipal park near their home than a neighborhood playground, it makes sense to lower common-area requirements and ask developers to invest in the public amenity instead.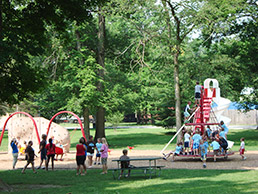 Noblesville's Forest Park is a big draw, but city officials want to develop 200 acres of land east of State Road 37 with help from developers. (Photo courtesy of Noblesville Parks)
Developers get more revenue-producing property to work with, and the city gets a new funding stream for parks. (Not to mention the extra tax revenue from the additional lots.)
"It really is a win-win situation," said Debra Wolf Goldstein, a land-use consultant who literally wrote the book on "fees-in-lieu-of" arrangements in Pennsylvania, where such deals are more common. "New residents put pressure on recreational facilities, and this is a way to upgrade public facilities to accommodate them."
In Noblesville's case, it's a means to jump-start park construction despite financial pressures caused by state property tax caps and a sluggish economy. The city has owned the land earmarked for East Side Park at 166th Street and Boden Road since 2009, but it remains unimproved.
As its population base continues to grow east of State Road 37, Noblesville leaders are looking for ways to move things along.
"Innovation truly is born out of necessity," said city Planning Director Christy Langley. "Parks are expected in a community of our caliber."
Set to be finalized Sept. 16, Noblesville's new open-space policy—believed to be the first of its kind in the state—gives developers the option to reduce common-area requirements from 28 percent of the total acreage to as low as 13 percent.
Fees will be based on the market value of the additional land made available for development.
Langley vetted the fees-in-lieu concept with local developer Corby Thompson, who owns about 260 acres of land south and east of the future park. Under the 28-percent rule, any project there must include more than 70 acres of common areas. If he takes full advantage of the open-space credits, that requirement would drop to about 34 acres.
That's money in the bank for Thompson's Boomerang Development LLC—and the city of Noblesville, which could collect more than a half-million dollars in open-space fees in that scenario. And that's in addition to existing park-impact fees, assessed when builders pull construction permits.
Thompson is excited about the flexibility the changes offer as he works on plans for the property, which he expects to submit to the city by the end of the month. Although the sprawling development still will have an abundance of open space—including two swimming pools, shared garden areas, trails and woodlands—he said he is a firm believer in the value of public parks.
"They're good for neighborhoods," he said, citing higher property values near parks.
Boomerang owns about 40 percent of the property around East Side Park, Langley said. She expects total build out of the area to take at least 10 years.
Lowering the open-space requirements likely will result in more home sites in qualifying developments, but she said it should not affect lot size. The city calculates density based on the number of housing units per developable acre (excluding common areas, flood plains and the like), and its 2.4-units-per-acre maximum for single-family housing still applies.
Goldstein, the Pennsylvania consultant, said such arrangements—used primarily in high-growth areas—also offer a measure of protection for developers, who know communities' expectations up front.
"There is a lot of arm-twisting in any development process," she said. "This establishes rules for how much [cities] can squeeze out of developers. It's good for both sides."
Still, making the policy work requires forethought. Cities need to have a land-use ordinance and public recreation plan in place to make sure any resulting parks development serves the community as a whole, Goldstein said.
Indeed, a model recreation system offers a range of options, from tiny pocket parks to large regional attractions, ideally connected by a network of trails and sidewalks, said Jennifer Milliken, director of the Urban Land Institute's Indiana chapter. Relying too much on open-space fees for funding could skew that mix, she cautioned.
Noblesville is restricting the common-area waiver to developments within a half-mile of parks at least 20 acres in size. That limits its application to property around East Side Park and Hague Road Nature Haven, a 43-acre work-in-progress at the southeast corner of Hague and State Road 38.

Langley
No one expects the new fees to be a panacea. Construction costs at East Side Park alone are expected to total almost $18 million.
"It's not something we're going to be able to develop all at once," said Noblesville Parks chief Don Seal. "But every little bit helps."
Officials in the neighboring town of Fishers are intrigued by the notion of trading slivers of open space for parks funding and additional tax revenue. Community Development Director Tom Dickey plans to keep an eye on how the policy change plays out in Noblesville.
"We love to learn from our neighbors," he said, calling the idea of encouraging additional development close to public parks "ingenious."
"All cities and town are concerned about their long-term sustainability from a tax-base perspective," he said. "The more assessed value we have per acre, the better off we'll be when it comes to keeping taxes low."•
Please enable JavaScript to view this content.