City officials are quietly trying to orchestrate what would be a major coup: Landing Cummins as an office anchor for a second phase of redevelopment on the former home of Market Square Arena.

No one directly involved in the discussions would discuss the plans. But real estate brokers familiar with the strategy say Cummins would take about 100,000 square feet of space in a mixed-use project that could include a Target store and residential space—tripling Cummins' downtown footprint.

The deal would come with incentives worth potentially millions of dollars to entice the Columbus-based manufacturer of diesel engines to build downtown.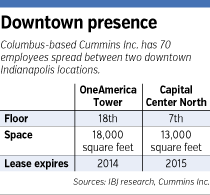 Deron Kintner, deputy mayor of economic development, declined to comment on whether the city is pursuing Cummins or where negotiations stand. And Cummins spokesman Jon Mills said the company remains "committed to our Columbus headquarters" as it evaluates options to consolidate two downtown Indianapolis offices.

That the city is remaining tight-lipped on negotiations illustrates the fragile nature of the talks, surmised Bill Ehret, president and CEO of Indianapolis-based Summit Realty Group, which is not involved in the negotiations.

The southern half of the city-owned site is looking more promising for Cummins now that the city selected Flaherty & Collins Properties to develop the northern half, brokers said. City officials have said the southern property should generate more interest once plans to the north are finalized.

If Cummins builds on the vacant parcel—bounded by East Market Street, North New Jersey Street, North Alabama Street and a parking lot along Washington Street—it likely would be as part of another mixed-use project.

First-floor retail and possibly apartments above office space would make the most sense, brokers said. The city has made no secret of its desire to lure a large retailer such as Target downtown, and the parcel may represent its best hope.

But not everyone supports the idea of giving incentives for construction of new downtown office space—not when so much space is sitting vacant.

Downtown had more than 2.1 million square feet of vacant office space in the second quarter, about 20 percent of the total available, data from Cassidy Turley shows. The vacancy rate for Class A space was even higher, at 21-percent vacancy rate.

"In my opinion, there is sufficient Class A office space in downtown Indianapolis to accommodate many large users," said Todd Maurer, a principal in broker/developer Newmark Knight Frank Halakar, a partial owner of One Indiana Square. "I don't see the logic of the city providing incentives when there's already plenty of office space."

Others are skeptical about downtown's ability to support another large retailer.

"Let's face it, as we saw with what happened at Circle Centre with Nordstrom's leaving and that space, that's basically being repurposed as office space," Aasif Bade, president of Ambrose Property Group, said at IBJ's Sept. 13 Commercial Real Estate & Construction Power Breakfast. "So I think that tells you the demand for retail space at least in terms of a Target or a Meijer or a big, huge department store like that going on that site, I think is a ways off."

Bade was referring to negotiations between mall operator Simon Property Group Inc. and The Indianapolis Star, which plans to occupy some of the former Nordstrom space after it vacates its building at 307 N. Pennsylvania St. to make way for a redevelopment project.

Ersal Ozdemir, president and CEO of Keystone Group, one of five bidders losing out to Flaherty & Collins, would like to see the Cummins deal get done.

"The city owns the land, so that would be the most economically feasible [for Cummins]," he said, "It's a huge gain for the city. I think we need to have them somewhere."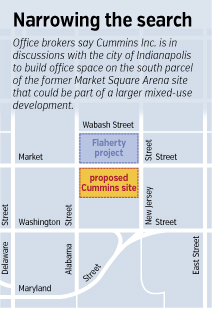 Both pieces of the Market Square Arena site are owned by the city and have been parking lots since the venue was demolished in 2001.

Two month ago, city officials announced a 28-story, $81 million project from local developer Flaherty & Collins featuring 43,000 square feet of retail space that could help lure a specialty grocer downtown.

The city has agreed to contribute $17.8 million by investing property taxes generated from the project back into the development, which would break ground next spring and be completed by late 2015.

IBJ reported in June that Cummins is looking to expand its Indianapolis presence by building a bigger office that could be as large as 100,000 square feet to accommodate future growth.

Cummins leases roughly 30,000 square feet between OneAmerica Tower and Capital Center North for several corporate departments. The company wants to consolidate the offices before its leases expire within the next two years by constructing its own building that boasts some architectural significance.

Brokers had said the former Market Square Arena site was one of at least four locations Cummins was scouting. Also said to be in the mix were Buckingham's CityWay development at Delaware and South streets, along with land at the southwest corner of Maryland and Pennsylvania streets, and at the northeast corner of Capitol Avenue and Michigan Street.

A larger Cummins presence would be a boon for Indianapolis. The company ranks 150th on the most recent Fortune 500 list. Cummins is the state's third-largest public company, in terms of last year's revenue of $17.3 billion, trailing only WellPoint Inc. and Eli Lilly and Co.

"If we could be so fortunate to get Cummins [to build a larger office], that would be awesome," said Summit Realty's Ehret.

Cummins established its Indianapolis office in 2004. The two locations at OneAmerica Tower and Capital City North house executive offices, as well as corporate departments such as human resources, legal, information technology and investor relations.•