Michele Jackson marched into an internship in 1999 hoping to deliver a swift blow to international injustices against women and children.
The 24-year-old Indiana University law student didn't realize how unpleasant the topics would be.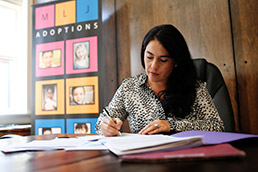 Michele Jackson's agency, MLJ Adoptions, has facilitated close to 400 international adoptions since it began in 2008. She and husband Wayne DeVeydt (Wellpoint Inc.'s chief financial officer) have adopted three children. (IBJ photo/Aaron P. Bernstein)
Her assignment at Canadian not-for-profit Human Rights Internet was to pour over legal documents and data relating to the sex trade. A lot of it involved children.
The key question she looked at was, "Why did these kids get into this situation?"
"I would have to research the whole story of a child and how they were exploited," said Jackson, now 38. "A lot of times it was because they didn't have any family. They were kids on the street, kids in orphanages, or they were in families that couldn't afford them and so they would be sold."
She concluded adoption was one of the best solutions. Kids with parents had better odds of growing into stable adults and avoiding the hardships she spent her time learning about.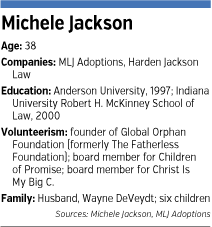 That's why Jackson, a family law attorney from Indianapolis, founded MLJ Adoptions Inc. in 2008. The 52-employee agency, which operates out of a red-brick former schoolhouse in the Mass Ave neighborhood, has orchestrated about 400 adoptions in Congo, Samoa, Bulgaria, Mexico, Haiti, Nicaragua, Ukraine and Honduras.
The children were among more than 132 million estimated by UNICEF to need families. Burkina Faso in West Africa will likely be the next new office.
"I always said I would do about 40 clients a year. We just counted the other day and we have over 500," Jackson said.
"I told myself I never wanted something this big," she later said, "but I think once you get into something and you're passionate about something … once you get into it, it becomes something you never planned."
Jackson's interest in international affairs goes back to when she was 5 and her mother began going on mission trips.
One of two children growing up, her mother would take her to do local charity work, like clearing brush and painting cabins at a camp for children with disabilities.
That, she believes, ignited her interest in social causes. The route she picked for her career was a degree in international law from IU, which she earned in 2000.
She began working in adoption that year when she took a job as an attorney at family law firm McClure McClure Davis & Henn.
In her first year at the firm, she helped all three families that adopted children from the Ukraine navigate red tape. But the international adoption climate was changing, which meant Jackson saw a need to change how she worked.
The Hague Adoption Convention, an 88-country pact on adoption standards, tightened regulations on U.S. adoptions in 2008. Among the many provisions, member countries needed to set up central adoption authorities—the Department of the State took over here—to certify adoption service providers and monitor them.
The best way to comply with the stricter regulations was to stop handling adoptions independently and set up an accredited adoption agency, Jackson decided.
National spotlight
Jackson's work has brought a national spotlight to MLJ.
The National Council for Adoption and the Joint Council on International Children's Services both featured her as a speaker earlier this year at conferences in Orlando and New York. And the Washington, D.C.-based Congressional Coalition of Adoption Institute named her an Angel in Adoption last year.
Jackson splits her time between MLJ—a for-profit enterprise from which she does not collect a salary—and Harden Jackson Law in Carmel, where she typically spends two days per week.
She juggles the two jobs with a separate not-for-profit she runs on the side, the Global Orphan Foundation. The group provides grants to adopting families and food to orphans in the Congo.
"Even knowing her as a teenager, most of us were relaxing on the weekends and watching TV or whatever teenagers do. Michele was working with her family," said Leah Potter, a longtime friend and employee at Jackson's law firm.
"She works very hard, but I think it's because she's chosen a career that is part of her passion and it fits in with her family life," Potter said. "It fits in with what she's about."
Jackson and her husband, WellPoint Inc. Chief Financial Officer Wayne DeVeydt, raise six kids ages 2 to 17. Two sons are adopted from the Congo, a daughter is from Nicaragua, and three stepdaughters are from her husband's previous marriage.
She described her schedule with two and a half words, a gritted smirk and a laugh: "It's fun."
Congo in her heart
Managing eight offices and additional employees scattered around the globe has meant a lot of travel for Jackson. Flying to a foreign country once a month became typical after she started MLJ.
As she spoke of her time in Haiti, Honduras and Bulgaria, she most lit up at mention of the Democratic Republic of the Congo.
MLJ has been in the central African nation since the agency's onset.
The country is poor and war-torn, making it one of the hardest places to operate.
"I caution myself to say some of those things because I love the country so much," she said, "but the reality is there's some struggles there. It's one of the poorest countries in the world."
An estimated 5 million children in the country need families.
It was through her work at MLJ that she found her sons in the Congo. The agency handled everything, except the home study because of potential bias.
"It's hard to turn back around and not do it," she said. "It's hard to look away."
Diplomatic duties
Jackson had always envisioned starting a family by adopting children, even before she met her husband.
Following through on her dream altered her perspective on the process.
"You can understand the emotion and the unknowns" without adopting, she said. "But now you've experienced it."
Working in countries like the Congo creates a lot of obstacles and heartbreaks, she admitted.
Social and political complications are always a risk—like when rebels took control of part of eastern Congo last year and Jackson had to halt adoptions from that part of the country because children could not leave.
"You just pull all that together and all these people and different languages and different culture, and all of a sudden you have this creation that's hard to understand, hard to implement and hard to always predict and there are no guarantees," she said.
Parents wanting children of certain ages, especially infants, face long waiting lists, as do those seeking children from certain countries. That's why MLJ is not in China.
Adopting in the U.S. or foster care can be better options, Jackson said.
"I think I'm the bearer of bad news sometimes," she said. "What I will say to people is, if this is what you want to do, let me see what the right fit is for your family because there are children out there who need families."
Education matters
MLJ requires parents to take classes before adopting to make sure they're prepared to take in a child from another country. Curriculum ranges from family bonding to skin and hair care for the children.
Sympathy would occasionally get the best of Jackson. She would see prospective parents endure a years-long process that costs $20,000 to $40,000 and then often cut them slack when it came to attending their classes.
She admits that was a mistake.
"There were things that I would do that maybe I wouldn't draw such a hard line about. They could not go to their education class, and I would let them slide. I learned that I need to enforce that."
One couple who adopted through Jackson feel the classes are invaluable.
Without the classes, Holly Harrold said she and her husband, Doug, wouldn't have understood their children's cultures and what it takes to raise them.
The Frankton couple adopted a son from the U.S., a daughter from Guatemala and another daughter from the Congo, so they had to learn about the countries before bringing the children home. That included writing an essay on the Congo.
"All of our children know their birth story from the very beginning," Harrold said.•
Please enable JavaScript to view this content.