William K. "Bill" McGowan, 77, was the president and CEO of the Indianapolis Convention and Visitors Association (now Visit Indy) from 1984 to 2002. But even before that, as a volunteer and community advocate, McGowan was involved in many of Indianapolis' earliest efforts to be a sports, convention and tourism destination. McGowan worked alongside mayors, governors and other community leaders to help Indianapolis land the 1982 National Sports Festival and the 1987 Pan American Games. He also was instrumental in the early 1980s in helping pave the way for the construction of the Hoosier Dome, later renamed the RCA Dome, and then replaced by Lucas Oil Stadium. McGowan also attended numerous NFL owners' meetings and was a big part of the city's effort to land an NFL franchise. McGowan was part of the team that helped Indianapolis land its first Final Four in 1980 and bring the event back in 1991. During his tenure, the city saw dramatic growth in its convention business, with McGowan helping orchestrate a $43 million, two-story expansion of the Indiana Convention Center in 1993. He still serves on the Visit Indy board of directors and is considered by many to be the dean of the Indianapolis convention and tourism industry. For his efforts, four governors (Otis Bowen in 1975, Bob Orr in 1983, Evan Bayh in 1993 and Frank O'Bannon in 2002) bestowed him with the state's highest award, the Sagamore of the Wabash.
IBJ: What have been the keys over the years to the growth of Indianapolis' convention and tourism business?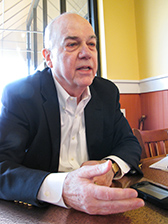 William K. McGowan (IBJ Photo/Anthony Schoettle)
McGowan: A lot of people with foresight and a willingness to make difficult decisions. In the beginning, it was a chicken and egg scenario for this city. You have to have the Convention Center and the hotels. You can't have one without the other. The Hyatt was the first major hotel and making the deal to bring that development downtown by [then-Mayor Richard] Lugar and [Hyatt's A.N.] Pritzker was a very gutsy move. That was major. The placement of the Convention Center at the time was controversial. People said it was too far south and too far west. It ended up being a good location. A lot of people said later we were smart the way the Convention Center was positioned with the hotels.
IBJ: How did the vision for Indianapolis to become a convention hub evolve?
McGowan: A group of us, maybe 15 of us, led by Jim Morris, who at the time was with Lilly Endowment, met at Grandview Lake in Columbus for a couple of days in the 1970s. We had no idea what exactly we wanted to do. We knew we wanted to do something. There was John Mutz, Bill Crawford, Ned Lamkin and others and we put big white sheets of paper on the wall to put down ideas. From that, we decided to start focusing on nutrition, sports and tourism. From that our sports and tourism strategy was born. And you have to give credit to the Capital Improvement Board, which built the Indiana Convention Center. There were no shortage of people who said that wasn't a great idea, was a potential waste of money. The city's location is phenomenal and the way it was marketed as the crossroads of America was very smart.
IBJ: How would you currently rate Indianapolis as a convention and tourism town?
McGowan: I think we're in an ideal position with a three-legged stool with our airport, Convention Center and connected hotels. Very few cities have that. Given our location, the people and volunteerism here … really puts us in a great position. And our public-private partnerships have allowed us to do so much. When I was a kid, Indianapolis had no teams and not much else. We'd go to Cincinnati to go to a Reds game, to Coney Island, and we'd go to River Downs. And we'd stay in a hotel and do it all over a couple of days. Now we don't have to do that. It's a huge accomplishment what this city has become. We've left Cincinnati in the dust. They don't have a convention center. We've left Columbus and Cleveland in the dust. … Chicago worries about us. Chicago! That's unbelievable. We're competing and beating Chicago for things like the Big Ten [men's basketball] tournament.
IBJ: Where was the point where Indianapolis transformed from India-no-place to where we are now?
McGowan: Certainly the National Sports Festival in 1982 was a major event. When we started, we didn't know what we wanted to do. We thought of a World's Fair, all kinds of things. We studied other cities including New Orleans. We had never heard of it, but in 1981 we flew to the Carrier Dome in Syracuse to watch the opening ceremonies of the National Sports Festival. Looking at that event, we thought this is something we can do. That was a catalyst for building some of the important downtown facilities. And we started traveling down the path of making sports a centerpiece of the strategy of making Indianapolis a destination. We began to use events like the National Sports Festival to not only draw people here, but to market the city.
IBJ: What did the 1987 Pan Am Games represent?
McGowan: That was another catalyst to get projects done. That, too, was a serious elevation of our exposure. It got us exposure from publications like USA Today and on network TV with CBS. It showed us the type of international exposure hosting the right sporting events could bring this city. Then in 1991, we thought we had died and gone to heaven. We had three major events. We had the PGA Championships at Crooked Stick, we had the Final Four and we had the World Gymnastic Championships. We thought it wasn't going to get any better than this.
IBJ: What are the city's primary weaknesses as a visitor destination?
McGowan: I suppose transportation. We have to keep that airport busy. We have to get more airlines here for the flights both in the U.S. and internationally. I don't think we're going to be a hub; I think that's bypassed us. But we have to work to get more direct flights. That's a gigantic need. I think that's important not only for the city's tourism industry, but also for a lot of other local travelers and businesses here. Not to say we don't have bright people here, but we also have to keep working to bring the best and brightest people here.
IBJ: How important was the Hoosier Dome to the growth of Indianapolis' convention business?
McGowan: Enormous. This was an expansion of the Convention Center, and that's how Mayor [Bill] Hudnut could justify it. We did use it for conventions, for things like the firefighters' instructors conference. But more than that, the Dome put us in another league. It was one of the more important things we ever built in this city. To build that facility without a [NFL] team, whew! That took guts. Mayor Hudnut, and his deputy mayor, Dave Frick, really had guts.
IBJ: How difficult was it in the late 1970s and early 1980s to sell Indianapolis to convention and meeting planners?
McGowan: Unigov helped because it put us much higher in the national rankings. Still, I'd go to these convention and trade shows, I'd be on these convention floors, my goodness those were hard days, going from booth to booth and talking to convention organizers telling them, "Come to Indy, come to Indy." And they'd respond by saying, "What's in Indy?" Oh my gosh! They'd never been here. It was a challenge to get people to come here just to take a look. We'd have to go to the president of XYZ Association and we'd really woo them and tell them they really need to make their meeting planner come to Indianapolis. The meeting planner never wanted to come. But we'd tell the president you have to make that guy come. We would always pick them up at the airport. … When the NCAA people came here for the Final Four bid, we picked up each one of them individually at the airport. Over time, these are the types of things that started to set us apart.
IBJ: During your tenure, there was great stability at the top of the ICVA. How important is it to have that type of stability?
McGowan: It takes a while to build relationships, so it's paramount … to have that continuity, to have that leadership, to work with the governor, mayor and private industry and chamber of commerce. It has to be a team effort to really work. We have a very good share of repeat business, more than most cities, and that's been because of the continuity we've had.
IBJ: How big a blow was it to lose [ICVA CEO] Don Welsh to Chicago?
McGowan: Losing Don was certainly a loss, but the transition was seamless. I was very disappointed in Don's timing. We knew he was going to leave, he had worked in so many cities. Don was just the complete opposite of me. I was asked to interview at other cities and I just never did it. The L.A. people got disappointed, they asked, "'Won't you just come out." I said, "No, I'm not going to move." Most people in my position do move around. When Don left, we were looking for another No. 1, but we found Leonard Hoops, who was the No. 2 in charge of San Francisco's convention and visitors' bureau, and it really was a perfect fit. I think we've got that stability back at the top of the organization. I expect Leonard to be here for quite some time.
IBJ: First Don Welsh and then Mayor Greg Ballard have taken a hard line on pan handlers. How big an issue do you think that is for the city's hospitality industry?
McGowan: We have had exit interviews and we usually get very good marks. But with panhandling, our customers, one of which is the FFA, are very unhappy. I know it's a legal issue, I just wish some way our city could figure out a way to not have panhandling. Obviously we're all very disappointed and sad that some people are homeless, but some of the panhandlers are professionals who drive downtown, park their car and jingle the cup. … I personally get comments on it. It's not just downtown, but that's where it happens most and can really hurt our city. I do think it's a good thing Don Welsh brought it to the attention of the mayor, and a lot of businesses are very much in favor of making panhandling go away.
IBJ: As you look at the Convention Center now, do you see an obvious place where the next expansion might occur?
McGowan: It's going to be challenging. I don't want to go too far into that because I don't want to step on the CIB's toes or anything. It would be nice to work out the train situation. That's not an easy situation to work out, but we've overcome a lot of things like that. If you removed those railroad tracks, the Convention Center could more easily be expanded to the south.
IBJ: How big do you think the city's convention business can be?
McGowan: There's definitely room for growth, for instance, with a development on Pan Am Plaza. We're never going to compete with cities like Orlando or Las Vegas, and I'm not sure we want to. While we can take business from Chicago, we can't compete for a convention that is going to take all the space at McCormick Place in Chicago. We just don't have the space. I couldn't say if we're going to double the size of the [convention and tourism] business that we have today, I just don't know that. We do have a challenge with the expansion of the Convention Center. But is it going to get bigger? Yes, I can say that with confidence. Being creative and finding smart ways to grow is the legacy of this city.•
Please enable JavaScript to view this content.