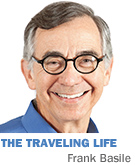 Odds that visitors to Branson will not be treated well: 900 to 1.
No, those aren't Vegas odds on Terre Haute's hosting a Super Bowl. That is the ratio of visitors (9 million) to residents (10,000) in Branson, Mo. (For comparison, Indianapolis, with a population of 800,000, attracts 22 million visitors, or a ratio of about 28 to 1.)
The number of Branson tourists is even more remarkable considering that, while nestled in a relatively scenic part of the Ozarks, the town is not even near a major interstate or airport. Katrina and I drove about seven hours to get there, breaking up the trip for lunch in St. Charles, a suburb of St. Louis.
We found in Branson a conservative town with traditional values, including flag-waving patriotism, pro-military sentiments and evangelical Christian themes. Though many of the name performers—the Gatlin Brothers, Jim Stafford, Yakov Smirnoff—are past their prime, they are still much appreciated by audiences who are, for the most part, senior citizens.
At a typical Branson show, family members not only sing and play various musical instruments, but also perform other jobs in and around the theater, such as staffing the shop, café and box office. In Branson, business is a family affair. 
On our visit, we saw Jim Stafford, who delighted the audience—including Katrina and me—with his singing and guitar playing and his sometimes humorous stories. You might recall him from his days with the Smothers Brothers television show. He sang such standards as Maria Elena and Wildwood Flower. Of course, he had family with him—his son and daughter playing great piano. 
You can imagine Katrina's surprise when Stafford, who was recognizing various anniversaries and birthdays, said, "We have a very special lady in the audience who is celebrating a birthday—Katrina Basile." Before the show, I had secretly turned in her name but wisely did not mention which birthday. 
All of this, of course, adds to the experience, and that's what people feel, enjoy, remember and tell others about. The actual entertainment is only one part of the package.
How did Branson happen? A "60 Minutes" program in the early 1990s gave the town a huge boost in popularity when it called the town the Country Music Capital of the Universe. Still, I believe Branson's amazing popularity has as much to do with unbelievable customer service as it does with the seemingly nonstop entertainment offerings. 
In short, the locals and performers in Branson treat the tourists like royalty, not only by recognizing birthdays and other life events—and honoring veterans in the theater—during shows, but also by connecting one on one. The talent actually mingles with patrons before the show, during intermission and after the performance—something you don't see in Vegas. They shake hands, sign autographs, sell their DVDs and CDs, and encourage people to buy food and drinks (not alcohol) in the lobby and merchandise from the gift shop.
Shameless self-promotion? Perhaps. But in Branson it's expected and accepted. And profitable—resulting in repeat visits. 
Admittedly, some of this sounds hokey—there's also a heavy emphasis on God and country and, when we visited, every performance ended with a number celebrating one or the other (or both). But it plays well here and that's all that counts. Branson has a formula that pleases its customers and keeps them coming back. No surprise that our own Indianapolis-based Ambassadair Travel Club makes at least two bus trips to Branson every year.
It was obvious that the tour guides, bus drivers, performers and everyone else involved wanted to make the Branson experience enjoyable for us. We were told by a member of a tour group that when their bus pulled into the show parking lot, one of the show's performers jumped into the bus and welcomed the people from "the great town of Boise, Idaho!" Can you see that happening in New York or Los Angeles? I didn't think so. 
Of course, these actions happen partly because the hosts know their livelihood depends on tourists. But they also seemed to genuinely want visitors to enjoy the city. The entertainment was good, sure, but we also felt special. Cities and companies can learn a lot from the Customer Service Capital of the Universe.•
__________
Basile is an author, professional speaker, philanthropist, community volunteer and retired executive of Gene B. Glick Co. His column appears occasionally. The next one will appear Dec. 30. Basile can be reached at Frank_Basile@sbcglobal.net.
Please enable JavaScript to view this content.