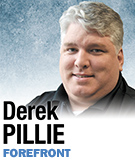 In the modern political world, it seems the validity or importance of an idea is treated no more seriously than what brand of butter substitute you buy from the local grocery store. Most recently, Indiana has experienced this phenomenon in education policy.
A number of stories have been published recently based on emails sent during former Superintendent of Public Instruction Tony Bennett's tenure, and current Superintendent Glenda Ritz has been busy pointing out the faults of her predecessor.
Looking at Ritz's record, I'm not sure what she has actually accomplished outside of trying to roll back her predecessor's policies or flat out discredit him.
Ritz used ISTEP delays to criticize the results of those tests, only to be assured by her own auditor that student performance wasn't affected. In spite of improved student achievement, Ritz tried to make it easier for kids who can't read to be promoted to fourth grade.
The only actual work on the education front she has delivered is a promise to provide greater transparency for the revised A-F grading system.
Her office doesn't exactly have a stellar track record in this regard. At Hoosier Access, we documented how Ritz's public access counselor lied to a citizen about the existence of a public information request from Associated Press reporter Tom LoBianco.
In those documents, she indicated there is no written request from LoBianco, which is required by law. When pressed on that point, her public access counselor "remembered" there is a written request and provided a month-long email exchange between the counselor and LoBianco.
Some Republicans feel too little has been done to defend Bennett, given all the work he put into delivering these education reforms. While they are entitled to their opinion, some actions of Bennett and his staff are quite frankly indefensible. There is absolutely no reason that political call lists, campaign donor lists or any political documents should be passed around a government office.
Speaking as someone who has worked in a public office, the inability of Bennett's team to distinguish between politics and policy is disturbing. If the party were governed like any professional sports league, I'm certain some suspensions would be handed out. What's really amazing is that, in spite of how politicized the office became, they still weren't able to secure re-election.
Bottom line, we need to move past the personalities involved here. Improving Indiana's education system is too critical to the future of our state's work force.
In spite of some very flawed decisions by Bennett and his team, the validity of their reforms is supported by the results. We've seen significant increases in the pass/fail rate of the ISTEP tests as well as the four-year cohort graduation rate in public schools during the Bennett administration.
For all of the Bennett's administration failings, it's clear student performance improved during his tenure.
Our political discussions need to rise above this never-ending cycle of "he said, she said" attacks about how much or how little an office is politicized. There are too many challenges and too many flawed people to throw out their ideas because they make mistakes.
People attracted to politics share the same flaws we all must endure. Some rise above those flaws while others make mistakes as a consequence of them.
Instead of assessing these ideas based on who is putting them forward, let's start looking at the ideas themselves. A few of them might just work.•
__________
Pillie is managing editor of the conservative blog Hoosier Access and a former congressional aide in Washington, D.C., and Indiana. Send comments on this column to ibjedit@ibj.com.
Please enable JavaScript to view this content.