Residents of Fishers voted last year to turn the fast-growing suburb into a second-class city with an elected mayor and nine-member council. But seven months before its first city election, only two candidates have announced plans to be on the ballot.
Longtime Town Council leader Walt Kelly is running for mayor, and former Greenfield Mayor Brad DeReamer is a council candidate, most likely in the same southwest-side district as incumbent Stuart Easley.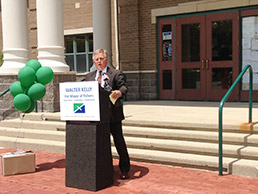 Mayoral candidate Walt Kelly kicked off his campaign in July in front of Fishers Town Hall. Other hopefuls have been slow to join the race. (IBJ Photo/Andrea Muirragui Davis)
A host of other hopefuls is said to be considering council campaigns, but insiders said most likely are waiting for town leaders to unveil the boundaries for the six City Council districts, which will replace the seven existing territories. The other three councilors will be elected at-large.
"I'm not surprised" at the lack of candidates, said Councilor Scott Faultless, who hasn't made a decision about running again. "We don't have the maps done. How can someone run for council if they don't know what district they're in?"
He blamed the accelerated time line resulting from a change in state law that requires Fishers to have the election in 2014, a year earlier than originally planned. The legislation came as a surprise, but Faultless said council leaders should have seen it coming.

Fadness
"We got caught with our pants down," he said. "To me, there's no good excuse for that."
Officials expect to introduce a reorganization ordinance Oct. 7 that includes proposed district lines. The Town Council could approve it early next month, just ahead of a Nov. 8 state deadline.
But so far, Fishers' redistricting work has been done outside the public eye. Proposed boundaries were drawn with the help of a computer program to ensure the town's 83,000 residents were divided equally, and the Republican council has discussed the resulting map during closed caucus meetings.

MORE FROM IBJ
Click here
for a map of proposed council boundaries.
Complicating the procedure: Hamilton County Election Administrator Kathy Richardson also had to reconfigure voting precincts to separate city residents from those who live in unincorporated areas. Because Fishers has grown in large part through voluntary annexations, the town had about 75 pockets of unincorporated property within its boundaries to work around, she said.
County commissioners approved Richardson's precinct changes last month, and the plan has been submitted to state election officials for a final OK. Fishers can adopt its new boundaries in the meantime, but any precinct changes likely would require them to be revised.
Town Council President John Weingardt said there's still plenty of time for public input on the proposed council districts, which he said came together without controversy.
Under the current plan, only two incumbents would end up in the same district: council veteran Faultless and relative newcomer Pete Peterson, who live on the same street but now represent different areas. Peterson, elected in 2011, is planning to run again.
Peterson said he has talked to about a dozen potential council candidates, most of them considering at-large bids.
The idea of residents voting only for their district's councilor also is new in Fishers—making the boundaries that much more important. Under the current system, councilors represent residents of their districts, but they are elected on a town-wide ballot.
Weingardt thinks campaigns will start to go public this month and next, slowing down during the holidays and ramping up again when the official filing period begins in January. He also plans to seek re-election.
Another consideration for aspiring politicians: Five months after the winners in next year's election take office in 2015, Fishers voters will return to the polls, to get the city back into the state's regular municipal election schedule.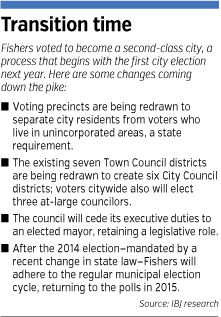 The added effort—and expense—of running for office in consecutive years is "unfortunate," Peterson said, but he and others agreed it's a one-time hurdle that shouldn't affect committed candidates.
"Campaigning is hard. It's work," he said. "But I would love to see more residents engage."
So would Faultless, who said he has a "healthy distrust" of government and welcomes the chance for the electorate to do a quick gut check in 2015. He said incumbents have an edge over their opponents next year because they've seen the proposed maps already.
"People who may have an interest in local government are completely shut out, and the people who are drawing the maps can go out and start raising money," Faultless said. "They have a huge advantage in planning, fundraising and everything else."
Mayoral hopefuls also have been slow to enter the race. Kelly kicked off his campaign in July and remained the only declared candidate at IBJ's deadline.
Town Manager Scott Fadness said in August that he is exploring a mayoral run; his decision is expected any day. Freshman councilor Renee Cox also is considering her candidacy; she has said she will not seek another council term.
Whoever ends up leading the city will set the tone for Fishers' upcoming transition, said John L. Krauss, director of Indiana University's Public Policy Institute and a former deputy to Indianapolis Mayor Bill Hudnut.
"He or she will be putting pen to a blank piece of paper, setting the original parameters of the job," he said.
The new council likewise has to figure out its role as it cedes executive powers to the mayor, Fishers' "chief cheerleader, chief consoler and chief dealmaker," Krauss said. "It's going to add a dynamic that the community has never experienced before."
Some tension between the executive and legislative bodies is to be expected—and maybe even embraced, he said. But their underlying goal should be the same.
"Both entities should have the best interests of Fishers at heart," Krauss said. "They should be looking to maintain what they have and try to make it better."
Despite the slow start to city election season, Weingardt said the political environment in Fishers is becoming more competitive. Although he didn't face a primary opponent in 2011, he did have competition in the general election—an unusual occurrence in the heavily Republican community.
"More people are articulating what they want for the future of Fishers," he said.•
Please enable JavaScript to view this content.