The owners of the 19-building Precedent Office Park are putting the massive property up for sale, eight years after buying it for $143 million at the height of the real estate boom.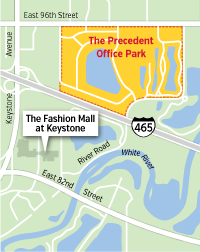 Brokers say the timing is right to capitalize on the resurgent Class A office market in the Keystone at the Crossing area, though they believe the international investment group selling the property simply overpaid and will come nowhere near to recouping its investment.

"They paid a premium, and it never lived up to that premium," said Sam Smith, chairman of Colliers International Indiana region.

The Precedent Office Park—developed in the 1980s by Howard Peterson, the father of former Indianapolis Mayor Bart Peterson—sits southeast of East 96th Street and Keystone Avenue. It is the second-largest office park in the area, behind only Park 100 on the northwest side.
Howard Peterson (right), father of former Mayor Bart Peterson, developed The Precedent in the 1980s. (IBJ file photo)
The sale effort follows a nasty legal tangle between the international investment group and locally based HDG Mansur, which served as the group's adviser when it bought the park in 2005.

That work was part of a much-broader partnership. Since 2002, HDG Mansur had provided management and investment-advisory services for about 20 of the investment group's properties, including six in Europe.

Their frayed relationship became public in January, when the investors, through their Cayman Islands-based Global Property Investment Fund, charged in a federal lawsuit that HDG Mansur misappropriated funds as it wrestled with dire financial problems.

A federal judge in August found in favor of GPIF without going through a full trial. He slapped HDG Mansur with a $5.8 million judgment, but has not yet ruled on the Indianapolis real estate firm's counterclaims.

The two have since parted ways. GPIF booted HDG Mansur as fund adviser, replacing it with Los Angeles-based CBRE Global Investors. It's listing The Precedent for sale with the local CBRE office, brokers said. Neither HDG Mansur nor CBRE returned calls seeking comment.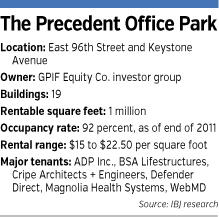 Despite the legal riff, The Precedent is performing well, brokers said. The park's occupancy rate has rebounded in recent years to about 90 percent, as it and nearby office buildings at Keystone at the Crossing enjoy renewed interest from potential tenants.

Even so, brokers expect the property to fetch much less than the approximately $140-per-square-foot price the owners paid in 2005 before the real estate market crashed.

This time, they predict The Precedent will command closer to $100 a square foot (or a total of around $100 million)—still a robust price for the Indianapolis market.

"It's a rare opportunity to amass that much square footage under one ownership in a great submarket," said John Robinson, managing director of Jones Lang LaSalle's Indianapolis office.
Architectural firm BSA LifeStructures, one of the park's largest tenants, might be moving. (IBJ photo/Aaron P. Bernstein)
"The park is a great park," added Rich Forslund, a broker at Summit Realty Group. "What's unique about it is its location and its mix of product type. It's got Class A and flex-type space in a park-like setting."

The international investment group bought The Precedent in 2005 from Philadelphia-based BPG Properties, now Equus Capital Partners Ltd. Equus, which also owns Keystone at the Crossing office buildings, bought the park from its original developer, Peterson, in 1998 for an estimated $95 million.

Peterson, a Wisconsin native and contractor, first made his mark on the city in the 1960s when he began building the Castleton Commercial Park on East 82nd Street between interstates 465 and 69.

What makes The Precedent especially attractive to potential buyers is the abundance of land on which additional buildings could be constructed, said Smith, whose company is a Precedent tenant.

"You could add square footage and make the park a lot more dense and raise the rate of return," he said.

The park, however, is in danger of losing one of its largest tenants. BSA LifeStructures, the city's biggest architectural firm in terms of billings, is scouting locations and might move by the end of next year, Managing Partner Keith Smith said.

BSA has occupied much of the 80,000-square-foot building at 9365 Counselors Row since it opened in 1998. It's searching for more efficient space as health care clients cut back on spending as they brace for the fallout from full implementation of Obamacare.

The firm is looking for space on the north side as well as downtown, though it could remain in its current location, he said.

"We have no complaints," Smith said. "I would think a lot of tenants that want to be close to Keystone at the Crossing but not in Keystone at the Crossing would be interested."•