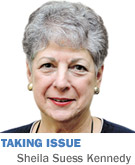 Politicians have been gerrymandering districts since the time of Elbridge Gerry, for whom the tactic was named—and he signed the Declaration of Independence.
Gerrymandering may be the most bipartisan activity we have. There are no good guys in the redistricting story. Whichever party is in control of a legislature when it is time to redraw district lines will enthusiastically cram as many of the other party's voters as it can into as few districts as possible, and will apportion the remaining districts to its own advantage.
Unfortunately, thanks to computers, this contest to game the system has become much more exact. And therein lies the problem.
Republicans controlled more statehouses when lines were last drawn. And in a "be careful what you wish for" outcome, the GOP has produced what Charles Kraut-hammer (no liberal) calls "the suicide caucus"—80 districts so red, so unrepresentative of the nation as a whole—that their representatives march to the beat of a decidedly different drum. Even within today's radical GOP, they represent a minority view.
According to Cook Political Report, representatives in the suicide caucus were elected with 14.5 million votes, or 12 percent of the votes cast in the 2012 elections. They represent 58 million constituents—18 percent of the population. Seventy-six of them are male, 79 white.
They insist they are speaking for "the American people," and they may believe it: As Gail Collins recently noted, Twitter has transformed Congress' younger generation.
"A hundred thousand people cheering you on in the social media feels like a mass movement. But this is a gigantic country. You can find 100,000 people who believe in a secret plot by Belgium to corner the market on beetroot."
There isn't much that rational Republicans and Democrats can do about today's zealots. (John Boehner has obviously lost control.) But we can—and should—avoid repeats of this hostage situation created by extremists who owe their elections to gerrymandering.
In Indiana, the League of Women Voters and Common Cause have launched "Rethinking Redistricting: Drawing a Line for Democracy," a project designed to ensure that "voters choose their legislators instead of legislators choosing their voters." They hope to generate a popular movement to amend the Indiana Constitution and require an independent redistricting commission.
The organizations recognize how difficult change will be. Both parties are invested in the current system. The only way change will occur is in response to a true grass-roots movement, and in order to generate that movement, ordinary citizens will need to understand how the practice of partisan redistricting undermines democratic accountability.
"Rethinking Redistricting" plans to conduct a broad educational campaign via "conversation circles," a time-honored approach to retail politics. Attendees will discuss the most harmful effects of our current system.
• It virtually ensures that few districts will actually be competitive. (In 2012, only two of Indiana's congressional districts were considered competitive.) When a result is predetermined—when a citizen's vote is unlikely to affect the outcome—citizens don't vote. And in Indiana, they don't. The 2011 Civic Health Index ranked Indiana 48th for voter turnout.
• With lack of competition comes polarization. Republicans don't fear Democratic opposition; they fear primary challenges from the right; Democrats don't worry about Republicans; they worry about attacks from the left. The current system thus destroys incentives to work across the aisle, to be reasonable, to negotiate and find acceptable compromises.
The current system gives us suicide caucuses.
Thanks a lot, Elbridge.•
__________
Kennedy is a professor of law and public policy at the School of Public and Environmental Affairs at IUPUI. She blogs regularly at www.sheilakennedy.net. She can be reached at skennedy@ibj.com. Send comments on this column to ibjedit@ibj.com.
Please enable JavaScript to view this content.