The prolific developer behind Indianapolis' $155 million CityWay project is working on a plan to transform a key parcel in the heart of downtown Zionsville.
Locally based Buckingham Cos. has a contract on a former gas station site at the southwest corner of Main and Sycamore streets, and the company is negotiating to acquire adjacent land—including a small trailer park overlooking Eagle Creek.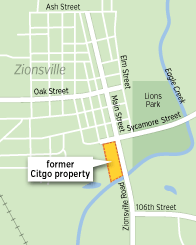 Notoriously tight-lipped Buckingham CEO Brad Chambers and John Cumming, the firm's vice president of development, did not return phone calls seeking comment.
Town Council President Jeff Papa said Buckingham is planning a mixed-use project, but "they haven't given us anything specific or filed anything yet." He referred additional questions to Chambers.
If Buckingham's recent work is any indication, expect multifamily housing along Sycamore and retail space fronting Main Street (which becomes Zionsville Road south of 106th Street).
CityWay, built on 15 acres in downtown Indianapolis, includes apartments, a hotel and about 25,000 square feet of retail. Along 10th Street near IUPUI, a $25 million project called The Avenue has apartments, restaurants and shops.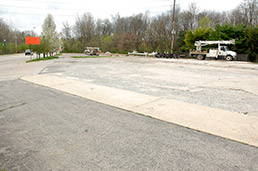 Buckingham Cos. is working on development plans for this key site at the gateway to Zionsville's historic downtown. (IBJ file photo)
The 2.4-acre site at 420 S. Main in Zionsville has been unused since the Citgo gas station there closed in 2008. The fuel pumps were removed the following year, and the last building was demolished in 2011.
But a complicated ownership structure and deed restriction kept the property from being sold. As IBJ reported in July when the then-undisclosed developer put the site under contract, it will lease the land until September 2015, when it can exercise a purchase option.
Officials are eager to see something happen on the parcel, seen as a crucial connection between the central business district and new development occurring to the south.
On the other side of Eagle Creek, Kite Harris Development is building South Village of Zionsville West, a three-building retail center anchored by a 5,000-square-foot Bub's Burgers and Ice Cream. Across the street, it's working on a 16,000-square-foot office building for future tenant Teays River Investments LLC.
Then there's the newly named Creekside Corporate Park, 80-plus acres of former Dow Chemical Co. land straddling 106th Street that the town bought earlier this year to spur development.
Zionsville also purchased the former PNC Bank at the northwest corner of Main and Sycamore—across from the Buckingham site—but officials have not disclosed plans for the property. Papa said no action is likely until town leaders figure out how to address traffic bottlenecks in the area. A downtown parking study also is under way.
Officials had considered buying the Citgo parcel, too, but ultimately decided the $2 million asking price from owner EBO LLC—an entity controlled by a Rochester, Minn., family that inherited the property—was too high. (Terms of the Buckingham deal were not disclosed.)
"The town is pretty well invested in what happens at that intersection," said Wayne DeLong, Zionsville's director of planning and economic development. "This is the gateway into our original brick Main Street."
The community is fiercely protective of its quaint downtown, but leaders are trying to ramp up commercial activity to diversify the town's tax base. In August, the Town Council approved Pittman Partners' plans for a $90 million mixed-use development on 62 acres at Sycamore and Michigan Road.
Even with adjacent properties included, Buckingham's project is expected to be less than a third of that size.
Given the prime location, it's not surprising a developer would try to assemble nearby land to give a project some heft, DeLong said. The Citgo parcel also has some challenges—it's in a floodway and power lines run through it, for example—that restrict where structures can be built.
Owners of the three properties west of the former gas station declined to discuss the status of the negotiations.
"I'm not at liberty to share information at this time," said Barbara Hanson Slaff, who owns a house at 235 W. Sycamore and a commercial building at 165 W. Sycamore.
Ralph Stacy, who owns the building at 125 W. Sycamore that now houses Electric Image clothing designs and The Finer Consignor resale shop, said he has had plenty of interest from developers since closing his Stacy LaBolt's Fine Ladies Apparel store six years ago.
The consignment shop, meanwhile, will close when its lease expires at the end of the month. Its owners are pursuing other locations.
Farther west along the creek, 80-year-old Marcella Compton is hoping to finally sell Zionsville Adult Village, the 15-lot mobile home park she and her husband bought in 1969. She said she's been talking to Buckingham for about three years.
"They're testing the soil, testing different things," she said. "There's a lot they have to check out."
Once the deal is done—"It's not final until it's final," Compton said—residents will have time to pack up and move out. She plans to retire.
The scope of the Buckingham development is still being determined, said local apartment guru George Tikijian, who has spoken to Chambers about it. Among details that need to be worked out: size, financing and town participation.
DeLong said the Zionsville Redevelopment Commission could approve financial incentives for the project if it results in a significant increase in the town's assessed value. And the sooner, the better.
"There's an incentive for any developer to put something together, sit down with the town and get marching," said Tikijian, senior managing director of brokerage Tikijian Associates.
As that piece of the puzzle becomes clearer, the rest should fall into place, Tikijian said.
Buckingham already is working with the town on another project: a proposed expansion of the 168-unit Quail Run apartment community on Ford Road north of the Boone Village shopping center. The developer wants to add six three-story buildings with a total of 142 apartments, a request the Zionsville Plan Commission is scheduled to consider this month.
All told, the Zionsville-Whitestown area has six apartment communities with 1,320 total units, according to data from Tikijian Associates. Quail Run, built in 1972, is the oldest. Occupancy rates average 94.7 percent.
Single-family housing is predominant downtown, but a smattering of apartments is available in the historic business district. Adding density to the already-walkable community makes sense, said Abbe Hohmann, president of Site Strategies Advisory LLC.
"Multifamily, I think, would be very popular," she said.
Projects already in the pipeline could change the rental market dynamic, Tikijian acknowledged, but "right now, developers are not overly concerned with that." Especially when a project can deliver the holy grail of real estate.
"That's a hell of a location," he said.•
Please enable JavaScript to view this content.