Good things come to those who wait. Or so it is said.
So rather than rush across the street from IBJ's office to 36 East Irish Pub and Grill (36 E. Washington St., 437-3578) as soon as it opened—as other food writers in town seemed to do—I waited patiently, hoping that what others were jumping the gun to report were merely startup kinks that would be worked out in short order.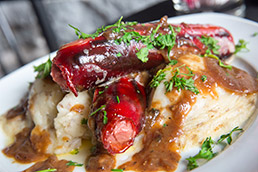 There's little bang in the Bangers and Mash at 36 East Irish Pub. (IBJ photo/Aaron P. Bernstein)
After waiting and then going twice for lunch, I wish I had better news to report.
On the first visit, it was difficult to find any positive physical changes to the space that had become a restaurant black hole with a trilogy of eateries failing to find a niche here. The long bar is still in place. A few tables line the opposite wall and fill the back. But this alleged Irish grill showed no signs of Emerald Isle-izing.
Those looking for St. Patty's atmosphere throughout the year would best head around the corner to O'Reilly's or a few blocks away to Claddagh. The only O'- music I found on the jukebox was a song by the O'Jays. The most conversation-worthy piece of the environment? A well-camouflaged stairway just a few feet from the bar.
None of which would matter much if the food took the high road instead of the low road. (Yes, I know that's Scotland, but here geography doesn't seem to matter much). If the food excelled, I could even ignore the vacuum cleaner left out or the overall sense that we were in a place that had already given up.
Alas, the fish in the Fish and Chips (usually $9.25 but on a lunch special) seemed to have been cross-bred with sea sponges, while the "chips" consisted of a curious mixture of a few generic fries with some potato chips added as if to say, "Sorry we ran out—here's something sorta like it." When the best part of Fish and Chips is the tartar sauce, there's a problem.
Bangers and Mash ($6.25) featured a pair of salty, uninspiring sausages on two scoops of thick mashed potatoes. Slightly more interesting were Onion Petals ($6.99), breaded and fried sweet Indiana onions served with a remoulade sauce.
Dessert? There was nothing on the menu and our waitress had long since given us our check.
A return visit didn't improve matters. With country music playing on the jukebox (sure, why not?), I picked through Steakhouse Shepherd's Pie ($8.95) that didn't bother with the traditional ground beef (OK, the name tipped me off to that) or peas. Instead, the kitchen layered in steak chunks and, wait, was that really corned beef? I'm all for fusion cuisine. I just was stymied as to what was being fused with what. 
My companion's Bison Burger ($10.99) was standard fare served with an actual full portion of the "chips" we had been shorted on during our earlier visit. "Chips" translating as dull fries.
36 East needs more than the luck of the Irish. It needs a careful look at how to please customers in a downtown that offers plenty of other options. 
Note: If what I've written causes concern, just recall the words of Irish wit Brendan Behan: "There is no such thing as bad publicity except your own obituary." Here's hoping management figures out how to make 36 East work before it joins the parade of other obits at this address.•
__________
Second in a month-long series of reviews of restaurants in recently rehabbed spaces.
Please enable JavaScript to view this content.