Indiana University officials are seeking $17 million to $20 million to upgrade the Natatorium on the IUPUI campus and are considering turning day-to-day operations of the aquatics venue over to a third party.
University officials have been in discussions in recent months with officials from the Indiana Sports Corp., the city's Capital Improvement Board, the National Institute for Fitness and Sport, and Mayor Greg Ballard.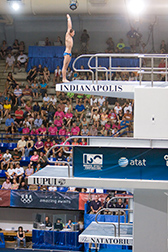 The Natatorium has hosted numerous world-class events, including the U.S. Olympic Diving Team Trials in 2008. (Photo courtesy of Brian Drumm/IUPUI Athletics)
IU officials would like the ISC to take over marketing and sponsorship development for the facility on the west edge of downtown, and NIFS to handle day-to-day operations, possibly even rolling the facility into their own, which sits nearby on the banks of the White River, according to sources close to the discussions.
Tom Morrison, IU's vice president for capital planning and facilities, which owns the Natatorium, said nothing has been settled.
"We're trying to look under every rock for long-term solutions," he said.
Added ISC President Allison Melangton: "Everything is on the table."
While Morrison said there's no formal partnerships yet, he hopes to have agreements in place by year's end that address the 31-year-old venue's immediate capital needs, setting up a funding mechanism for future capital needs and for day-to-day operations.
While the Natatorium is no longer considered big enough to host events such as the U.S. Olympics swimming trials, it still gets rave reviews from almost everyone involved in swimming and diving, and is plenty big for high school and NCAA championships, along with U.S. Nationals championships and sizable international events such as Duel in the Pool, which pitted the top American and Australian swimmers here in 2003.
The pool is still thought to be one of the fastest in the world and has been the site of myriad national and world records.
"Lots of swimming venues have come online since the Natatorium was built, but none have the volume of water—two 50-meter pools and a diving well—the Natatorium does," said Indiana Swimming event director Arlene McDonald. "It still has the largest seating capacity of any permanent indoor swimming facility in the U.S., and the aura and history of that facility is very compelling within the swimming community. It's simply outdated and falling behind, especially on the technological side."
Band-aid fixes in recent years have addressed air and water quality, condensation issues and a leaky roof. But McDonald said the facility is now in danger of losing its world-class reputation.
"We're in a holding pattern in terms of going after and hosting the very highest-level events," she said.

Melangton
IU: City must pay
While it's not clear which partners will step up to help IU with the Natatorium, school officials say city entities should play some role.
"We believe firmly that the Natatorium should not be on the backs of the students at IUPUI," Morrison said. "They're not the primary beneficiaries of this facility."
Morrison admitted that deciding where financial responsibility lies "is complicated."
What's not complicated—according to those familiar with the Natatorium—is determining what the 4,700-seat venue needs. While the pools and diving well are in good shape, the roof needs to be replaced, as do the heating and air-conditioning and electrical systems, Morrison said. Officials for USA Swimming said the facility needs modern video and scoreboards and other amenities common in newer facilities.
If the infrastructure work isn't done in the next two to four years, Morrison said, the price tag for upgrades could increase substantially.
"It's to the point that things need to be done," he said. "It's a situation of, 'You can pay me now, or you can pay me later.' And paying later could cost more."
School officials seem poised to spin off operations of the Natatorium—and possibly the track and soccer stadium (which needs up to $1 million of its own upgrades).
At the end of August, Natatorium and IUPUI Track and Soccer Stadium Director Julie McKenney left her position after 22 years with the school; she has not been replaced. IUPUI officials said they will wait another 30 to 60 days to make a determination about filling the vacancy. They might be waiting to see if the operations of one or both facilities will be outsourced.
"There's no active discussions on that right now," NIFS President Jerry Taylor said of the possibility his organization would take over.
Several sources involved in the conversations said the topic has been broached but that NIFS is waiting for a resolution of needed capital improvements.
"As we have with multiple community partners, we invited NIFS leadership to join in the conversation about the long-term planning of the Natatorium operations," Morrison said.
Taylor conceded that, if IU got the money to tackle upgrades and forwarded an operations proposal to NIFS, "we'd look at it."
NIFS would seem a logical partner to take over the Natatorium's operations for several reasons. In addition to the facilities' being next door to each other and both operations' being tied to health and fitness, NIFS officials have shown an ability to maintain long-term financial viability, something IUPUI hasn't pulled off with the Natatorium.
Despite a few lean years since the economy bottomed out in 2008, NIFS has managed to meet expenses and still have $1.5 million in reserve. IUPUI, meanwhile, loses $1 million annually on Natatorium operations.
It might make sense for NIFS officials if they can use the Natatorium to increase membership offerings and revenue-generating programming at the Natatorium and improve efficiencies by handling both facilities. But NIFS officials want assurances that capital expenditures won't come out of their bank account and a safety net in case increased-revenue forecasts fall short.
Other contributors?
ISC's Melangton, like IU's Morrison, said she hopes for a resolution by late December.
She confirmed that ISC has been in discussions with IUPUI about her organization's handling marketing and event promotions.
"We could certainly step up our efforts to bring in more events to the Natatorium," she said. "That would be the perfect role for us.
"I'm not sure it makes sense for us to market the Natatorium's summer camps and things like that," she added. "That could be NIFS or Indiana Swimming."
While Melangton stressed that the ISC board and staff have "made no decision whatsoever," she said it's extremely unlikely the Sports Corp. would take over venue operations.
Of more immediate concern might be money for capital improvements.
The ISC is in no position to help there, Melangton said, but is considering asking its corporate and other private partners to get involved.
Indiana Swimming, which oversees the sport in this state, appears poised to help.
"We can't come up with $20 million by ourselves, but our membership is fully ready to assist in a capital campaign," McDonald said.
Lathrop
Failing assistance from central Indiana's corporate community, IU is likely to come to the city's Capital Improvement Board for cash, said IU Trustee Pat Shoulders.
CIB doesn't generally contribute to facilities that aren't city-owned, said the board's president, Ann Lathrop, but she added the idea isn't out of the question. In late 2009, IUPUI officials asked CIB for $4.4 million to help upgrade the Natatorium, but that request was never acted upon.
There has even been some discussion that CIB might operate the Natatorium the way it does Lucas Oil Stadium and the Indiana Convention Center, both of which are municipally owned. CIB leaders have resisted that idea.
"We understand that's an important facility for this community which draws events that keep hotels and restaurants in the area extremely busy, and that drives tax revenue to the CIB," Lathrop said. "As a board, we need to look at whether or not we participate in this. And if we decide to participate, we have to decide in which capacity. Everybody wants to see that we find a solution. We just don't have one yet."
Mayor Ballard is aware of the discussions, and now that the city's budget is resolved, his chief of staff, Ryan Vaughn, said the issue will move to the front burner.
"The mayor recognizes this is an important facility for our tourism economy and sports strategy," Vaughn said. "We'd never just walk away from this issue. We haven't been forwarded a proposal [by IU]. When we do, we want to see if it makes sense … and see if we can get something done."
The mayor would need to get the City-County Council involved, Vaughn said, before making any financial commitment.•
Please enable JavaScript to view this content.