The house at 4750 N. Meridian St. isn't just a stately residence on a prominent street. As the official home for Indiana governors since 1973, it's a piece of history.
(IBJ Photo/ Eric Learned)
Since February, the English Tudor-style house has served as the primary address for Gov. Mike Pence and his wife, Karen. The state's first couple threw themselves wholeheartedly into mansion life earlier this year, selling their longtime home in Columbus and choosing to live full time at the governor's residence.
It's not a choice every governor makes. Upon his election in 2004, former Gov. Mitch Daniels eschewed the opportunity to live on Meridian Street, preferring to remain in his Carmel home with wife Cheri.
That didn't mean the Pences had to dust off cobwebs or shake off years of neglect when they moved in. While in office, the Danielses hosted many official events at the mansion and oversaw privately funded upgrades to the tune of $1.2 million. Projects included renovated kitchen and bath spaces, updated electrical and plumbing systems, and the addition of a security structure on the back of the house.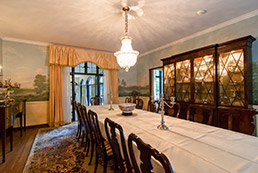 The formal dining room is used to host guests. (IBJ Photo/ Eric Learned)
Now, the Pences are adding small personal touches of their own and raising money to continue to make improvements to the 85-year-old house.
"For us, it's a privilege to live here," said Karen Pence on a recent walk through the residence. The born-and-bred couple—she's from Broad Ripple and he hails from Columbus—feel comfortable in their Butler-Tarkington surroundings, having met only steps away at St. Thomas Aquinas church. "We really felt like we wanted to live in our old stomping grounds."
With the youngest of their three children now in college, the Pences are not only adjusting to life as governor and first lady, they are also learning how to live as empty-nesters.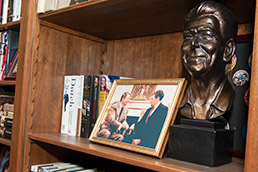 A bust of former president Ronald Reagan and a photo of Reagan shaking the hand of a young Congressman Pence rest on a shelf. (IBJ Photo/ Eric Learned)
It's a transition the couple are navigating with relative ease.
"Empty-nesting is OK," said Karen Pence. "If you raise your children well, it's rewarding to watch them go on and do their own thing. This is just a bigger nest than we anticipated."
The couple added extensive outdoor seating to the backyard patio to allow for more entertaining during warm weather. The cost was raised from private donations. (IBJ Photo/ Eric Learned)
Left behind are the family cats, Oreo and Pickle, and beagle Maverick, not to mention a steady stream of visiting dignitaries, students and other guests who frequent the mansion at official events.
Since the new administration began in January, the Pences have invited every member of the Indiana congressional delegation from Washington, D.C., not to mention every single legislator serving in the General Assembly. In June, the couple hosted a large viewing party during the Indiana Pacers' NBA playoff run.
To help accommodate larger crowds at certain events, the Pences this summer furnished the backyard brick patio with extensive outdoor seating. The addition, made possible with privately raised funds, allows for visitors to gather outside in warmer months, thus contributing significant square footage to the mansion's public space.
Year-round, public events are held in a large reception area known as the Hoosier Room, the formal living room and the formal dining room.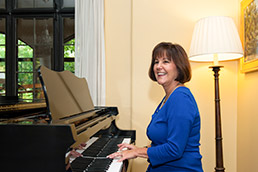 Karen Pence plays the piano in the formal living room. (IBJ Photo/ Eric Learned)
The main floor also features a small TV room, where both the governor and first lady host weekly Bible studies, and a home office for Gov. Pence overlooking the spacious front lawn and Meridian Street. Pence filled the office with his books, family photos and personal mementos.
One large souvenir returned with Pence from Washington.
The desk he used during his eight years as the U.S. representative from Indiana's 6th District was moved from his office on Capitol Hill. Such furnishings are property of the federal government, so Pence purchased the desk for his own use back in Indiana.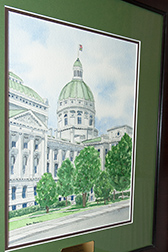 A watercolor of the Statehouse by Karen is a gift to Mike. (IBJ Photo/ Eric Learned)
Hanging on the wall near his desk is a watercolor painting of the Statehouse, a gift from his wife on election night last year. The first lady, a former schoolteacher who now regularly travels the state promoting education initiatives, has carved out her own career as an artist and has hung several other watercolor works throughout the governor's residence.
Many of those works hang upstairs in the private family quarters, where the first couple spend most of their time at home. The second floor features several bedrooms and bathrooms, a family kitchen and everyday living space.
"It's kind of like an apartment over the shop," said Mrs. Pence. "Once we go upstairs at night, we feel like we are home."•
Please enable JavaScript to view this content.