Indianapolis lacks a five-star hotel, a fact some hospitality experts think could hurt the city's chances of landing the 2018 Super Bowl.

But there's no local consensus on whether the city needs to go more upscale—either through upgrading existing four-star hotels or seeking new super-luxury brands—to help land the big game and other events that attract the upper crust.

Even without such a plan, the city has added to its high-end offerings in recent years and luxury hotel developers are sniffing around.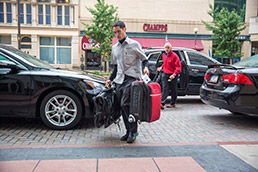 Michael Berry, a porter at Conrad Indianapolis, helps guests with their bags. (IBJ photo/Aaron P. Bernstein)
"I would not seek a five-star hotel for five-star's sake," said Leonard Hoops, CEO of Visit Indy, the city's tourism marketing arm. "But if a developer decided it would be a good business decision to place a five-star hotel in this market, I'd support that."

Hoops cautioned against "building a church for Easter Sunday," adding that he's not sure Indianapolis can support another downtown hotel right now, let alone an elite one.

Indianapolis isn't alone in its dearth of hotels that earn the highest designation from the top two professional rating services: Forbes Travel Guide—which rates with stars—and AAA, which awards diamonds.

Minneapolis and New Orleans, the other two finalists for the 2018 Super Bowl, don't have any five-star or five-diamond hotels, either. But both of those cities have more four-star and four-diamond hotels than Indianapolis.

During the 2012 Super Bowl festivities, some NFL owners and high-rolling league sponsors complained that Indy lacked enough high-end hotels. Some members of the 2018 Super Bowl bid committee have conceded the hotel offerings, especially downtown, could be a strike against the city.

Indianapolis has seven four-star or four-diamond hotels, with the renovation of the downtown Hyatt Regency. Minneapolis has nine, and sister city St. Paul has another. New Orleans boasts 20.

Indianapolis has made major strides in its downtown luxury-hotel offerings in the last three years. The 1,005-room JW Marriott, the city's largest hotel, earned a four-diamond rating shortly after opening in 2011. The 499-room Hyatt Regency this year completed a $20 million renovation and, after a months-long initiative led by former General Manager Brian Comes, was bumped from a AAA three-diamond to four-diamond rating this fall. The Alexander, a 209-room hotel that opened on the southeast edge of downtown in January 2013, is expected to land a four-star or four-diamond rating soon.

The Crowne Plaza is undergoing a $9 million renovation. Owners of The Canterbury announced last month that their historic hotel will begin a $9.5 million overhaul in January. The Omni Severin, a four-diamond hotel, just completed a major renovation. And the Westin Indianapolis plans to embark on a $14 million renovation beginning in November.

Those developments draw Indianapolis near Minneapolis/St. Paul in the luxury-hotel race. Still, both cities are far behind New Orleans. And there's no comparison with cities like Chicago and Miami, which have multiple five-star hotels and dozens of four-star establishments.

Two things hurt Indianapolis when it comes to attracting and supporting luxury hotels, said Joe Brancatelli, a New York-based travel consultant and operator of the website Joesentme.com.

"Indianapolis is not a destination resort like New Orleans and it doesn't have an airline hub like Minneapolis," he said. "Those two factors are going to draw in the businesses and leisure travelers that will support those types of high-end establishments."

No worries?

Indiana Sports Corp. CEO Allison Melangton, who is leading Indianapolis' effort to land the 2018 Super Bowl, isn't overly concerned.

"For every event we bid on and host, including the Super Bowl, it's important to have hotels at all price points," Melangton said. "I think we have a great mix of hotels."

Hoops thinks the city hospitality industry needs to set itself up to serve its regular convention and tourism traffic, not for events with unpredictable return dates.

"Certainly, the NFL owners have expressed a desire to have more of that higher-end product, but 99 percent of the time on the convention side, I've not heard that complaint," Hoops said.

But the Super Bowl isn't the only event where organizers were begging for more premium hotels. Indianapolis lost to Philadelphia a bid to host the 2000 Republican National Convention, and hospitality leaders said one of the key factors was not enough luxury hotels.

"This is an issue for the city that extends well beyond the Super Bowl or any singular event," Brancatelli said.

While hospitality officials are quick to downplay the absence of five-star hotels here, Visit Indy officials admit they'd market them if they had some to tout.

Instead, the city's marketing materials focus on the compact downtown and large number of hotel rooms in close proximity or connected to the Indiana Convention Center.

"If our biggest deficiency is we don't have enough five-star hotels, I take that as a compliment," said Cory Chambers, vice president of sales and marketing for Merrillville-based White Lodging, which operates 13 hotels in Indianapolis and Hamilton County. "Many cities have much bigger shortcomings that are far more material than that."



But meeting planners admit the dearth of high-end hotels is at times a concern.

"The demand depends on the client we're working for, but I can assure you, when we do have five-star hotels to offer, we get a good number of reservations for them," said Debbie Locklear, president and owner of locally based Meeting Services Unlimited Inc., which handles several large national trade shows. "For some of our clients, we definitely have people that want those amenities. Some executives will even pay out-of-pocket for them."

Burden to bear

There are several reasons some hotel operators shy away from seeking five-star status.

Fewer than one-half of 1 percent of hotels nationwide hold the five-star/five-diamond distinction. Even a four-star or four-diamond rating is difficult to earn, with just more than 4 percent having that status.

Hotel operators can petition to have their establishments rated, but to earn the highest rating, hotels must endure a painstaking inspection over multiple days by an incognito Forbes or AAA inspector.

The litany of qualifications for even a four-star or four-diamond hotel is staggering. Requirements for the highest rating often don't make business sense, hotel operators said.

Five-star/five-diamond requirements run the gamut of services and infrastructure particulars. For instance, hotels must have five or, in some cases, six plumbing fixtures in their bathrooms—with separate bathtubs and showers as well as dual sinks, toilet and bidet. The linens on the bed must have a certain thread count and each room must be adorned with crown molding and fresh flowers.

Guests at a five-star hotel must be greeted and helped within 30 seconds of pulling up to the curb and checked in within five minutes of entering the lobby. A call to the front desk can never go more than three rings without being answered. Twenty-four-hour room service as well as same-day laundry and dry cleaning and one-hour pressing must be available seven days a week.

Housekeeping services must go to extreme lengths. For instance, during room cleaning, all shoes must be placed neatly in pairs, right shoe on the right and left shoe on the left.

Guests must be showered in luxury from the time they wake up until they turn in.

Questionable ROI

"From a practicality standpoint, a determination to seek five-star status must be made when you're designing and building a hotel," White Lodging's Chambers said. "Once it's built, it's very difficult to change the infrastructure of a hotel, even from a four-star to a five-star."

Added construction costs to attain five-star status can be considerable. Hotel experts estimated it costs at least $15,000 more per room to build a five-star hotel than a four-star. For a 500-room hotel, that's at least an additional $7.5 million. Add in entrance, lobby and other common-area enhancements and that number easily doubles, industry analysts said.

All that investment in infrastructure and manpower drives up room rates considerably, from $250 to $400 a night for a four-star hotel to more than $550 for a typical five-star, according to Tennessee-based Smith Travel Research. And some five-star hotels cost considerably more. In certain markets, the five-star rating and the room rates that accompany it are more of a deterrent than an attraction.

"In the world of investors, diamonds and stars are less important than they are to travel writers and consumers," said Mark Eble, Midwest regional vice president for San Francisco-based PKF Hospitality Research. "We're more interested in profitability. Diamonds and stars are only important to the point that they are profitable."

With the rise of the Web, earning extra stars and diamonds doesn't have the same value it once did. "These days, it's all about sites like TripAdvisor, and customers seeing what other customers have to say," said Glenn Brooks, vice president of locally based General Hotels Corp.

Businesses frown on five-star

Despite Indianapolis' growth in convention business and leisure travel, most local hoteliers are still uncertain that a five-star hotel would be profitable long term in this market. White Lodging's Chambers said his company did a thorough study of the current market and future travel projections before deciding to build a JW Marriott, a brand that nationwide typically carries a four-star rating.

"We position our property as we think is best for the market and let the stars and diamonds fall where they may," Chambers said.

Several local hotel operators—including some with four-star ratings—noted that large local corporate clients such as Eli Lilly and Co. Inc. and Anthem Inc. frown on their employees' staying in super-posh hotels.

"In the post-recession era that we're in, a lot of companies want to shy away from that type of lavish spending, or at least the appearance of it," Eble said. "And a lot of association and convention attendees also are limited by tighter corporate expense accounts."

Five-star interest in Indy

But there might be a market here for such opulence, if not now, then relatively soon. Hoops admitted he's had recent inquiries from several hotel operators considering putting a five-star brand in Indianapolis. Among the developments being considered are Four Seasons, Waldorf Astoria and Ritz-Carlton. He declined to name the potential developers.

Chambers thinks the city's winning a bid to host its second Super Bowl could spur that type of development.

"If that ever happens, that puts Indianapolis in an elite group of cities that have hosted two Super Bowls in a short period of time," he said. "That could help them bring in more big, high-end conventions. And if they're able to get on a Super Bowl rotation the way they are with the Final Four, that could spur other development. I think then you can start seriously considering putting that type of property in Indianapolis."•