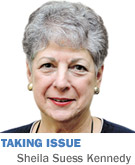 When my mother told me money can't buy happiness, she was evidently onto something. Recently, the World Happiness Report recognized Denmark—a cold country with one of those high-tax "socialist, nanny-state" governments—as the happiest nation on Earth.
"The six factors for a happy nation split evenly between concerns on a government- scale and a human-scale. The happiest countries have in common a large GDP per capita, healthy life expectancy at birth, and a lack of corruption in leadership. But also essential were three things over which individual citizens have a bit more control: a sense of social support, freedom to make life choices, and a culture of generosity."
Social support. A "culture of generosity."
I once had a Canadian colleague who insisted that cold weather encourages development of social cooperation and interdependence, and that's why places like Canada and Denmark develop better social safety nets. Could be.
Of course, being prosperous (not to mention healthy and virtuous) didn't hurt. The report noted generous parental leave policies, comprehensive medical care as a civil right, high levels of gender equity, and the Danish penchant for biking (even though it is cold, bikes account for 50 percent of all commutes in Copenhagen, contributing to fitness and reducing carbon emissions—not to mention saving the city some $34 million annually).
But it's seemingly that "culture of generosity" that contributes most significantly to Danish contentment. Strong social connections, and a generous social safety net mitigate the economic insecurities that give rise to, and exacerbate, social divisions elsewhere.
There's a fair amount of evidence that strong social safety nets correlate with healthier social indicators—less gun violence, lower divorce rates, less labor strife, lower levels of teen pregnancy and the like.
(In all fairness, there's also evidence suggesting that feelings of mutual obligation and collective responsibility also correlate with high levels of homogeneity. It's easier to care about the elderly when they all look like Grandma …)
The report notes that Danish culture inculcates "a sense of stewardship." Danish citizens are massively engaged in the nation's political and civil life. During the last election, in 2011, 87.7 percent of eligible voters turned out. Over 40 percent volunteer in nongovernment organizations and social and political organizations.
(We Americans consider ourselves joiners, but the Danes set a high bar—in 2006, with a population roughly equivalent to that of Indiana, there were 101,000 Danish voluntary organizations!)
Denmark might not be everyone's idea of the ideal society, but in my book, life there sure beats the "vision" regularly espoused by Paul Ryan and the Tea Party—a dog-eat-dog society in which the privileged deny any obligation to the less fortunate, where basic health care is a consumer good available to those who can afford it, and social security is "charity."
American individualism has enabled remarkable progress and entrepreneurship, and our history and diversity and sheer size distinguish us from countries like Denmark.
But we can learn from the experience of others, beginning with the Greeks, who recognized the existence of a "golden mean" between extremes, and continuing through the Founders, who valued negotiation and compromise.
We need to find the proper balance between extreme individualism and suffocating community—between pluribus and unum.
And while we're talking about happiness, I'd just observe that folks in states like Mississippi and Texas—where Tea Party principles are the order of the day and efforts to create a "culture of generosity" would bring catcalls and derision—don't look all that happy to me.•
__________
Kennedy is a professor of law and public policy at the School of Public and Environmental Affairs at IUPUI. She blogs regularly at www.sheilakennedy.net. She can be reached at skennedy@ibj.com. Send comments on this column to ibjedit@ibj.com.
Please enable JavaScript to view this content.