Never mind that Angie's List posts a loss every year.
Wall Street isn't worried about that, right now.
But let its double-digit revenue growth slow just a bit and, before you know it, the stock has fallen 33 percent—as it did in October.

Oesterle
It's a month that started with word the Indianapolis company's chief technology officer, Manu Thapar, was out the door. The stock shriveled even more after CEO Bill Oesterle surprised analysts by telling The Wall Street Journal the company would test slashing membership rates—a move some interpreted as an act of desperation. Shares started the month at $22.36 and ended around $15.
As the dust settles on the quarter, it's becoming clear that analysts are concerned about a particular aspect of the company's performance: It did not sign up as many new service providers as expected.
It used to be that Angie's List made its money principally by selling annual memberships to consumers, who generate reviews of service providers such as painters and plumbers in 244 markets.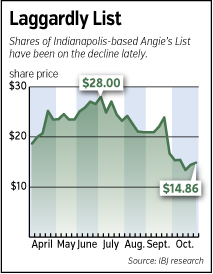 Today, however, about 74 percent of the company's revenue comes from service providers, who purchase ads on Angie's website and print publication.
What's wrong with service-provider revenue soaring 66 percent in the third quarter? It was slower than the 96-percent leap in the same quarter last year.
This key chunk of revenue also grew more slowly than the 72-percent increase in this year's second quarter.
Many companies would be thrilled to see sales rise 66 percent. But this is the rarified world of a fast-growing Web company, whose eventual plan for profitability is predicated on building out its service in cities around the country. Angie's could be profitable today if it didn't choose to put dump-truck loads of its cash into marketing spending that's made company namesake Angie Hicks a fixture on national television.
Yet many think Angie's List is insanely overvalued and can never justify its $1.4 billion market value. As such, Angie's is one of the most shorted stocks on NASDAQ (more than 20 percent of the shares were sold short as of mid-October). Shorts borrow shares of a company and bet they can cover the loan later by buying shares at a lower price.
Pessimism is fueled in part by the rise of new competitors such as HomeAdvisor, Thumbtack and more mature consumer services such as Yelp.
"Angie's List is highly dependent on the success of its accelerated growth strategy, by replicating strategies executed in older markets to newer markets, which may never be as attractive as the older markets," Deutsche Bank said in a recent report summing up the risks of the Angie's List model.
Quality over quantity
In this environment, even Angie's success in adding 2,424 service providers in the third quarter wasn't good enough, given that it added 3,187 during the second quarter.
Angie's added 113 new salespeople at the end of the second quarter. It has about 732 salespeople who originate ads, and another 186 involved in the renewal side of the business.
"I realize those [113] won't be up to full capacity for some time, but I'm surprised by the quarter-over-quarter dip in new service providers," Janney Montgomery Scott analyst Shawn Milne told Oesterle during an earnings call Oct. 23.
"You know, all else equal, this would be the number that sticks out to me as being an outlier," Milne added.
Oesterle replied that Angie's List was driving more business to "highest quality" service providers, which could generate more ad growth for the company.
He conceded that productivity of the sales staff has suffered as a result of recent changes to the way it pays its sales staff—from commission-only to a commission plus base salary method. That change is expected to improve cash flow by $10 million a year.
Earlier, Oesterle told analysts that advertising originations "labored through" the compensation change but that ad renewals were strong.
Stifel Nicolaus analyst Jordan Rohan, in a report for clients issued late last month, said Angie's is increasingly favoring business with existing, "high quality" service providers at the expense of growth in the base of service providers.
"Management needs to be careful to strike the right balance between new and established [service providers], in our view."
The investment firm still maintains a "buy" rating on the stock but said the bottoming process "may take a while" before efficiency improves enough to rally shares.
Not good enough
Other analysts have cut their estimates and stock-price targets. Deutsche Bank, for example, lowered its 12-month price target to $16, from $26 a share—citing in part the "sharp" slowdown in new service-provider revenue.
If Angie's List can "reinvigorate" its sales force and sign new service providers to advertising, "there could be upside to our numbers in 2014 and beyond," the firm said on Oct. 24.
Angie's posted a third-quarter loss of $13.5 million, or 23 cents a share, an improvement from an $18.5 million, or 32-cent, loss for the same quarter last year.
Earnings per share were on the low end or below analysts' expectations.
"The shortfall was driven by lower-than-expected service provider originations, despite strong e-commerce revenue and general improvement in all [new and old markets]," said Barrington Research analyst Jeff Houston.
He maintained a market-perform rating, saying Angie's core business model remains sound.
Among bright spots, the company burned through less cash in the quarter— $800,000 versus $10.5 million in the same time last year.
More from e-commerce
Another improvement is rising revenue generated through e-commerce transactions that members can make on the website by, say, clicking on a special offer for gutter cleaning. E-commerce revenue—Angie's cut from those deals— rose 70 percent year-over-year, to $6.4 million.
The company is also working on new website functions, such as one allowing members to schedule service online.
Technology is one area where top management hopes to mine more revenue but also as a bulwark against competitors in the consumer-reviews genre.
Even Ebay is experimenting with such a service, in the United Kingdom.
"In technology, I determined that we no longer had what we needed," Oesterle told analysts, referring to the company's former chief technology officer.
As for the short-lived membership price cuts in some markets that rattled investors, Hicks seemed to quell the concern by noting the company has long experimented with membership pricing levels.
While some competing review sites don't charge membership fees and allow anonymous reviews, Angie's List has held that its 2.4 million members are more valuable. The thinking is that those who care enough to pay for membership will flock to businesses that get good reviews.
The more Angie's List can demonstrate that value to businesses, the more likely they'll advertise, and perhaps at higher rates.•
Please enable JavaScript to view this content.