The upcoming Performance Racing Industry Show—in its first year back in Indianapolis since 2004—is beating expectations for exhibitors, attendees and, most important, visitor spending.
Several hotel operators have had to dramatically increase room blocks as reserved attendance has surged past 40,000.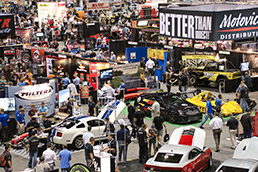 About 38,000 people attended the 2012 Performance Racing Industry Show in Orlando; 40,000 are expected here next month. (Photo courtesy of Performance Racing Industry )
"We've been sold out for the three nights the show is here for a long time," said Dale McCarty, general manager of the Westin Hotel downtown. "PRI organizers are telling us that having the show return to Indianapolis has been a powerful draw. The demand has taken quite a few people by surprise."
Almost every inch of the 566,000-square-foot Indiana Convention Center has been booked for the show, which will take place Dec. 12-14. PRI officials have even resorted to putting booths in hallways and other rooms and spaces not usually used for exhibits.
PRI officials said there will be 3,400 booths operated by 1,200 exhibitors, up from 2,800 booths and 950 exhibitors last year when the show was in Orlando.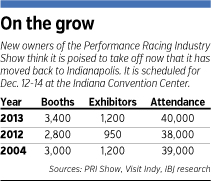 The PRI Show's economic impact this year is 15 percent higher than it was last year in Orlando, according to Visit Indy, and everyone involved thinks there's still room for growth.
The show is expected to be Indianapolis' second-biggest convention this year, with a projected economic impact of $45 million. Only Gen Con, with an annual economic impact of $47 million, is bigger. Local tourism officials think in a year or two, PRI could be the city's most lucrative convention.
"This growth and the potential for more shows one thing: There's only one place for a hard-core motorsports industry show—Indianapolis," said Chris Paulsen, owner of C&R Racing, an Indianapolis-based maker of race car components. "Indianapolis is within an eight-hour drive of 80 percent of the nation's motorsports-related companies. No disrespect to our friends in North Carolina, but Indianapolis is the heart of racing and it's where this show belongs."
The allure of coming to a crossroads like Indianapolis was so strong that PRI officials had to go back to area hotels and ask for more rooms. They set up a shuttle from airport hotels to get attendees quickly to and from the Convention Center downtown.
Forrest Lucas, owner of California-based Lucas Oil Co., wonders why PRI ever left.
"Orlando was built for Disney World," said Lucas, whose company has the naming rights to Lucas Oil Stadium and has a strong Indiana presence. "Indianapolis was built for the Indianapolis 500. It's a working city, and it's set up a lot better for a convention.
Sleeping with the enemy
The way was paved for the PRI Show to return to Indianapolis early last year when California-based not-for-profit Specialty Equipment Market Association acquired PRI, whose previous owner, Steve Lewis, moved the show to Orlando in 2004 after a seven-year run in Indianapolis.
Lewis originally promised to bring it back in four years but later backtracked, saying even the expanded Indiana Convention Center was too small.
In response to Lewis' proclamation, Paulsen and a group of partners—including NASCAR driver and native Hoosier Tony Stewart—formed the International Motorsports Industry Show in Indianapolis in 2009.
When SEMA Chairman Scooter Brothers laid out his plans in 2012 to bring the show back to Indianapolis long-term, Paulsen agreed to sell his show to SEMA so the shows could be combined.
"I think bringing the strengths of the two shows together has a lot to do with the growth of PRI in Indianapolis this year," said Tom Weisenbach, Indiana Motorsports Association executive director.
So alluring is the idea of combining the strengths of the IMIS and PRI, more than 100 racing companies that were involved in neither show last year have signed up to be exhibitors this year.
While PRI's growth stagnated and even declined somewhat in the last four years in Orlando, attendance at the IMIS Show in Indianapolis had grown from 10,350 in its first year to more than 25,000 last year at the Indiana Convention Center.
"Both shows had their strong points, but bringing them together has really helped enhance the one remaining show," said Tim Frost, president of Frost Motorsports, a Chicago-based motorsports business consultancy. "Then add in the resources of SEMA, and you've really got a powerhouse show."
SEMA, which holds the nation's largest manufacturing-related trade show in Las Vegas each November, has thrown its marketing muscle behind the event and also conducted racing-industry-specific research to help the show set a path for growth.
PRI here to stay?
PRI has a contract to do the show in Indianapolis through 2017, but event organizers say they hope to be here longer than that.

Kilroy
"We have no plans to go anywhere," said John Kilroy, PRI's vice president and general manager. "Indianapolis is the best place for the industry of racing to have a show. That's been demonstrated."
Leonard Hoops, CEO of the city's tourism marketing arm, Visit Indy, said his organization is doing everything it can to extend the relationship beyond the initial five-year agreement. But he said they're not giving convention center space rent-free.
Paulsen thinks it's only a matter of time before the PRI Show expands to Lucas Oil Stadium, something few conventions here have had to do since the stadium opened in 2008, and the 275,000-square-foot Convention Center expansion opened in 2011.
The Fire Department Instructors Conference has used LOS for heavy and aerial equipment displays, and Paulsen thinks that show creates a blueprint for the PRI Show.
"I think Lucas Oil Stadium can be a very dramatic space and you can dress up the corridor between the Convention Center and stadium so the 600 feet between the two isn't a barrier at all," Paulsen said. "There's a trailer transport segment to the show, and I think displays for those companies would work well in the stadium. In fact, I think there could be a demand for the space."
PRI officials previously expressed some doubt Lucas Oil Stadium would work as exhibit space because of the distance between the stadium and convention center and the stadium's set-up. Now that they've become familiar with the facility, they're more optimistic.
PRI officials won't have long after this year's show to determine if they'll need the stadium space for 2014. The city's Capital Improvement Board, which owns the Convention Center and LOS, will need to know soon so it can make arrangements not to have an Indianapolis Colts home game here the weekend of the PRI Show.
By the end of this year's show, PRI officials should have a solid idea of what the renewal rate will be among its exhibitors for the 2014 event.•
Please enable JavaScript to view this content.