Maybe it was the chance to meet Martha Stewart. Perhaps it was the opportunity for entrepreneurs to pitch their concepts to investors.
Regardless of the reason, the Indiana Governor's Conference for Women saw a flood of interest in its first year. About 1,000 people have registered for the Nov. 5 event at the JW Marriott.
The conference will spotlight women's roles in the corporate world in a state where they make up half the work force but just 10 percent of the top jobs at publicly traded companies. Only two out of more than 60 public companies in Indiana have women as their CEOs.

Stewart
It's not much different nationwide, with 4 percent of Fortune 500 companies having a woman at the helm.
Women business leaders will have a chance at the conference to meet and learn from some of the nation's top executives and investors, better positioning the attendees, organizers hope, for their own leadership roles.
"Corporate women leaders are a talented bunch, and we need to support them," said Deborah Collins Stephens, one of the event's chairwomen.
Some companies plan to send dozens of their employees to the event.
ExactTarget Inc., for instance, plans to send more than 50 of its workers, said Traci Dolan, the company's chief administrative officer and one of the speakers.
An employee-run group at the tech firm drove the effort, she said. Enough employees responded that the group had to ask for more money to cover everyone's costs.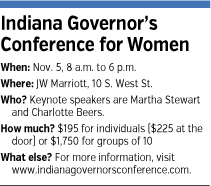 Stephens organized the conference with Indianapolis entrepreneur Billie Dragoo.
Dragoo founded health care staffing- and service-provider RepuCare. The Washington, D.C.-based National Association of Women Business Owners appointed her chairwoman of the group's board.
Stephens was a West Coast consultant, public speaker and author who came to Indiana to oversee the state's first investment fund focused on businesses owned by women, minorities and veterans.
Media titan Martha Stewart and Charlotte Beers, an executive once dubbed "the most powerful woman in advertising" who later served as an undersecretary of state, will keynote the event.
Breakout discussions will range in topic from raising outside investments to successful social media strategies.
Besides speakers, the conference will include pitch competitions by six investment-seeking Indiana companies: Snappening.com, Hoosier Momma LLC, eMath, Smoogy Cookie, Life in the Moment, and SurClean.
Originally, three companies were going to participate, Stephens said, but after receiving a massive response, organizers added a second competition to make room for three more entrepreneurs.
The business owners will pitch their ideas as part of the "Dolphin Tank." Unlike the TV show "Shark Tank," the conference's event focuses on a lighter, more supportive touch.•
Please enable JavaScript to view this content.