The clock is ticking on Fishers' proposal to impose a 1-percent food-and-beverage tax to fund economic development in the fast-growing suburb.
State lawmakers agreed earlier this year to allow the town to collect the extra penny as it works to reinvent its uninspiring downtown, but officials must pull the trigger on the tax hike by Dec. 31.
Town Council President John Weingardt said it's far from a done deal, even though local leaders asked the Legislature to authorize the move.
"It is important that we as a council step back and let the public tell us what they want," he said. "We still have to represent our constituents."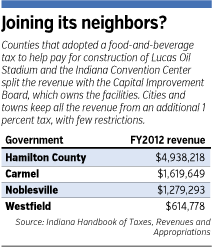 To that end, two public hearings are scheduled before the council's December vote: Residents and business owners can share their thoughts Nov. 12 at a special meeting or Nov. 18 during a regular council confab. All correspondence and phone messages also will be shared with members.
Although raising taxes is rarely a popular idea, Fishers is embarking on an ambitious—and expensive—downtown redevelopment plan intended to spur commercial investment in the community.
The town turned over publicly owned land and agreed to pay for a parking garage at The Depot, a $42 million mixed-use project now being built along 116th Street, for example, and its redevelopment commission has been buying and bundling private property to make it more attractive to developers.
Officials also are working on several other projects expected to bring businesses (and their employees) to the town center, but no details have been made public during the talks.
"It's a timing issue. These deals run at their own speed," said Weingardt, who told IBJ in May that the tax-hike might be difficult to approve without "an economic development deal to hang it on."
An announcement could come soon. The town's Economic Development Commission and Redevelopment Commission each held executive sessions Nov. 5, justifying the closed meetings because they were negotiating with corporate prospects and discussing real estate strategy.
The town's engineering department, meanwhile, is working on plans for no fewer than six downtown road projects next year to support The Depot and "other pending development projects," according to a council action form submitted by Engineering Director Jeff Hill.
At their Nov. 4 meeting, councilors approved spending $610,000 to engage an outside consultant to help get the projects ready for bid.
Among the plans: extending Fishers Corner Boulevard west from Lantern Road to Municipal Drive—including a new crossing over the Nickel Plate railroad tracks—widening and improving Lantern from 116th to Commercial Drive, and reconfiguring that intersection to accommodate a relocated Technology Drive and entrance to Northeast Commerce Park.
Those projects will continue regardless of the council's decision on the food-and-beverage tax, Weingardt said, but having new sources of revenue could help the town maintain momentum over the long haul.
"This is a 10- to 20-year journey we're talking about here," he said. If the tax doesn't pass, "we'll keep moving forward, just maybe a little slower."
Freshman Councilor Renee Cox thinks there are other ways to keep the economic development engine running, and she already has taken a public stand against the proposal.
"Taxing should not be a fiscal conservative's solution," she wrote in an email.
The state legislation requires that Fishers use any proceeds from the tax to lower property taxes or support economic development.
It's not a huge sum in a town with an $81 million annual budget, but it adds up. And other communities in the northern suburbs have been collecting a 1-percent food-and-beverage tax for eight years, ever since a funding deal for the construction of Lucas Oil Stadium in Indianapolis gave them the chance.
Suburbs that adopted the tax at the time—Carmel, Noblesville, Westfield and Zionsville—can use the money for any public purpose.
Six of the so-called doughnut counties around Indianapolis also authorized a 1-percent tax; they must split the proceeds with the Marion County Capital Improvement Board, which owns the stadium.
The fact that Fishers isn't pioneering the idea of food-and-beverage tax in Hamilton County could make its proposal more palatable.
"Visitors will not notice it, because they're used to it," said Brenda Myers, executive director of the Hamilton County Convention & Visitors Bureau and a resident of Fishers.•
Please enable JavaScript to view this content.