A city program to help veteran-owned businesses fell short of its goal for its first three years, and it looks like the fourth will be the same.

Indianapolis and Marion County in 2008 set a goal to annually give 3 percent of all contract funding to Veteran Business Enterprises, which are a federally certified type of business. Mayor Greg Ballard, a former Marine, created the initiative.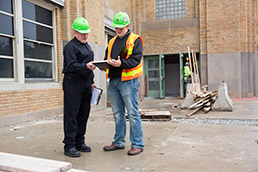 Tiger Solutions International founder Greg Medcalf (left) works with Derek Sease, an assistant project manager for construction firm Mezzetta Inc. About 60 percent of Medcalf's sales come from contracts received as a Veteran Business Enterprise. (Aaron P. Bernstein)
Gov. Mike Pence began a similar push at the state level this year, but it has existed only long enough for one veteran-owned business to receive a contract.

The effort has yet to reach its annual goal at the city level. On top of its being relatively new, city officials say they can't find enough qualifying businesses, despite coordinating or participating in outreach events throughout the year.

But some companies, including Citizens Energy Group, have hit their own 3-percent targets for spending with veteran-owned firms. Ironically, the city required Citizens hit the target as part of the terms of its purchase of the city's water utility.

Programs supporting veteran-owned businesses, which operate like similar efforts for women- and minority-owned firms, can give companies that participate a leg up on competitors. It's one way to address difficult economic issues veterans face.

To qualify, a veteran must own at least 51 percent of a company and run it day to day.

By the end of September, the city and county awarded $900,000—or 0.25 percent of all contract funding this year—to certified veteran-owned businesses. The most the city issued in one year was $5 million in 2010, which was less than 1 percent of total contract money for the year and still far short of its 3-percent target.

There just aren't many veteran-owned businesses with the right credentials to bid on contracts, said Gregory Wilson, director of the Department of Minority and Women Business Development, which oversees the initiative.

To count toward the 3-percent goal, the contract recipient or subcontractor needs the federally issued certification, which requires a months-long process that not many entrepreneurs know about, government and business leaders say.

Few and far between

Fewer than 150 businesses have acquired the certification in all of Indiana, with about one-third of them in Indianapolis. The number has grown in recent years but remains a fraction of the total businesses in the state.

Even fewer of them offer the right types of services for any given project, considering the biggest awards are usually for construction or technology.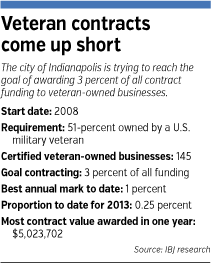 "Some of them are maybe office supplies and janitorial services," Wilson said. "You don't have [veteran-owned] companies with the capacity to do large construction projects."

Plus, the program is relatively new and not many business owners know about it, said Marc Lotter, a spokesman for Ballard.

"Just the mere existence of these programs, it creates an opportunity for veterans … to go out on their own," Lotter said.

Ballard, who was traveling, declined an interview request through Lotter.

The state has awarded one contract as part of the Veteran Business Enterprise program, a state spokeswoman said. Tiger Solutions International LLC received a subcontract worth $560,000 over four years.

The certification has given a lot of business to the 6-year-old Avon firm—enough that it plans to move to a larger office in Indianapolis that can house more employees, said company founder Greg Medcalf.

Medcalf, 63, was a former buck sergeant in the U.S. Army's 82nd Airborne Division in the early 1970s before he began working in human resources and consulting. He started Tiger Solutions in 2007 in Avon. The firm provides services ranging from leasing construction equipment to HR consulting.

Tiger Solutions lists the Army and the Navy among its clients, as well as several corporations, including WellPoint Inc.

About 60 percent of sales come from contracts received by being a Veteran Business Enterprise, Medcalf estimated.

He runs the company by himself, with a half dozen free-lancers, but the firm has grown enough that he plans to hire three or four people.

High unemployment

Veteran entrepreneurs could be a key way to address much larger work-force issues among former military members, especially as the wars in Iraq and Afghanistan wind down and send soldiers back to work in the civilian corporate world.

Indiana had the fourth-highest veteran unemployment rate in the country in 2012 at 20.1 percent—more than double the state's overall rate, according to a March study by the Institute for Veterans and Military Families at Syracuse University.

More than two-thirds of the military members returning from the Middle East list "finding a job" as the biggest challenge they face in adapting to civilian life, Iraq and Afghanistan Veterans of America reported in August 2012.

Military training, while providing plenty of corporate skills, doesn't always provide the certifications or credentials that businesses want job applicants to have, said Jim Wong, who previously managed veterans outreach for a U.S. Small Business Administration regional office.

"These people say, 'But I welded on a nuclear submarine. Doesn't that qualify me for something?' And the answer is no," said Wong, who was a U.S. Marine in the late 1960s. "We're putting these artificial barriers in front of the folks."

Luke Leising understands the difficulty veterans have finding work after the military.

Once an engineer in the Army with a degree from Purdue University, the founder of Indianapolis architecture firm Guidon Design had trouble getting himself back into the civilian work force because he could not convince employers his military skills were valuable. The work he could find offered steep pay cuts from what he previously earned.

He went back to school after leaving the military in 2002 so he could earn a formal master's degree in architecture.

A lot of veterans have trouble convincing companies that their skills work well in an office, which are important traits employers often miss when scanning through resumes, he said.

That's probably why three of Guidon's 14 employees served in the military.

"I firmly believe that vets who are [business] owners are much more open to hiring veterans," said Leising, who started his company in 2010. "I try to at least hear them out and connect them to the right people."

Catching cheaters

Government agencies began picking up on the veterans-hiring-veterans trend a few years ago, so they began pushing programs to help former military members find work or start companies.

The Veterans Business Enterprise program, a common one throughout the United States, is one of the most crucial, said Wong, who is also a board member for the National Veterans Transition Services Inc. in San Diego.

But the program is also bogged down in bureaucracy, especially with the federal government's certification process, he said.

The government takes three to six months to process applications, and business owners need to recertify themselves every two years.

"It's a lot of paperwork, and it's a challenge," said Medcalf, of Tiger Solutions. "They ask for a lot of personal information, like your tax records."

Leising
The certification process became much more rigorous in 2011 after an investigation found 76 percent of the firms that received Veteran Business Enterprise contract funding were not majority-owned by veterans.

The process has improved since the government clamped down on certification two years ago, said Leising, who is undergoing recertification.

More outreach needed

The veteran programs need to do more outreach than anything, Wong said.

"The problem is not that they aren't very good programs," he said. "The problem is that they don't get the information out."

When veterans leave the military, they have to "drink from a fire hose" of information about all the programs available to them. A lot of the business ones become lost in the noise, he said.

Citizens Energy hit its goal through aggressive outreach.

The utilities have long pushed to seek contracts with veteran-owned businesses, but it formalized a 3-percent policy in 2011 as part of its acquisition of the city's water and wastewater operations.

Citizens hit 3 percent "on the nose," just shy of $11 million in contract awards, during its fiscal year, which ended in September, said Jeff Ford, director of supply chains.

Reaching goal has entailed hiring a full-time person to work with veteran business owners, as well as minorities and women. And the supply chain department must report on the program's results to Citizens' board every month.

"This is not an easy task. This requires a lot of work," Ford said. "We take it pretty seriously as an organization."

Wilson, from the Department of Minority and Women Development, sees the program picking up at the city level once more entrepreneurs know about it, which is why the city keeps trying to spread the word.

"That's almost all you can really do," he said.•