An Indianapolis-based pets TV show now seen in six states is galloping off in search of new territory—much like a fearless puppy.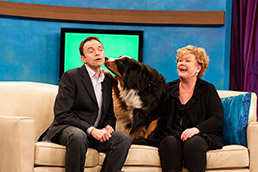 "Pet Pals" co-host Paul Poteet gets some love during taping at WISH-TV, with co-host Patty Spitler. (IBJ photo/ Eric Learned)
"Pet Pals TV" is in talks with stations in Chicago, Cincinnati and St. Louis, said Ramon Carrera, executive director of the show and CEO of production company Indy Audio Visual Productions.
The show is now seen on 10 stations and two cable channels from Austin, Texas, to Salt Lake City. Locally, it airs on WNDY-TV Channel 23, and this month also began airing on sister station WISH-TV Channel 8. The self-proclaimed "America's animal news program" is also available online.
The show is a rarity, given the relative dearth of locally produced, non-news television programming in Indianapolis (with the exception of local-only shows such as WISH's "Indy Style" variety show or WTHR-TV Channel 13's "Brain Game").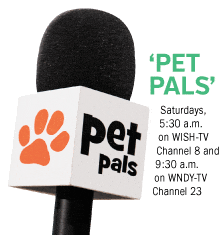 About the only Indiana-produced television show with statewide reach is public broadcasting's "Indiana Week in Review." "Pet Pals", on the other hand, is in six states and counting.
"My goal is 'Pet Pals' running nationally, and in Canada," said show co-host Patty Spitler, who retired in 2004 after 23 years in news at WISH-TV.
The other primary human face of "Pet Pals TV" is local television news weather veteran Paul Poteet.
Over the last couple of years, he and Spitler have been focusing on work done by local pet rescue/animal welfare groups, with the goal to "inform the public on the victories and challenges these groups face."
Rather than use a television news approach of taking a camera to a local shelter and showing the mournful faces of animals, the format of "Pet Pals TV" is upbeat. Instead, it focuses on particular animals that have been rescued and the people who adopted them.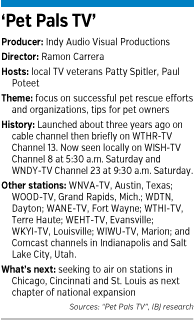 Spitler has even done a story on homeless people and their pets.
And there are segments on the role of service dogs, such as one on the Indiana Canine Assistance Network training a dog for an injured former fireman.
In one segment, Spitler showed how the Zionsville-based Morning Dove therapeutic horse riding center helped a boy with speech-delay problems overcome anxiety. Even the most hardened viewer might get teary-eyed watching the segment hosted by Spitler, with soft piano music in the background.
The show also has lassoed celebrity guests, including Jeremy Wade, the Aussie who hosts Animal Planet's hit show "River Monsters."
"We educate. We inform. We entertain. If we don't entertain, they don't come back," said Spitler.
With the geographic expansion of the show, "Pet Pals TV" can't be as hyper-local as it once was. The "three-legged cat in Broad Ripple" is now "the three-legged cat."
Producing a successful television show for one market is tough enough, but even more so to take it to other cities. "Pet Pals" either pays to be on the air or strikes a barter agreement with a station. "We do not share revenue. We split the time for commercials within the show," explained Carrera.
Often, striking a deal comes down to whether a station's general manager is a pet lover, Spitler said.
The show has generated a number of advertisers—many of them pet service businesses such as Noah's Animal Hospital. But pet-loving owners of Milano Inn and Butler Toyota also are among sponsors.
The show generates money from its website, with $99 landing advertisers a spot in the site's business directory, perhaps giving them an edge as they angle for a slice of the $46 billion spent on pet products and services in the United States annually. Some of the sales calls are made by Spitler herself.
"I sell the passion," Spitler said. She is fond of saying that while one can't do much to help a crisis overseas, one can at least help an animal in need.
"Basically, I bother [potential sponsors] until they buy something," said the dog lover who has a Bernese Mountain Dog named Louie. (Poteet also has animal street cred, with two rescue cats at home.)
It's hard work with a small staff. Carrera has put $100,000 of his own money into the show and often stays up all night editing from its offices in the Athenaeum downtown.
"I think it stands up to anything I've seen nationally. We're not out of our league, now," said Spitler.
Still, working with animals is an especially challenging endeavor.
There's the time a bear at the zoo, which was in the background during an on-camera interview, decided to go … eh, No. 2.
"You think people are hard to deal with? Try getting a cat to do what you want …. What did W.C. Fields say—'Don't work with kids or pets?'''•
Please enable JavaScript to view this content.