It's a philosophical question akin to that lonely tree falling in the forest: If you build a second story and no one uses it, does it create density?
Leaders in Carmel are embroiled in just such a debate over the future of Range Line Road, the commercial corridor running through the heart of the city's redeveloped downtown.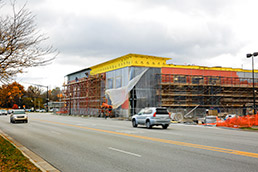 The required second floor of a Walgreen's under construction on Range Line Road will likely serve as storage. The multi-story mandate is under review. (IBJ photo/Aaron P. Bernstein)
Since 2005, most new construction along the four-lane road has looked different from other suburban development: multi-story, brick-fronted structures—even the gas station and pharmacies—built right up to the sidewalk.
Special zoning rules for the area are intended to create a consistent look and make the most of available land, keeping residents from bearing the brunt of the city's significant infrastructure investment. The question is whether it's working.
"The idea is to create density, which also creates assessed value. I get that," said City Councilor Kevin "Woody" Rider, who also serves on the Carmel Plan Commission. "The problem is a building like CVS that is probably never going to use the second floor. Nobody's going to live above CVS or Walgreens. That's just an extra cost for them.
"We need to be taxpayer-friendly, but we also have to be business-friendly."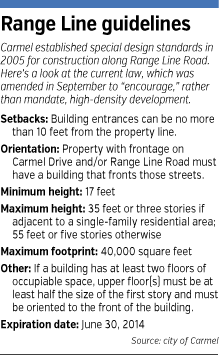 So when a so-called overlay ordinance came to the council for its annual review this fall, the legislative body voted 6-1 to amend the Range Line development requirements, eliminating the multi-story mandate as of Jan. 1.
Paying for infrastructure
The Plan Commission balked at the change, and Rider worked with the city's planning director to come up with a compromise that would apply the two-story rule north of Executive Drive (where Carmel's mixed-use City Center development begins) and relax it to the south. The council has not yet weighed in on that proposal.
Mayor Jim Brainard, the chief visionary behind Carmel's ambitious downtown redevelopment, called the council's changes shortsighted but signed the ordinance to ensure the other development standards remain in place.
"It's carefully thought out," Brainard said of the density requirements. "That road cost $10 million a mile to build and a lot to maintain. … It's our responsibility to have development that at least pays for the infrastructure."
And he doesn't buy the council's argument that buildings' upper floors are unused, saying the examples they're citing—including space for lease above the Turkey Hill gas station—are exceptions rather than the rule.
"I think it's working," he said. "There are just a couple buildings we haven't figured out. There are one or two 'for lease' signs, but that's not unusual, especially coming off a recession."
Maybe so, but there's no denying the private development south of Carmel Drive has not been as intense as publicly backed projects such as City Center, the Indiana Design Center and Main Street in the Arts & Design District.

Aaron Renn
Urban planning and design critic Aaron Renn, a former Indianapolis resident who writes the popular Urbanophile blog, said density is higher in those areas because they are more walkable—making them more appealing for office and residential uses.
Closer to 116th Street, the busy road is more suited for vehicular traffic. Hence the gas stations, grocery store and pharmacies.
"From what I've observed, many of the businesses really did not build functional second stories. The space is there, but it isn't used," he said. "They're aesthetically complying [with the minimum height requirement], but they weren't interested in density or mixed uses."
Brainard thinks demand for that kind of development will come with time, as the community of 80,000 continues to grow. But council Land Use Committee Chairman Eric Seidensticker said the city should stay out of such decisions.
"I don't think government needs to be dictating to the free market," he said. "If they don't need it, it seems to me we're costing companies more money than we need to" by requiring a second floor.
Seidensticker said he's not sure if businesses have avoided the area because of the additional expense, but he suspects it has been a factor. He thinks the special zoning rules also contributed to the failure of Shapiro's Delicatessen, which closed its 11,500-square-foot Range Line Road location this summer after years of struggling to make ends meet.
"We required a delicatessen to have two occupiable floors. They didn't need it and now they're gone," he said.
"If businesses don't survive, it doesn't do us any good to have them there," Rider said. "We have to think long term."
Negotiating power
Carmel's upscale demographic gives the city some negotiating power when it comes to development, Renn said, adding that Range Line has continued to attract private investment despite the higher design standards.
"When you're Carmel, you don't have to let businesses come in and dump their standard strip-mall template on you," he said. "You have an ability to get a higher standard."
Developers typically aren't as concerned about how strict a community's rules are as they are about how clearly they are communicated and how consistently they are enforced, Renn said.
"Carmel has done an exceptional job of establishing its standards, of saying, 'This is what we want to see,'" he said. "It's possible to have high standards and still be business-friendly."
And the city has been flexible when necessary. For example, Kite Realty Group Trust won a zoning variance for its Rangeline Crossing strip center, which got a $15 million makeover this year.
The Indianapolis-based developer landed organic grocer Earth Fare as an anchor tenant, but the company insisted on a single-story building with parking out front.
It got its way, but Kite also erected a two-story mixed-use building on the site, and a massive Walgreens is still under construction at the corner of Range Line and 116th Street; its second floor likely will be used for storage.
That seems wasteful to Seidensticker and Rider.
"They can save lot of money by not building a usable second floor that will never be used," Rider said. "That's a false creation of assessed value. We have to use some common sense."
Councilor Ron Carter, the only member who voted against the zoning changes, said he's open to a compromise like the Plan Commission's proposal, but he doesn't want to give up on density altogether.
If there's a lesson to be learned from the popularity of City Center and Main Street, he said, it's that multi-story, multi-use buildings provide a built-in customer base for businesses.
"If we don't build those, it isn't going to happen," Carter said.•
Please enable JavaScript to view this content.