For years, the county-owned hospitals ringing Indianapolis have watched warily as the city's four major hospital systems used their superior size and resources to push ever outward into the suburbs.
But now, in this new era of cost-consciousness, the county-owned hospitals think they might have the upper hand.
The suburban hospitals—Hancock Regional in Greenfield, Hendricks Regional in Danville, Major Health in Shelbyville, Johnson Memorial in Franklin, Riverview in Noblesville and Witham Health in Lebanon—face the same financial pressures battering their larger peers this year.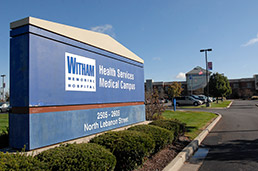 Suburban hospitals such as Witham Health Services in Lebanon have been buoyed by growing numbers of commercially insured residents. (IBJ file photo)
Patients are seeking less medical care for the first time in nearly two decades; Medicare payments were cut this year, and their growth rates are set to be reduced; more patients have high-deductible health plans that make it harder for hospitals to collect payments; and Obamacare will extend insurance to fewer new customers than they had hoped.
In response, the suburban hospitals are trying to cut expenses. Some have even trimmed staffs in recent years by the same 3 percent to 5 percent their larger peers did this year—although that didn't spark the same big headlines as the large layoffs at St. Vincent Health, Indiana University Health and Franciscan Alliance.
But the suburban hospitals think they have two advantages.
First, their areas are attracting new residents, most of which come with employer-sponsored insurance—the most lucrative source of payment for hospitals.
Second, the smaller hospitals say their cost of care is lower than the larger systems—and that's a message health insurers and employers are more interested in than ever.
"The clearest advantage is that they're in growing markets where the payor mix is very positive," said Ed Abel, a hospital accountant at Indianapolis-based Blue & Co. who works with most of the suburban hospitals. "They are clearly at a lower cost. That's to their advantage compared to the big four."
The big four—IU Health, St. Vincent, Franciscan and Community Health Network—still have a huge advantage over the suburban hospitals: economies of scale, including the ability to recruit highly specialized physicians who provide high-end services.
However, in a major contrast to their rapid expansions of the past 15 years, the big four are all trying to cut expenses 20 percent.
While suburban hospitals are cutting, too, they never built up the same expensive infrastructures.
"Community hospitals are uniquely positioned to adapt to this environment of slower growth, and decreased reimbursement per unit of service, and an overall environment of consumerism," said Jack Horner, CEO of Major Health Partners in Shelbyville. "Because of their cost structure being lower, they are inherently well positioned in an era of consumerism."
Cost pressures
Suburban hospital cost advantages have helped them sign a deal to be part of the narrow-network health plan created by Anthem Blue Cross and Blue Shield for sale on the Obamacare exchanges, noted Hancock Regional CEO Bobby Keen.
That plan required hospitals to reduce prices—Anthem was seeking a 10-percent reduction—in exchange for getting a higher percentage of the 156,000 Hoosiers Anthem expects to sign up for the plan next year.
The hospitals can expect to get a higher percentage of patients because the state's three largest hospitals—IU Health, Franciscan Alliance and St. Vincent Health—are not part of Anthem's exchange plan.
Concerns about Anthem's strategy of promoting high-deductible health plans in the exchanges has some hospitals worried about the ultimate benefit of the Anthem deal. The same goes for the meltdown of the HealthCare.gov website, which held enrollment in Obamacare plans to just 700 people in the first month.
But Keen cited the Anthem deal as an indication insurers are more interested than ever in low-cost health care providers—because that's what their customers are demanding. And he sees similar interest from other health care providers and even employers, which have approached Hancock Regional about partnering to attain lower costs of care.
"It's already happening," Keen said. "The future is going to have to be partnerships."
Also, the hospitals around Indianapolis have been working together through an organization they all belong to—the Suburban Health Organization—to find more ways to lower costs or enhance buying power.
Hendricks Regional thinks its lower costs can help it gain enough market share to offset the revenue declines that must come as Medicare and private insurers push hospitals to keep more people out of the hospital, as opposed to in it.
"We know that utilization has got to go down. People have got to get healthier," said Gary Everling, Hendricks Regional's vice president of strategy and business development. "We think we'll make up for the lower volumes … through greater market share."
Hendricks Regional, which already has established outpatient outposts in Hendricks County's largest communities—Avon, Brownsburg and Plainfield—said it also will look to do more to capitalize on those growing areas.
The population of Hendricks County grew 3.4 percent in just the past two years—the state's second-highest rate behind Hamilton County—and is projected to grow another 21.8 percent by 2020, according to Indiana Business Research Center data.
That growth is dominated by households with relatively high incomes. The average household income in Hendricks County is more than $64,000—second-highest, again, to Hamilton County.
"We are well situated here in Hendricks County," said Kevin Speer, Hendricks Regional's CEO. "As health care is in flux, we're a very attractive partner for health plans and employers."
Unkept promise
But having lower costs and better growth prospects is not enough to spare suburban hospitals from their share of pain.
"The decrease in utilization and the unkept promise of health care reform have put pressure on all hospitals," said Larry Heydon, CEO of Johnson Memorial Hospital in Franklin.
By "unkept promise," Heydon referred to cuts certain to happen in the Medicaid and Medicare programs that were supposed to be offset by an increase in the number of insured Hoosiers.
But Indiana has chosen not to expand eligibility for its Medicaid program, as Obamacare originally called for, meaning an estimated 182,000 Hoosiers who would have signed up will remain without coverage.
Indiana still could reverse course, as Gov. Mike Pence is negotiating with the Obama administration to use a version of the Healthy Indiana Plan to expand coverage.
But if there is no expansion by 2015, Johnson Memorial will start losing $2 million per year in federal disproportionate share payments, which were made to hospitals for caring for the uninsured. Obamacare does away with those payments to hospitals.
In addition, Obamacare last year started slowing the annual increase in Medicare payments to hospitals and doctors, because the law assumed the health care industry would increase productivity at rates similar to the rest of the economy. Health care, however, has never matched the rest of the economy in productivity growth.
Johnson Memorial expects its Medicare payments to decline 10 percent by 2020, further pinching its finances.
"Health care's going through a transformation. A lot of industries have done so. We have to find ways to be smarter," Heydon said.
"We may have to scale down what we all provide," he added, offering the proliferation of cancer treatment facilities as something hospitals will likely unwind. "Access will definitely be impacted."
Five years ago, Hancock Regional launched what it calls its Medicare Gap Project, the goal of which was to reduce operating expenses to equal Medicare payments.
Over the past three years, Hancock Regional has cut $7 million in costs. It has reduced staffing 3 percent, kept tighter control on inventory, tried to shorten its revenue cycle times, and looked for new sources of revenue.
Yet, the work is nowhere near done, Keen said.
"Our trend is downward, but I would say we're probably halfway to our goal," he said. "Finding other ways to cut costs, it gets more difficult. You've got to look for every penny."•
Please enable JavaScript to view this content.