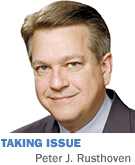 Obamacare's calamitous launch, including the widening gap between promise and reality, continues to consume political discourse. Here's a quick summary of Indiana's status:
• Over the first month, only 700 Hoosiers chose policies on healthcare.gov. This includes anyone who put anything in a shopping cart, even if they bought nothing. For your information, Internet shopping cart abandonment rates average about 75 percent.
• As Hoosiers know, Gov. Pence declined to have Indiana set up its own "state-run exchange," which would have cost Hoosier taxpayers $50 million. Some 25 other states made the same choice. This looks smarter every day.
• Pence also declined Obamacare's "invitation" to expand Medicaid. The act made this a command, but the Supreme Court struck that down. Pence then chose not to trust the deficit-ridden federal government to keep promises about reimbursing expansion costs.
Pence knows Washington, knows Medicaid reform is part of any serious future deficit fix, and knows Hoosiers would be stuck when future reimbursement proves—to use The New York Times' delicate phrase for the president's "you can keep your plan" pledge—an "incorrect promise."
• On Medicaid expansion, about half the states again took the same prudent course. Unlike most, however, Indiana has a sound alternative—if Washington lets us keep it.
The Healthy Indiana Plan, established under Gov. Daniels, takes a "savings plan" approach emphasizing consumer direction and responsibility in providing health insurance for low-income Hoosiers (up to 200 percent of the poverty level). HIP has over 90-percent satisfaction, and enrollment of 37,000 (with 52,000 more on the waiting list).
Pence worked hard negotiating a waiver from Obamacare that saves HIP for another year—at least mostly. The Obama team insisted on eliminating HIP for anyone over the poverty line. This kicks 11,000 Hoosiers off a state program that works, sticking them in a federal one that doesn't.
• Obamacare's tax on medical devices—half made here, by companies employing 20,000 Hoosiers—hits Indiana hard. Other adverse job impact will be partially deferred by Obama's unilateral (and unlawful) temporary suspension of the employer mandate. But pain is starting.
Health care providers (Indiana University Health, St. Vincent Health, Franciscan Alliance) have cut jobs due to Obamacare costs. School districts, unable to afford either the insurance mandate or fines for noncompliance, are eliminating positions and making others part time. Fifteen districts, with state support, have now sued, challenging federal power to fine states and public schools.
For this, State Rep. Ed DeLaney, D-Indianapolis, says Pence and Attorney General Greg Zoeller "are trying to compete with Bangladesh"—not sure what that means, but it sounds like an insult—adding, "Those two can go secede, but don't take my health insurance away and don't take it away from anybody else."
This captures some Democratic thinking, which sees health insurance as a government-conferred benefit, and views challenging Obamacare as disloyal (even "secessionist"), motivated by desire to "take away" that benefit.
• Other Indiana Democrats are backing away. Two weeks back, this column noted that Sen. Joe Donnelly was silent on legislation by Sen. Mary Landrieu, D-La., to allow folks to keep their health plans, as the president promised they could. Last week, Donnelly co-sponsored Landrieu's bill.
Then there's former Sen. Evan Bayh, Indiana's most reliable political weathervane. Bayh, another Obamacare supporter, now says its medical-device tax must be repealed and its individual mandate delayed. Think DeLaney will tell him to "go secede"?•
__________
Rusthoven, an Indianapolis attorney and graduate of Harvard College and Harvard Law School, was associate counsel to President Reagan. Send comments on this column to ibjedit@ibj.com.
 
Please enable JavaScript to view this content.