A heavy hitter among commercial real estate developers has left the firm he helped found more than 20 years ago, to start his own company, and has taken most of its employees with him.

Crowley
Tom Crowley launched T.M. Crowley & Associates last month after leaving Gershman Brown Crowley Inc. The venerable firm built nearly 1,500 CVS drugstores nationwide, helped develop Hamilton Town Center in Noblesville, assembled the land for Anson near Whitestown, and is one of the largest commercial real estate developers in the Indianapolis area.
Crowley, 53, described the split with his longtime business partner, Jerry Gershman, as amicable.
But what effect Crowley's departure will have on his former firm is unclear. The remnants of Gershman Brown Crowley have reorganized as Gershman Partners. Gershman President Eric Gershman, one of Jerry's sons, declined to comment on the split or what his firm's plans are going forward.
Gershman ranked 10th in central Indiana based on the number of square feet completed or under construction (1.1 million) in 2012, according to IBJ statistics.
For Crowley, he's continuing the relationship with CVS by acquiring that piece of the firm's portfolio. He also has other projects in the works, including a development on 120 acres at 146th Street and State Road 37 in Noblesville that he hopes to finalize within 45 days.
Crowley said the split affords him the opportunity to run his own company, something he's always wanted to do. More than 20 employees, or all but one from Gershman, went with him, he said. He's since hired a few more and has offices in Chicago and Lincoln, R.I., near the CVS headquarters.
"It allows us to pursue some of the development that I've always wanted to pursue," Crowley said. "It's just the right time to do it."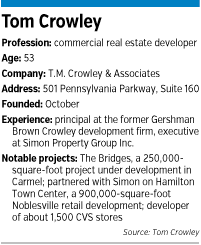 Long gone are the days of developing massive shopping centers such as Hamilton Town Center or Clay Terrace, he said, because of the downturn in the economy and the glut of available retail space.
He instead plans to focus on infill-type and mixed-use projects that might combine apartments with medical or retail space. The developments are prevalent in downtown Indianapolis, as demand for urban living has soared. Crowley said he has no plans to follow the downtown trend but said he'll build anywhere else that makes sense.
Announcements on specific projects should be forthcoming within 90 days, he said.
Crowley is well known in Carmel political circles. He served on the Carmel City Center Community Development Corp. and the beleaguered Carmel Redevelopment Commission before resigning from both boards last month to focus on his new business.
Crowley cut his teeth in real estate development while at Indianapolis-based Simon Property Group Inc., arriving in 1987. There he met his former business partners Gershman (then president of Simon) and Adrian Brown. The three left the company to form Gershman Brown Crowley when Simon went public in 1991; Simon is now the world's largest mall developer.
A few years later, Gershman Brown Crowley began doing development work for the former Revco drugstore chain, which CVS bought in 1997. All told, Crowley estimates that Gershman developed 1,200 to 1,500 CVS stores nationwide.
"People used to laugh at us because nobody wanted to do that business," he said. "Then when things went bad, everybody wanted to do that business."
Crowley takes pride in his ability to assemble separate pieces of property for large-scale developments. He put together the 1,800 acres for the massive Anson project near Whitestown, which Gershman later sold to developer Indianapolis-based Duke Realty Corp.
Abbe Hohmann, a local land broker who operates Site Strategies Advisory LLC, has worked with Crowley in the past.
"One of the areas that I think where [Tom] has certainly excelled … is where there was an opportunity to put together a large development and work on the assembly and get that to happen," she said.
Crowley was instrumental in acquiring the land for the 900,000-square-foot Hamilton Town Center lifestyle mall at Exit 10 along Interstate 69 in Noblesville. Gershman developed the mall in partnership with Simon.
"Tom is very good at what he does," said Tom Schneider, an executive vice president at Simon. "We're very pleased with that development."
Crowley also will continue with Gershman to develop The Bridges along 116th Street between Illinois Street and Springmill Road, a 62-acre project they're working on with local developer Pittman Partners.
Getting the land zoned had its challenges, Crowley said. Steve Pittman's physician father, John, has owned the land for decades, and Pittman Partners is working with Gershman and Crowley to develop the site after winning a controversial rezoning in 2011.
City officials turned down a rezoning request soon after Dr. Pittman bought the property, saying they wanted single-family estate homes to replace the farmland. He responded by setting up a working hog farm there.
Officials relented, and Crowley began the tall task of getting that project off the ground.
"That was extremely controversial," Crowley said. "I worked on that project night and day for a year."
Crowley and Jerry Gershman each own a 25-percent stake in The Bridges and the Pittman family owns 50 percent.
Despite the split, Crowley said he and Gershman still own several properties together. The two bought out their former partner, Adrian Brown, in 2010.
T.M. Crowley's office is at 501 Pennsylvania Parkway, directly across Interstate 465 from and north of Gershman Partners' office at 600 E. 96th St.•
Please enable JavaScript to view this content.