An Indianapolis firm that makes software for libraries has teamed with an elementary schoolteacher to improve kids' reading skills by using books' longtime nemesis—video games.
Evanced Solutions quietly unveiled a new arm of its business, Evanced Games, before it appeared at the 50,000-attendee Gen Con gaming convention in August to show off its app games.
The company so far has launched three games, all of which aim to develop reading abilities: "Froggy Phonics," "That's Baloney!" and "Tic-Tac Bananas." A fourth focuses on math skills; "Math Dash" hits the Apple and Google Play app stores in January.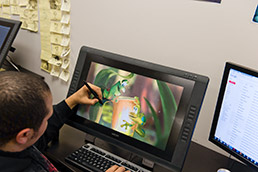 Evanced Solutions employees develop their educational software with eye-catching graphics. (IBJ photo/Eric Learned)
Sister company Edupress first developed all the games as board versions for classrooms. By going digital, Evanced plans to market them as at-home entertainment as much as classroom activities.
Evanced, which has developed software for libraries since 2002, describes its new market as the "fun education app space." It's a niche market that is mostly outside the domains of Microsoft, Sony or Nintendo, said Robert Cullin, co-founder and president of the 36-person company.
Nevertheless, the company has to compete against industry leaders when it comes to keeping kids' attentions on their tablets.
"If you think about what the job of a video game company is, like Microsoft or whomever, their goal is to make money," said Richard Lamb, an assistant professor at Washington State University who studies the educational impact of video games.
"And what makes money is blowing the heads off of zombies."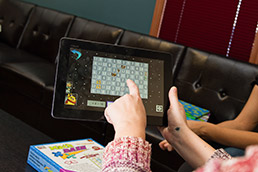 Evanced Solutions then tests the apps to gauge student response. (IBJ photo/Eric Learned)
Keeping kids engrossed in games that teach them, but don't bore them, is one of the biggest obstacles Evanced is trying to address, said Matt Sheley, the company's vice president of product design and marketing.
"There is an inherent problem [with educational games]. Kids are being given games that are first, full of content, and fun, second," Sheley said.
Teacher-approved
Hill
Evanced hired elementary teacher Lindsey Hill to address the entertainment-versus-education issue.
"If we went out and hired the traditional businesspeople," Cullin said, "we felt like we'd end up with a lot more of the same solutions."
Hill taught third, fourth and fifth grade for 14 years at Brown and Reagan elementary schools in Brownsburg before Evanced recruited her to serve as the firm's head of "reading engagement innovation."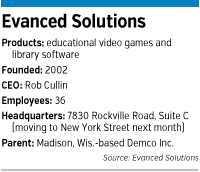 Hill, who received two teacher-of-the-year awards, knows what keeps kids interested in a subject.
"They want achievable challenges," she said. "They're not exhausted by the game, but they found it challenging. … They don't, really, realize they were having fun and learning at the same time."
Hill knows what she's talking about, according to Lori Medjeski, an instructional coach at Reagan Elementary and former co-worker of Hill's. As a teacher, Hill was constantly learning about technology and other trends in education, then incorporating them in the classroom.
"She's one of those teachers, you go by her classroom and think, 'Ooh, I'd like to be in her classroom," Medjeski said.
Hill and Sheley take their company's developments to elementary students to see how they respond to the games, then adjust accordingly.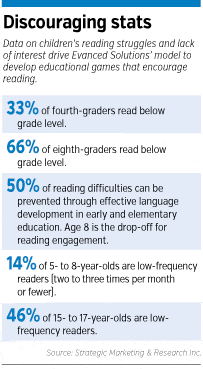 "How do they react to the characters? Were they stumped? Were they really intrigued? It's a variety of things," Hill said.
Computer teacher Shelli Burks could physically see her students grasp new concepts as they tested Evanced's upcoming "Math Dash" game at Sam Adams Elementary School in Cassopolis, Mich.
"They were much more engaged," she said. "They had to take turns and answer questions together, which I liked as a teacher. They had to do some thinking out loud."
Gamification of education
The logic is simple: Kids learn more when they have fun.
But Evanced points to much more intricate research explaining the value in its products.
The company commissioned a 53-page white paper exploring children's lack of interest in reading, why they're so hooked on video games, and how the latter could motivate students to do the former.
The concept of using video games as educational supplements dates back decades. One classroom staple, "The Oregon Trail," debuted in 1971 when a college senior developed the game for an eighth-grade class he student-taught.
Educational researchers have caught on to the fact that people glue their eyes to their mobile devices. Studies have poured out in attempts to find ways to use the technology as a more effective teaching tool.
"Students spend about 4 billion hours [annually] playing video games," said Lamb, of Washington State University. "What happens if you tap 1/10th of that for educational purposes?"
One of games' most compelling aspects for educators is that students who fail at a game will retry, maybe even seek outside help, until they solve the problem, he said.
"If you play 'Halo' and you get to a part that's really difficult, a person is willing to do it 100 times to pass it," he said, referring to the popular game franchise for Xbox consoles and PC.
"One of the things that happens is, once they start to run into this, they collaborate with their friends on the problem. They'll ask, 'How does this work?'"
The same logic applies to educational games, he said. Children, because they're having fun, will keep trying to figure out problems, which keeps them engaged and learning.
The big question is how to translate what kids learn from games into real-world applications, said Michael Yacci, a professor of information sciences and technologies at Rochester Institute of Technology.
"'How you transition' is the million-dollar question," Yacci said. "If they don't pick up the book at the end of the day, they've really kind of failed. It's the transition plan that counts."
In league with birds and candy
Evanced faces an entirely different level of competition by marketing its games as an at-home form of entertainment, versus giving kids a game as a break from traditional classroom routines.
Educational games, at home, have to compete against strong-selling, sensory-overloading "twitch games," or games that require quick reflexes but little critical thinking.
"They're very interactive, they're very engaging, but there are no underlying principles that are going to be taught," Yacci said.
Evanced's new direction thrusts the small firm into the fringe of a crowded video-game industry in which mainstream corporations are on track to report $93 billion in worldwide revenue this year, according to Gartner Research.
The company chose apps as its medium because "kids have a definitive preference for handheld devices."
Mobile apps are also one of the fastest-growing markets within gaming. They will account for $13 billion in revenue this year and will grow to $22 billion by 2015, according to Gartner.
Evanced, though, doesn't intend to market itself alongside the mega-hit games, such as "Angry Birds" or "Candy Crush Saga."

Cullin
"We're not targeting 1 million downloads," Cullin said. "We're targeting 100,000 downloads."
The company, which has operated on Indianapolis' west side, has grown enough since its 2011 acquisition by Demco that it is moving to a larger office downtown. Demco, a library supplier with about 300 employees, did not disclose how much it paid for Evanced.
The library business has increased 20 percent to 30 percent most years, Cullin said, and that will likely keep pace over the next several years. He would not discuss revenue figures for the privately owned firm.
With the new game division, Evanced needed room to stretch out as it plans for that division to account for half its revenue in the future.•
Please enable JavaScript to view this content.