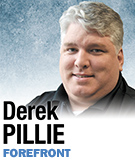 We're about to leave one unique facet of Indiana politics and enter another.

While once every four years we go through a year free of any political elections save the random caucus or ballot initiative, every 12 years we have an election with no presidential, gubernatorial or senatorial candidates on the ballot.

The last time this event rolled around, in 2002, it was the race for secretary of state that launched Todd Rokita's political career and a step in the checkered path of Richard Mourdock's political ambition.

In 2014, the focus again seems to be settling on a single race—ironically, to replace the term-limited Mourdock as state treasurer.

The main lines of this contest are already being drawn, well in advance of the May convention that will decide the Republican nominee for this contest. Marion Mayor Wayne Seybold, former candidate for nominations to Congress; Don Bates, who ran for U.S. Senate; and Office of the Treasurer employee Kelly Mitchell are all actively running for the position.

In a recent article in National Journal titled "Stopping the New Todd Akins," Alex Roarty suggested that Republican officials are wringing their hands over the prospect of advancing candidates like the Missouri congressman who suggested women could prevent pregnancy from occurring as a result of rape.

Indiana's own Mourdock created a similar situation in Indiana's last election cycle, preventing him from prevailing in what had been a close race and receiving the blame from many quarters for underwhelming results for the statewide Republican ticket.

Republicans are divided. They want to run a national brand focused on issues they feel appeal across party lines: that President Obama has overstepped his authority; that the federal government has too much control over our lives; that government-sponsored or -administered programs are by their very nature challenged to deliver services in a manner Americans are used to receiving.

Republican Party officials worry that socially conservative candidates may slip up or otherwise jeopardize this opportunity to make significant gains at the national and state levels.

So should Indiana Republicans be worried? Do elections with no marquee campaign open up the possibility of "dangerous" candidates gaining a higher position than they'd normally attain?

Party leadership is far too worried from the top down about the quality of our candidates. There are far more pressing issues.

We have candidates over-performing in recent elections in no small measure due to the widespread dissatisfaction with President Obama's signature health care program and how it has been implemented.

What Republicans haven't had is an organization focused on delivering the resources candidates need to win elections. If they would focus resources on issues that can help all candidates—like technology, infrastructure and data aggregation—Republicans might win some of these close elections.

Candidate recruitment is by and large a local concern. County and state chairmen need to have the flexibility to focus their efforts on recruiting quality candidates, not fending off national reporters asking them to comment about quotes from party strategists and consultants who know what it takes to win.

There will be candidates who say stupid things that will cost them elections. No amount of planning and strategizing will prevent that from happening.•

__________

Pillie is managing editor of the conservative blog Hoosier Access and a former congressional aide in Washington, D.C., and Indiana. Send comments on this column to ibjedit@ibj.com.