Indiana University Health, already the state's largest hospital system, is now ramping up to compete against Anthem, UnitedHealthcare and other health insurers.
The insurance arm of Indianapolis-based IU Health hopes to launch a new health plan at the end of the first quarter next year. Officials at IU Health Plans have just begun meeting insurance brokers to pitch the company's plan as an option for employers.
Parker
Jim Parker, a former Anthem executive, was hired in late 2012 to spearhead a renewed insurance push for IU Health. Parker has spent the past year bulking up IU Health's insurance team, including hiring 25 people.
And IU Health signed a partnership with Evolent Health, a Washington, D.C.-based business that has raised $125 million in venture capital to help hospitals do "population health management"—industry jargon for keeping a group of patients healthier, so they spend less on health care services.
Keeping patients healthy and out of the hospital will cost IU Health revenue. But running a health plan would give it the opportunity to regain some lost revenue in the form of insurance premiums.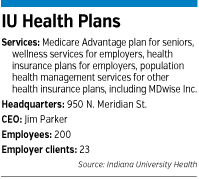 "What we think we'll do is create an organization that creates value, hopefully meaningful value, for all payers," Parker said in an interview.
That could include employers, other insurers or even individuals, as IU Health Plans is considering offering a health plan on the new Obamacare exchanges.
IU Health is by no means ending its relationships with Anthem and other insurers. It can't, because Anthem alone accounts for 20 percent of its $5.5 billion in revenue.
But IU Health, faced with declining patient volumes and stagnant payments from insurers, thinks it can generate additional revenue by expanding its own insurance operations, which now cover 50,000 people at 10 employers.
Some of that new revenue may come from the likes of Anthem and other insurers, which want to switch from paying hospitals for each procedure and instead pay a set fee for each patient the hospitals manage. That would encourage hospitals to keep patients healthier and needing less care.
Health insurance is nothing new at IU Health, whose member hospitals have been experimenting with running their own health plan since the 1970s.
IU Health Plans is by no means the only hospital-owned health insurance plan. Indianapolis-based health insurer Advantage Health Solutions Inc. is owned by Franciscan Alliance, St. Vincent Health and other Indiana hospitals.
Also, St. Vincent, Franciscan, Community Health Network and The Suburban Health Organization hospitals all have efforts to provide health benefits directly to employers.
But none of those earlier efforts has made significant inroads into the Indiana commercial market, where Anthem commands more than 50 percent of the employer market and more than 60 percent of the individual market.
Parker thinks this time could be different. Over the past five years, IU Health built up a large team of physicians and worked to get them all collaborating more. It is now rolling out systems that will allow both health plan personnel and clinicians to communicate better.
Parker believes those improvements are helping IU Health identify reasons for elevated use of its services, and find ways to reduce it.
"I've been really surprised, in a positive way, with the traction we're getting" with our physicians, Parker said.
One of the earliest tests has been IU Health's own 36,000 employees. During the first half of 2013, IU Health's population health activities helped reduce spending per month on employee health expenses by 18.6 percent.
Those savings came from double-digit reductions in hospital inpatient stays and doctor visits, and a high-single-digit reduction in outpatient procedures.
Parker pointed to a white board in his conference room, which is filled with notes from the weekly meeting of IU Health Plans' physician advisory committee. The notes show IU Health's efforts to improve the handoff of patients from the hospital to a nursing home.
Making progress on that issue alone has helped IU Health reduce its readmission of patients from a nursing facility 40 percent in the past year.
"All the things we're doing will certainly benefit us as a health plan, but they'll also benefit the system," Parker said.
Limited network
IU Health's biggest challenges are that its insurance plan won't be cheaper than Anthem's and it will offer access to fewer hospitals and doctors.
So far, IU Health Plans has offered access to only its doctors and hospitals and, for a higher price, a modest amount of other health care providers.
But Parker recently hired a network development director who will try to add more doctors and even additional hospital systems. Parker said he's even willing to add hospitals in markets where IU Health already has a presence, if he finds a hospital with the same vision for reducing health care spending.
That limited access may have been a deal-killer before, but benefits brokers say their clients are at least willing to consider it now, because the cost of health benefits continues to rise faster than inflation, and is being pushed up even more next year because of new rules that are part of the Affordable Care Act, or Obamacare.
"Employers are looking for solutions to really save costs and to continue to provide a valuable benefit to employees—even if that means taking a look at solutions that aren't open-access to all providers," said Tracey Gavin, the leader of the health reform practice at Indianapolis-based consultancy Apex Benefits Group Inc.
On price, Parker said IU Health Plans would try to be "in the ballpark," not the lowest.
That's how things have gone at Indiana University, which has offered the IU Health Plans product alongside two preferred-provider plans run by Anthem. The IU Health Plans offering costs employees 4 percent to 9 percent more than the cheaper Anthem PPO plan and 15 percent to 25 percent less than the more expensive Anthem PPO plan.
Of course, the majority of Indiana University employees choose a high-deductible health plan run by Anthem, which costs at least 50 percent less than any of the other three plans.
But if IU Health isn't going to offer an upfront price-cut in exchange for its smaller network, then employers will want a guarantee that IU Health will keep their spending growth under control, said Joe Guzman, a health insurance broker at Carmel-based Shepherd Insurance.
"Are they willing to put their money where their mouth is? Are they willing to put a guarantee on that?" Guzman said.
The answer is yes, according to Parker. He said IU Health Plans wants to sign contracts with employers that would guarantee a specific premium and, if the employers' medical bills run higher than that, IU Health would eat the losses.
For employers that pay their employees' medical bills out of their own coffers, IU Health Plans would offer a cap on their medical-bill expenditures and, if the cap were exceeded, eat either part or all of the spending above that amount.
"Unless they're willing to do something with their pricing, I think they're going to have a hard time," said Dr. Ben Park, CEO of American Health Network, an Indianapolis-based physician practice. "But, if they could say they'll hold [spending] flat, I think that would be appealing."•
Please enable JavaScript to view this content.