TOP HONOREE, Private Companies (Revenue $100 million or less)
Mark Winzenread's 33-year tenure at Walker defies the norm.
"Statistically, you change jobs every five to seven years," he said. "I'm always a little embarrassed to say I've been here 33. I've resigned twice. It just hasn't worked out."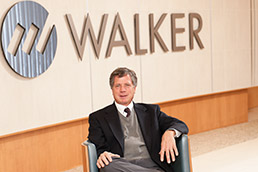 (IBJ Photo/Eric Learned)
Age: 62
Family: wife, Linda; daughter, Erin, and son, Corey
Hometown: Indianapolis
Education: bachelor's, IUPUI
Civic involvement: chairman of the board for Families First, founding board member and former chairman of Hamilton County Neighborhood Development, board of Better Business Bureau, chairman of Financial Executives International's Committee for Private Companies, commissioner for Noblesville Housing Authority
Hobbies: flying, sailing, restoring cars
Walker, the consumer intelligence consulting firm, wasn't Winzenread's first professional job. Out of college, he worked in public accounting but was drawn to the private side.
"It was frustrating to go to clients year after year, make recommendations, and then see that things don't change. You can't force a client to do anything," he noted. "On the inside, I can make things happen."
Still known locally by some as Walker Research, the company does more than research. Its consultants work with dozens of companies on customer retention and growth strategies.
In the 1980s, Winzenread helped expand the company nationally, developed a plan for global reach, secured financing, and orchestrated the company's move to new corporate offices. The 1990s involved acquisitions (including Canadian-based competitor Elliot Research), sales (including Walker Clinical), a sale/leaseback of Walker's office building, and a forward-thinking technology push.
The 2000s included a shift from a low- to medium-skilled labor force to a higher-paid technological, research and consulting work force and the careful management of the impact of the economic downturn (including the shutdown of Walker's Canadian offices and their incorporation into Indianapolis to reduce costs). More recently, Winzenread's work has led from break-even operating margins in 1997 to double-digit margins in 2013.
Throughout it all, Winzenread has overseen the transition of the company through three generations—with a fourth on the horizon. Most family businesses don't survive one such handoff.
"I've always said that I'd rather go into something that wasn't running well than go into a well-oiled machine that I could only screw up." Still, he said, "the first week on the job as corporate controller was a little terrifying. The CEO was heading out on vacation. The company had borrowed to the max. Payroll was due. Oh, my God, where was I going to get the money?"
Fortunately, due money came in from a large client. But it was clear that straightening out payroll and receivables was a high priority.
"I didn't have time to develop a lot of approvals. So I just made it happen—created policies and procedures, sent them out, and waited for someone in upper levels to be unhappy. That didn't happen. They were very supportive. We sent out a lot of invoices that first week."
That was just the beginning. "Our auditors had just signed off with a clean audit, but I spent days going through papers and couldn't make heads or tails out of it. When I called our audit partners, they admitted that things were messed up."
"I thought, 'Boy, I am in this thing [by] myself.' So I went through corporate records and rebuilt five years of accounts payable, and invoices. The next year, when getting ready to go into audit, I think I started out with a $600,000 out-of-balance situation, got it down to $50,000, and thought, 'We are writing this off and going forward.'
"In 33 years, there's only been one audit that I disagreed with."
Winzenread's job duties also include overseeing the Walker Family Foundation, launched in the early 1990s. While some of the granting is done at the discretion of the family, about half is devoted to encouraging and supporting employees involved in the community.
Through the foundation, employees submit requests for grants—usually in the $500 to $2,000 range—for organizations they hold dear.
Outside the office, he serves as chairman of the board for Families First, a United Way agency providing services in central Indiana. He's also been on the board of the Better Business Bureau of Central Indiana and was a founding board member and former chairman for Hamilton County Neighborhood Development.
Downtime has a decidedly transportation focus for Winzenread. A licensed pilot, he also has captained trips on the Great Lakes and the Caribbean.
He enjoys restoring Chrysler cars (his father was a lifelong UAW employee at Indianapolis' Chrysler plant).
"It's difficult to fix people who don't want to be fixed," he said. "So I fix things instead. And have fun doing that."•
Please enable JavaScript to view this content.