HONOREE, Private Companies (Revenue $100 million or less)
The scouring-powder business and the property management business have little in common … except for Matthew Selig.
Being the finance chief for one company is difficult enough. But Selig holds down the title for two, SerVaas Laboratories—maker of the cleanser Bar Keeper's Friend—and SerVaas Management—which oversees commercial real estate rental property with IUPUI as a primary tenant.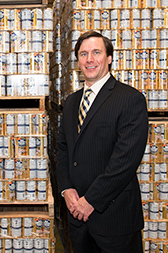 (IBJ Photo/Eric Learned)
Age: 45
Family: single
Hometown: Indianapolis
Education: bachelor's, IUPUI; MBA, Indiana Wesleyan University
Civic involvement: member of Indiana Karst conservancy, which works to preserve endangered Indiana cave sites
Hobbies: caving
"What we do in dealing with IUPUI is very different than dealing with Walmart," Selig said.
Diversity comes with the territory in the SerVaas empire. Selig also spent time as president of SerVaas' Saturday Evening Post Society and, he added, helped manage "five or six other companies."
He came to the company the old-fashioned way: "I answered an ad for an accountant," he said. "I started on the bottom." That doesn't mean he arrived without experience. As an infantry drill sergeant in the U.S. Army and Army Reserves, Selig adapted the philosophy that his job isn't to inspire better factory workers or better accountants. Instead, it's to make better leaders.
"Everyone is involved in leadership development," he said. "If we do that well, they'll figure out how to be good salespeople or good factory workers."
Like any other business, his two companies faced recessionary challenges.
"In 2007, I was on a flight reading The Wall Street Journal and wondering if there was even going to be a U.S. economy when I landed," Selig said. "We decided we were going to act like there was no recession—which we could do because we had no debt and a strong cash reserve. It was harrowing. It wasn't fun. But we could say, 'What can we do to take the best advantage of it?'"
He quoted Warren Buffett: "Nobody knows who's swimming naked until the tide goes out. Well, we don't like to swim naked around here. We want a sound financial base and we build off of that."
The philosophy seems to have worked. During the recession, sales of Bar Keeper's Friend continued to rise, solidifying its position (behind Comet) as the country's number two powdered cleanser. Its continued success led to the launch of a new product, More foaming cleanser.
"A new product means nine months of money going out before the first money comes in," noted Selig. "But since we're allergic to debt, we want to fund R&D and pay ongoing bills without borrowing. Bankers ask if we want to borrow and we say no."
Being financially stable during tough economic times also made it possible to take advantage of depressed real estate prices. The company moved out of its 40-year-old overcrowded digs and into a new building in Pike Township.
"We are a very small company," Selig said. "Everyone is involved in a little of everything. This morning, I had a red pen out and was editing a product label. People who aren't comfortable with that, they don't do well here."•
Please enable JavaScript to view this content.