HONOREE, Private Companies (Revenue $100 million or less)
"To be honest," jokes Don Van der Wiel, "We're a niche within a niche … a technology-enabled business outsource provider. I don't even know what the hell that means."
He's talking about the jargon, not the company, which he clearly knows intimately.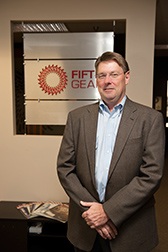 (IBJ Photo/Eric Learned)
Age: 53
Family: wife, Yvette; children Scott, 17, and Brooke, 14
Hometown: Jackson, Mich. (Although he spent more time growing up in Argentina, Iran, Ghana and elsewhere. "I've lived in Carmel for over eight years and that's the longest I've lived anywhere.")
Education: bachelor's, Northwestern University; MBA in finance, University of Michigan
Civic involvement: "Coaching virtually every school sport for my kids … without professing to know anything about any of them."
Hobbies: golf, tennis, keeping up with kids' activities
Since Van der Wiel joined Fifth Gear in 2010, revenue has increased 81 percent, from $28.4 million to $51.4 million, with profitability tripling. In the process, he's led the company's pay-down of $1.6 million in high-interest subordinated debt. He's helped secure new warehouse space, increased employee headcount (his duties also include overseeing HR), and merged three accounting systems into one.
So what exactly does Fifth Gear do?
"We are the backbone for an awful lot of e-commerce retailers, catalogers, and other companies that need to deliver product to end consumers," he said. "We help you design your website, handle transaction settlements to credit card providers, provide compliance so you won't go astray of the government. We'll store your product, communicate between website and warehouse, pack it, ship it, and provide customer care if something's lost or damaged."
Van der Wiel joined Fifth Gear accustomed to working for higher-name-recognition companies, including Sears and retailer Things Remembered. At the children's apparel retailer Carter's, he helped reverse a four-year decline in same-store sales. At HHGregg, he led the company's initial public offering.
At Buffet Holdings (parent company of Old Country Buffet and others), the results were less desirable.
"Oh god, I was a balloon," recalled Van der Wiel. "We had the advantage/disadvantage of free lunch. And I was just a drumstick shy of a man mountain. It was a lot healthier to leave."
At Fifth Gear, he serves—rather than works for—high-profile companies, including Foot Locker, Lands' End, Gymboree, and Johnston & Murphy.
"The role of finance in an organization tends to be limited toward numbers and accounting," he said. "But finance has to be well integrated into operations. Understand who your customer is. Understand what makes your employees happy. And balance the needs of your investors. When you reach an alliance between those three core constituencies, that's where companies excel and grow. The role of the finance guy is to make sure you are measuring your performance for each of those."
The key, he said, is to have the right data at the right time so you can craft solutions.
"We're developing our third generation of software right now," Van der Wiel said. "We've grown up with the direct-to-consumer industry. Now we're using our own software to drive our fulfillment operations. The direct-to-consumer niche is growing 15 to 20 percent a year, depending on who you listen to. So you have this natural growth and, on top of that, I think we have tremendous service solutions that are unique and differentiate us. I'm just excited. The sky's the limit for us."•
Please enable JavaScript to view this content.