TOP HONOREE, Private Companies (Revenue $100 million or more)
For Bart Shroyer, being CFO of a $400 million company has a lot to do with having a system. Or, rather, having many of them.
"We are a very systems-oriented company," he said. "Systems allow good people to do great things. For instance, in accounting, we have [a standard operating procedure] on how to close the books every month—a very detailed checklist. That's not because I don't trust, but because I want them to think about the system and make it better, not think, 'What do I have to do to close the books?'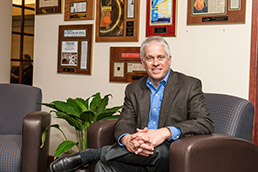 (IBJ Photo/Eric Learned)
Age: 45
Family: wife, Bonnie; daughters Abby, 17, and Katie, 15
Hometown: Mishawaka, Ind.
Education: bachelor's, Miami University in Ohio; MBA, Indiana University
Civic involvement: member of Zionsville United Methodist Church, volunteers with Habitat for Humanity, Make-A-Wish, Homes of Hope, and Shepherd Community Center
Hobbies: spending time with his family, traveling and reading
"We have 1,000 technicians around the country and they all have SOP on how to approach the door, where to park. So rather than think about those details, they can focus on the consumer."
His systems appear to be working. That $400 million in revenue was a mere $50 million when Shroyer joined Defender Direct, the nation's largest seller of ADT security systems. With more than 2,400 employees and 140 branches around the country, it has made Inc. Magazine's 500/5000 list of fastest-growing private companies every year since 2007, the year Shroyer came on board.
Before that, Shroyer spent time as a financial analyst for Intel and more than 10 years in various roles at First Indiana Bank.
"Intel was huge," he said. "What it took six months to get done out there takes about six hours at Defender. That's one of the things that really attracted me to the company."
He also appreciated that Defender was "very much about growing the self" through executive coaching and other practices.
"They recognized that working on yourself was one of the most important things you can do," he said.
"We teach everyone who comes in here. That doesn't mean taking off a 40-hour week and going off to work on self and not the company. It's more of a mind-set. It means continually reflecting on how you can get better and identifying what you need to learn. If something didn't go as planned, a lot of people look out a window to blame other people. But you need to look in a mirror instead."
When he joined the company, Shroyer found little structure on the financial side, despite its success. It was growing, but not as profitably as the owner would like. He found it fairly easy to identify the low-hanging fruit in the first year, including overhauling the accounting system, which was still using QuickBooks (and was the largest customer of that system).
"It was extremely slow and unwieldy," he recalled. "To post a transaction—one entry—was taking four to nine minutes to process. So the first thing I did was send out an RFP to identify what kind of system to go with and chose one. Most importantly, though, I identified a great controller to take over the accounting function."
The company, which initially focused entirely on home security systems, has branched out.
"Our focus is the residential home and so we looked at 30 items and identified [heating/ventilation/air conditioning]. Everyone has it. Everyone needs it. And the market had a lot of opportunities. We tested it in Cincinnati and Louisville and, by buying Williams Comfort Air, it became a major line of business for us."
Shroyer also created a system for the company's charitable work.
"For a long period of time, the owners gave to charity—even when they didn't make money," Shroyer said. "But it reached a point where they wanted to systematize it and asked me."
He created a team to explore how the company was giving and found that it was having a hard time engaging all the technicians around the country in charitable work. That led him to Habitat for Humanity.
"We created a nationwide program so that anyone could participate in builds using local relationships to help create a nationwide network for our employees," said Shroyer, who has also taken co-workers—on the company dime—and his family to build homes in Mexico through Youth with a Mission.
"Now the money follows where people's hearts are," he said proudly.•
 
Please enable JavaScript to view this content.