HONOREE, Private Companies (Revenue $100 million or more)
As CFO of Elwood staffing, Steve Hunnicutt's influence has been much more than temporary.

He's overseen eight acquisitions, doubling the company's footprint and its revenue. The achievement is even more remarkable considering that three of those acquisitions occurred in the difficult economic years from 2008 to 2010—when his industry contracted 37 percent. And he's kept the company profitable during every year of his tenure.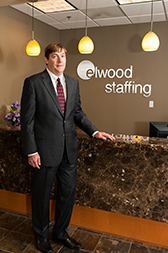 (IBJ Photo/Eric Learned)
Age: 40
Family: wife, Lori; daughters Morgan, 14, Lauren, 12, and Lindsey, 5
Hometown: Huntington, Ind. Education: bachelor's, Ball State University
Education: bachelor's, Ball State University
Civic involvement: treasurer for Terrace Lake Community Church in Columbus; board member and treasurer for New Song Mission, whose purpose is to rebuild the lives of orphaned, fatherless or impoverished children of Indiana
Hobbies: reading; outdoor activities such as camping, hiking, riding ATVs
Hunnicutt was recruited to serve as controller after working with an automotive-parts supplier as a business analyst. That previous employer had just gone through a merger, usually a volatile time.

"I thought it was not a bad idea to hear what these folks at Elwood had to say," Hunnicutt recalled. Liking what he heard, he joined the family-owned business in 2000.

At the time, Elwood had 11 locations. Now it offers more than 220 throughout the United States and parts of Canada, employing nearly 1,000 people while keeping 27,000 temporary associates busy with more than 6,000 clients.

"It was in a growth mode," understated Hunnicutt, who set policies for pricing, driving efficiencies, and building the financial side almost from the ground up."

New to the industry, he quickly learned what most people don't realize: "Most have the perception that staffing companies exist to recruit," he said. "But much more significantly, it involves not only selection and screening and recruitment but also, once hired, essentially shifting the risk to us. We are the employer of record. If we send someone to a site and they become injured, we bear the responsibility."

Manufacturing is still the primary area of placement for Elwood, but the company now works in distribution and logistics, oil and gas, and wind energy.

"As we've grown, so has our diversity," he said. And that's intentional. "We view it as a way to insulate against fluctuations that can hit one industry or geography. Diversity provides more stability."

While servicing clients is vital, Hunnicutt also understands the importance of keeping his massive employee base happy.

"In any given week, we could be paying 27,000 employees in 33 states and Canada. We worked hard to build a system to minimize the risk of errors knowing that that's not just a necessary business function but also important to employee satisfaction—which, in turn, helps us and our client companies."

An awareness of his talent pool is vital in acquisitions as well.

"It's tricky," he said. "There aren't tangible assets. There's an employee list and a customer list. When assessing a potential acquisition, you need to understand if the information presented is accurate, you have to uncover contractual or operation issues that would indicate that the relationship would not continue. Contracts tend to be short-term, so we need to provide superior customer service."

He noted the company's success in retaining those clients and employees.

"We need to excite them about coming on board. And we try to make sure we have best-in-class benefits for them."•