HONOREE, Private Companies (Revenue $100 million or more)
With an increase of 600 jobs, a 217-percent rise in revenue over the past four years, and the launch of Viva Movil—a chain of wireless retail stores targeted to the Hispanic market and promoted by Jennifer Lopez, Moorehead Communications (more familiar to the public as The Cellular Connection) is experiencing an exciting growth period.

And Chad Jensen, who was recruited into the company in 2009, is the man making sure the numbers add up.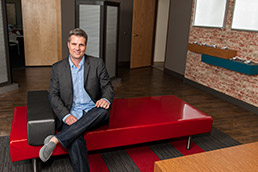 (IBJ Photo/Eric Learned)
Age: 38
Family: wife, Calhoun; daughters Chayse, 8, and Kate, 6
Hometown: Huntington, Ind.
Education: Indiana University Kelley School of Business graduate
Civic involvement: School Rocks Backpack Giveaway, coach for daughters' youth sports teams
Hobbies: softball
"I was looking to stay in Indiana," said Jensen, recalling the time his company, Lincoln Financial, was moving to Philadelphia. "My family is a huge part of my life. So I took a marker and a map and drew a circle around a 100-mile radius from Fort Wayne. I had good offers to move out West, but I was looking for a place that was not only good now but where I could remain ideally for the rest of my career."

He originally came to the company—the largest Verizon Wireless retailer in the United States—to take over accounting, finance and HR. A year later, IT was added to the mix.

The Viva Movil project has been three years in the making, with the first store launched in New York.

"It's definitely been a crash course in logistics," he said, referring not just to funding, tax law, policy implementation and economic forecasting, but "even the logistics of moving Jennifer around from one location to another."

It's too early to gauge the success of that venture—initially focused on New York, Miami and Los Angeles—but after the first quarter, Jensen expects to have a "decent barometer" indicating future moves.

As to the core Cellular Connection business, Jensen pays close attention to inventory and forecasting.

"We have a product that turns multiple times in a month," he said. "So we put very strong controls on inventory management. And a large portion of our cash comes from commission checks, so properly forecasting those is another important piece. Having a strong relationship with Verizon is also key. It's a great partner for us."

A core move in strengthening the company was closing a new credit facility with PNC Bank that kept intact a long-term relationship with Old National Bank.

"As we started talking to many different banks, many had grand plans that didn't include Old National," Jensen said. "But that was key to us."

Relationships are another in a set of keys for Jensen, both with vendors and clients outside the company as well as with staff within the office.

"We have one of the more unique office environments," he said. "It's very laid-back, but our expectations of each other are extremely high. It's a family atmosphere. People truly care about each other. That's really unique. Quite honestly, I get to work with some of my best friends. I feel lucky every day to be a part of this—to be able to take what we had and grow it. We work hard and we have a good time."•