HONOREE, Public Companies
Many CFOs can speak to the business value of time spent on the golf course. But James Anderson, CFO for MainSource Financial Group, got a different kind of education than most on the links.
"After working in public accounting, I wanted to get into something I liked," he said. So he moved out West to work for a golf course management team. "It vastly improved my game."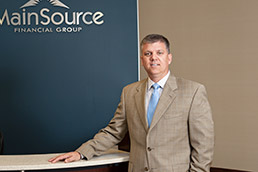 (IBJ Photo/Eric Learned)
Age: 42
Family: children Ethan, 13, Marigrace, 12, and Lucas, 10
Hometown: Lexington, Ky.
Education: bachelor's, Hanover College
Civic involvement: treasurer for Safe Passages shelter for battered and abused women
Hobbies: golfing, hiking, spicy cooking
But looking to raise his kids closer to his own roots, he returned, settling in Batesville. After getting to know the former CEO of MainSource, he joined the company as a corporate controller.
"I didn't have any banking experience," Anderson said. "He was looking for a fresh set of eyes—somebody who really didn't have preconceived notions." After six years, the banking newcomer impressed enough to be named CFO.
When Anderson arrived, MainSource was growing primarily through acquisitions.
"We had acquired smaller banks throughout Indiana, Ohio and Illinois. When I became CFO, we were trying to integrate a lot of those acquisitions."
Then came the downturn.
"We were not as prepared as some," he admits of the impact of the economic downturn. "When the economy tanked, we had our share of loan problems. So we spent a couple of years focusing on trying to clean up before moving forward."
The stigma of being part of TARP didn't help.
"At first, if you got TARP, it was a sign of health. The government was making an investment in you because you were going to come out of things," he explained. "The media got a hold of it and the perception became much more negative."
Still, Anderson managed to guide MainSource through it.
"We didn't have to go out and raise other money or take on additional debt," he said. "We have repaid it all through earnings. We just paid off the remaining piece in August." And, yes, there was an office celebration.
The process came with some difficult decision-making, including cutting $6 million through reduced head count as well as increased efficiencies, and renegotiating contracts with suppliers.
"We were turning over every rock to see where we could reduce expenses," Anderson said. "And it paid off." After hitting a low of $4.78, MainSource stock has recently traded in the $16 range.
He's happy to be out of the cleanup phase and focusing on growth, expanding to create larger presences in Indianapolis, Cincinnati and Louisville. He's also committed to holding on to his employees, not just through fun events like summer grill-outs but also through a quarterly internal call to talk with staff about company finances and performance.
"As companies get bigger, employees feel more removed and sometimes communication with upper management suffers," he said. "But you can't just be the numbers guy behind the desk."•
 
Please enable JavaScript to view this content.