The final piece of a complicated land-swap deal to clear the way for a $43 million apartment and retail development on Massachusetts Avenue might be falling into place.

Indianapolis Fire Department Credit Union officials are set to sign off this month on a deal with the city to build a facility on a vacant parcel on the west side of College Avenue, just north of Massachusetts and adjacent to the fire department's union hall.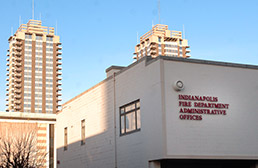 The fire department's credit union has been next to IFD headquarters on Mass Ave since 1979. (IBJ file photo)
The credit union operates independent of the fire department and, unlike the department, owns the property on which the current building sits at 501 N. New Jersey St., adjacent to IFD's headquarters.

The deal calls for the credit union to transfer ownership of its property to the city in exchange for the construction of a new credit union near Massachusetts and College avenues. The city telegraphed the credit union move with its purchase this month of a parking lot on College Avenue just north of the site that could house the branch.

The city's Metropolitan Development Commission on Dec. 4 approved spending $525,000 to purchase the lot at 846 N. College Ave. as part of the land swap, but officials would not say whether the site would be used as parking for a new branch just to the south or as home to the branch itself.

Indianapolis Public Schools owned the lot and had used it for overflow school bus parking from its bus depot across the street. But declining enrollment and fewer buses have made the lot expendable.

Mark Harvey, a credit union director who heads its redevelopment committee, declined to confirm the location until a deal is finalized. But he said the credit union considered joining the fire department's headquarters when it moves to the current local headquarters of the American Red Cross; that didn't work out.

"We're going to an alternative—a second option," he said.

The multi-step deal calls for IFD to take over the local headquarters of the American Red Cross at 441 E. 10th St.—about four blocks from the existing IFD complex at the intersection of Massachusetts, and North New Jersey and East North streets.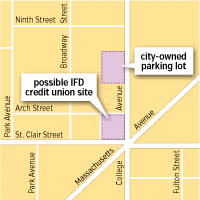 Meanwhile, the Red Cross is building a new headquarters at the former home of the Payton Wells car dealership at 1510 N. Meridian St. The dealership closed in 2007 and the flagship building was demolished in January.

The Red Cross also is demolishing a two-story building to the south at 1440 N. Meridian St., the former home of WXIN-TV Channel 59, which moved to Intech Park on the northwest side in late 2003.

The jockeying ultimately sets up construction of a five-story project with about 235 apartments and 40,000 square feet of commercial space on the 1.45-acre Mass Ave site vacated by the fire department and credit union.

City officials say the project, which will receive TIF revenue, will connect sections of Mass Ave and attract an influx of new residents. Real estate brokerage CBRE is working with the city to orchestrate the development and all its necessary juggling.

Deron Kintner, the city's deputy mayor of economic development, also declined to comment on the credit union's expected move.

"We have worked with the credit union to help them find a site that works best for their business going forward," he said. "And we're hopeful that process is nearing a conclusion."

The credit union prefers to stay relatively close to the fire department's headquarters, Harvey said.

In fact, the two have been on the same properties since the credit union opened in 1956. Then, it was at the old fire department headquarters and firehouse at New York and Alabama streets before moving to the Mass Ave site in 1979.•