First, there was Dawson's on Main, creating a viable dining option in Speedway, the enveloped town that is to Indianapolis what Vatican City is to Italy. Sort of. Suddenly, there existed a place where you could have a good business lunch practically in the shadow of the Indianapolis Motor Speedway. And that was good.
Then came Lino's, the coffeehouse in the Dallara IndyCar Factory where you could get a bolero (that's hot zabaglione custard mixed with espresso and sweetened with liquid sugar cane) with your Panini while feeling very European. And that was good, too.
Now, Speedway has attracted another new eatery. This one isn't a pioneer like Dawson's, and it doesn't offer the bold—for these parts—choices of Lino's. But what Barbecue and Bourbon (1414 Main St., Speedway, 241-6940) does do is down-home-enough cooking offered up in a comfortable bar that feels like it's been around for decades instead of months. Wander out back and you'll see the big-barreled smoker in action. Wander out front and the smell is substantial enough to qualify as an appetizer.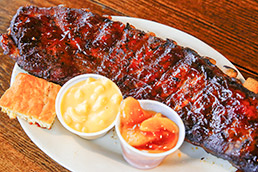 Ribs are among the down-home offerings emerging from the smoke at Barbecue and Bourbon. (IBJ Photo/ Aaron P. Bernstein)
Inside, surrounded by galvanized tin, yesteryear signs, and general roadhouse atmosphere, we started out a stick-your-fork-in-everyone-else-at-the-table's-food meal with a Sampler Platter ($9.99). Bypassing tenders, rib tips and stuffed jalapenos, we favored wings, skins and fried pickles. It was clear from the dry-rub on the wings that Barbecue and Bourbon isn't a place to go for heavy sauces (unless you add them yourself from squirters at your table). This is Memphis-style barbecue whose rubs will please some and rub others the wrong way.
Continuing the sampling idea, we ordered up a Create Your Own Platter, where the price begins at $13.99 for two meats, rises to $15.99 for three, and tops out at $17.99 for four, with all three options including a pair of sides. Pulled pork, beef brisket and particularly smoked sausage each held its own, but the onion rings proved an overly crunchy disappointment. The smoky baked beans that we picked as our second side made up for it.
A Half-slab Rib Dinner ($12.99 with two sides) wouldn't alone turn Barbecue and Bourbon into a destination restaurant or steal the crown from other long-standing leaders in the field here, but there was evident care taken on these meaty hand-rubbed, slow-smoked-over-hickory-and-oak bones.
Sandwiches come standard with chips and habanero onions. The Belly Buster Fish ($6.99) didn't quite warrant the "So big you won't believe it!" menu boast, but I'd take it over most bar fish sandwiches any day. Bud's Burger ($6.99), featuring a half-pound of ground beef, proved top-notch—although it seems, well, nickel and diming, to charge an extra nickel and dime for tomato, onion, lettuce or pickle.
As seems to be standard—but is still appreciated—there's a fleet of local beers on tap. But part of what differentiates this welcome newcomer is the second half of its name. You'll have two dozen or so bourbons to choose from. And, no, the cars across the street at Dallara or down the road at the IMS aren't available for designated drivers.•
–Lou Harry
__________
Second in a month-long series of new-in-2013 restaurants that we hadn't previously reviewed.
 
Please enable JavaScript to view this content.