When a phone rings at Connect2Help this time of year—as it does more than 1,000 times a day—odds are the caller will be asking about energy-assistance programs or looking for some holiday help.
Next will come a flood of inquiries about income-tax preparation, then questions about summer nutrition and child-care options. Fall brings requests for assistance with everything from required inoculations to school supplies.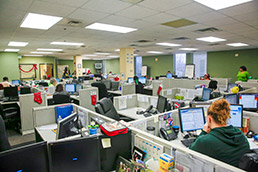 Connect2Help and other similar centers struggle to keep up with call volume because their budgets are too slim to hire more staff. (IBJ photo/Aaron P. Bernstein)
But the most heartbreaking calls can come any day, at any time. A mother and her baby need a safe place to flee an abusive home. A man wonders if his daughter would be better off with him dead.
Resource specialists at Indianapolis' 2-1-1 call center have no idea who will be on the other end of the line, so they must be prepared to handle it all.
They get plenty of practice. Open 24 hours a day, seven days a week, Indianapolis-based Connect2Help is the busiest of Indiana's 11 such centers, receiving more than 265,000 calls last year. Its volume ranks fifth nationally.

All told, the agency made nearly 584,000 free referrals in the year ended June 30, helping callers and visitors to Connect2Help.org navigate the often-confusing maze of government, community and faith-based services.
"We have a saying around here: 'Every phone call changes the world,' said Operations Director Shari Morgan. "If a family eats tonight because we helped them find a food pantry, the world is that much better than it was."
Still, she knows Connect2Help and other centers like it could do more. Tens of thousands of callers hang up before a specialist can answer, Morgan said, and it's hard to say how many get a busy signal when the Indianapolis center's 46 lines are in use.
Increasing capacity would require additional funding, a challenge for not-for-profits of all kinds. Indiana's 2-1-1 call centers rely almost entirely on philanthropic support. United Way of Central Indiana, for example, provides about half of Connect2Help's $1.9 million annual budget.
The Indiana 2-1-1 Partnership—a separate agency authorized by the Indiana Utility Regulatory Commission to develop, implement and oversee the referral network—has been trying for years to secure state funding for system costs such as telecommunications infrastructure, software licensing and quality assurance.
With lobbying help from the Indiana Association of United Ways, the partnership managed to get a $500,000 allocation into the House of Representatives' proposed 2013-2014 budget, but it did not survive the Senate.
Although some township trustees, county councils and city governments in Indiana have provided funding for 2-1-1 service in their communities, those payments have dropped as resources have become more limited, said Lucinda Nord, vice president of public policy at the state United Way association.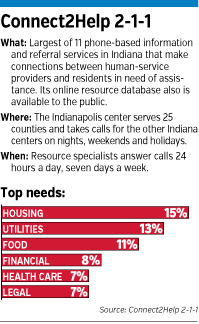 "A lot of [lawmakers] love 2-1-1, but there aren't many who champion it above everything else," she said. "No one is willing to fall on their sword for it."
At one point, 15 call centers operated throughout the state, but the numbers have dropped despite growing demand. Two northern Indiana centers will merge next month, leaving 10.
Technology nevertheless makes statewide coverage possible. Connect2Help's territory spans 25 counties, and an automated call distributor sends all of Indiana's calls on nights, weekends and holidays.
"We have eked out every efficiency you can imagine," Nord said of the state system.
Calls in Indiana increased about 73 percent from 2007 to 2011, according to research from Indiana University's School of Public and Environmental Affairs. Its study, released in January, looked at local government officials' awareness of and support for the referral service.
Most of those who knew about 2-1-1 thought it was useful and were willing to increase public funding, said IU professor Kirsten A. Gronbjerg. But the research team also made a surprising discovery:
Although centers were taking calls from about 80 percent of the state when the survey was conducted in 2010, about a third of the 360 respondents said the service was not available in their area. Almost as many didn't know if it was.
"A substantial number of local government officials were not aware of the service at all," Gronbjerg said.
The idea of a local clearinghouse for information about available resources isn't a new one. (Connect2Help can trace its roots back to 1924.) But the notion of having a universal, easy-to-remember phone number gained momentum in the late 1990s.
The United Way of Metropolitan Atlanta launched the national 2-1-1 movement in 1997, and the United Way of Connecticut soon followed suit. In 2000, the Federal Communications Commission set aside the three-digit number for community information and referrals. About 90 percent of the United States' population has access to 2-1-1 services, according to advocacy group 2-1-1 US.
In Indiana, United Way of Allen County took its first 2-1-1 call in 2003; Indianapolis' center opened in early 2004. Statewide coverage began this year, after the 2-1-1 Partnership won a contract to provide outreach for Indiana's Supplemental Nutritional Assistance Program.
Federal officials estimated only 73 percent of eligible residents received SNAP benefits, so now 2-1-1 resource specialists ask every caller about food stamps in addition to providing the requested help.
The funding that comes with such special initiatives helps, Nord said, but it's not enough. Counting local contributions, about $3.5 million is invested in the state's system now, she said. Advocates estimate it will take $6 million to $9 million a year to fully fund the program.
The network has suppressed demand by not aggressively marketing the service, Nord said, but needs keep growing.
"Call volumes are through the roof, hold times are longer, and people are hanging up," she said. "That's not good and we know that. It's a real challenge."
Morgan, the Connect2Help operations chief, called the hang-up numbers "terrifying," but said centers already are stretched thin. "We staff up to what the budget allows," she said.
Specialists are taught to take their time, listening carefully to each caller's situation and recommending the appropriate resources—and then some. They check that shelters have space available before making a referral, for example, and make sure callers know they need a picture ID at the food pantry. And they do it all with unending patience, also part of the 200-hour training regimen.•
Please enable JavaScript to view this content.