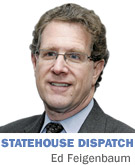 Given the Republican super-majorities in the Indiana Senate and House of Representatives in 2013, their large majorities in both chambers in 2011 and 2012, and a Republican in the Governor's Office, one could surmise that there might be little left on the legislative agenda in 2014, at least for Republicans.
But the hopper could be filled with more high-profile legislation than usual for a short session, even following three whirlwind years.
Intriguingly, many of the issues might not be entirely new to lawmakers, and the general rubric under which they might fall—rights versus responsibilities in many cases—are quite familiar, even to freshmen legislators.
Gov. Mike Pence is already making it clear that, as he continues his push to elevate the state "from good to great," he will focus on the fundamentals: continuing to lower taxes; improving education through charter school expansion and boosting career education; and finding ways to pay for maintaining, improving and expanding roads.
You'll hear specifics in his Jan. 14 State of the State address.
But the legislative majority has its own agenda, and it is not quite as focused as the governor's.
The elephant in the room, of course, is House Joint Resolution 6, which would define marriage as between one man and one woman in a constitutional amendment, enshrining the existing statutory definition.
If the resolution passes this session, it will be on the 2014 general election ballot, posing political uncertainty for candidates.
The resolution was pulled from the 2013 calendar by legislative leaders who didn't want to potentially derail other items as the U.S. Supreme Court ruled on related items. But after that trial separation, leaders have renewed their vows to let it walk down the aisle in 2014, pledging a civil ceremony.
Several high-profile Republican lawmakers who previously backed the resolution now express reservations, and poll results show a rapid transformation of public opinion on the issue. The fate of this emotional item—and its toll on the 10-week process—makes it impossible to ignore.
Other issues that have sparked high emotions in years past might return.
Some may be reintroduced in a pro forma way to keep them alive for 2015, such as major changes to Indiana's century-old framework of alcoholic beverage regulation (including Sunday sales and who may sell what types of package liquor), and gambling laws that worked well for two decades until Indiana faced out-of-state competition (including land-based gambling and live table games for racinos).
Others might pop up to begin future constructs for debate (such as with water resource management issues and early childhood education expansion similar to the 2013 low-income pilot proposal).
Lawmakers might seek to clean up past laws after experience exposed shortcomings. On education, look to charter and takeover school matters, the A-F school grading scale, student testing, school financing and Common Core standards, among others; the expungement law and criminal code revision items are other areas to monitor in 2014.
Matters where technology and events may have outpaced current laws might also arise (electronic cigarettes and who may purchase them and where they may be used, electronic currencies and campaign finance laws, and referenda campaign finance concerns).
Current events (such as Medicaid, the Healthy Indiana Program and state insurance high-risk pool extension) might also dictate adjustments.
Other issues will seem all too familiar.
Expect expansion of child care regulation to be a controversial topic; an interim study panel recommendation to allow a central Indiana mass transit referendum will be hotly debated between those envisioning it as an economic imperative and those perceiving it as an open-ended, expensive boondoggle devoid of sufficient front-end detail; and the Right to Farm and Hunt constitutional amendment will be wrapped up in a hot new "ag-gag" debate both philosophical (rights versus responsibilities) and practical in nature.
As interim panels toiled over the summer, public employee pension issues traversed a surprisingly bumpy road, and legislative intervention ("clarification") might be forthcoming.
Republican legislative leaders are keen on reducing or eliminating the business personal property tax, but no one seems to have a handle on replacing those revenues or on spending that can be cut to accommodate such an expensive move.
Meanwhile, Democrats are getting weary of tax cuts benefiting business while human services and education resources haven't kept pace in their estimation. There was lots of attention paid to veterans issues in the interim, but many of the ideas that flowed require cash.
The 2014 session brings Rep. Tom Dermody (R-LaPorte) to chair the House Committee on Public Policy, the home for legislation dealing with abortion, alcohol and gambling. His panel might also host HJR 6 debate, and Dermody is likely to be a bit more activist than his predecessor, another wild card to watch in what will be a more interesting than usual short session.•
__________
Feigenbaum publishes Indiana Legislative Insight. He can be reached at edf@ingrouponline.com.
 
Please enable JavaScript to view this content.