On the surface, you wouldn't think the Indianapolis Symphony Orchestra's "Yuletide Celebration" and NoExit Performance's edgy spin on "The Nutcracker" have much in common.
After all, "Yuletide Celebration" (running through Dec. 21 at Hilbert Circle Theatre) highlights songs of the season in a festive family atmosphere. Meanwhile, NoExit's "Nutcracker" (at the Irving Theatre through Dec. 21) rethinks the classic ballet as a fever dream that, very likely, could give nightmares to kids whose parents naively bring them along. Yuletide, in fact, was launched before some of NoExit's performers were born.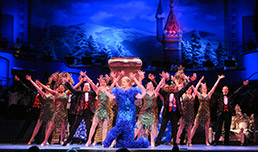 ISO's "Yuletide Celebration" (Photo courtesy of Indianapolis Symphony Orchestra)
Yet, if you look closely—as I did on the opening weekend of both—you find some striking similarities between the two entertaining Indianapolis holiday traditions.
For instance, both shows focus on a dynamic lead performer who directly addresses the audience and seems to change costume every time he or she walks off stage.
In the cast of "Yuletide," that's Christian music superstar Sandi Patty. In "Nutcracker," it's hunchbacked creepster Wolfgang Drosselmeyer (Ryan Mullins).
Both include dance highlights. In the case of "Yuletide," it's a tribe of Santas tap dancing to "Santa Baby." In the case of "Nutcracker," it's a tribe of gypsies gyrating suggestively to Firewater's "This is My Life."
In both shows, the audience gets to be part of the action. At "Yuletide," that means petting live reindeer outside the theater, taking photos with colorful characters in the lobby, and singing along with Patty and company to holiday favorites. At "Nutcracker," audience members toss unwanted objects at the actors, take bowing lessons from Drosselmeyer, and dodge cheese cubes thrown from the stage.
And both emphasize sparkle.
For "Yuletide," the costume crew seems to have spared no expense in decking Patty out in more light-reflecting materials than a major nighttime construction site.
In "Nutcracker," on the other hand, the most endearing character is named Sparkle (played by the show's director/conceiver Georgeanna Smith), who has a Harpo Marx-ish ability to evoke sympathy while causing trouble.
Still not convinced these shows have anything in common?
Well, both shows have strong supporting casts. The one at "Yuletide" includes the harmonizing great-grandchildren of Maria and Georg von Trapp. The supporting cast at "Nutcracker" includes pregnant Ginger (cross-dressed—and amply padded—Michael Burke), who is prone to singing whale songs, and, we assume, is carrying Drosselmeyer's child.
Speaking of which, both shows reference miraculous births. At the ISO, of course, the birth of Jesus is celebrated in passionate versions of "Mary Did You Know?" and "Silent Night." Meanwhile, NoExit's show includes the onstage birth, via Ginger, of an initially headless baby doll.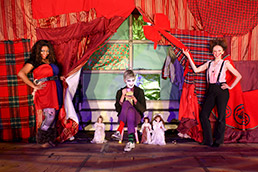 NoExit's "The Nutcracker"(Photo courtesy of NoExit)
I must add that both have moments when they feel derivative. This year's "Yuletide Celebration" takes elements from previous versions without bringing much new to the table. And "Nutcracker" features an ending that seems lifted directly from "Pippin." Both, too, could use a little more variety in the mix.
But both also have their distinct joys. And it says something positive that our town can make hits of the ISO's sugar-filled "Yuletide Celebration" as well as NoExit's heavily spiced "Nutcracker."•
__________
This column appears weekly. Send information on upcoming arts and entertainment events to lharry@ibj.com.
Please enable JavaScript to view this content.