A major supermarket chain is hoping to expand into the Indianapolis market, starting with an anchor position in a mixed-use project under construction in Carmel.
Pittsburgh-based Giant Eagle wants to build a 125,000-square-foot store at The Bridges development on 116th Street between Illinois Street and Springmill Road as the first of at least six stores in the market, local real estate brokers said. The chain's arrival would make it the first mainline grocer to enter the market in several years and would crowd an already competitive local grocery segment.
"The brokers that have been working with [Giant Eagle] have been looking at sites," said Frank Swiss, principal of local Swissco Real Estate. "I'm sure they would have proceeded earlier, but we're just coming out of this [economic] tsunami."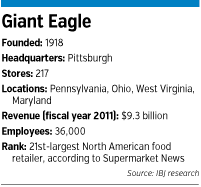 A spokesman for Giant Eagle said the company does not comment on potential deals until a lease is signed.
"Giant Eagle Inc. continually evaluates opportunities to bring our world-class shopping experiences to new customers with a focus on providing fresh foods, value and convenience," the spokesman wrote in an emailed statement.
By entering the Indianapolis market, Giant Eagle would mostly compete with traditional groceries operated by locally based Marsh Supermarkets and Cincinnati-based Kroger Co. But on a broader scale, the company's interest in Indianapolis illustrates the grocery industry's growing attraction to the market, particularly among the upscale sector.
Fletcher, N.C.-based Earth Fare, which has stores in Carmel and Noblesville, filed plans this month to renovate 25,000 square feet formerly occupied by OfficeMax at 2110 E. County Line Road on the city's south side.
Also on the south side, Phoenix-based startup Fresh Thyme Farmers Market said last month that it plans to rehab 30,000 square feet of space vacated by The Room Place at 8750 U.S. 31. Brokers say Fresh Thyme is also targeting space at 4225 E. 82nd St. near Keystone at the Crossing formerly occupied by a Lifestyle Family Fitness.
Developers of The Bridges may have preferred an upscale grocer as well.
Swiss, a broker for Greensboro, N.C.-based The Fresh Market, said his client declined an offer from developers after concluding The Bridges site would be too close to existing stores on East 146th Street in Carmel and North College Avenue in Broad Ripple. The Fresh Market opened a third store earlier this year in Fishers.
Giant Eagle ties to Kroger
T.M. Crowley & Associates and Gershman Partners are developing The Bridges' 62 acres along with Pittman Partners. Plans for the $100 million project call for 250,000 square feet of retail space, 500,000 square feet of office space, and 300 apartments.
Giant Eagle would join CVS at The Bridges, which would be Giant Eagle's first location in Indiana.
Founded in 1918, the private company has 217 stores in Pennsylvania, Ohio, West Virginia and Maryland. It has roughly 36,000 employees when counting its GetGo convenience stores and reported revenue of $9.3 billion in fiscal 2011, the most recent year available.
Expanding into Indiana seems like a stretch to supermarket analyst David J. Livingston, who said he's unaware of plans by Giant Eagle to compete in central Indiana.
"Indianapolis is a highly competitive market," he said. "And it's not like Indianapolis is some huge growth market."
On top of that, Giant Eagle might have trouble separating itself from Kroger because it "doesn't offer anything more compelling," Livingston said.
The two companies have historic ties. After three families founded Eagle Grocery in 1918 and grew the business to 125 stores, they sold to Kroger in 1928. Three years later, those same families combined forces with what was OK Grocery to form Giant Eagle, according to the company's website.
The publicly traded Kroger, meanwhile, has grown into the country's largest supermarket chain, with more than 2,400 stores nationwide. About 50 of those are in the Indianapolis area.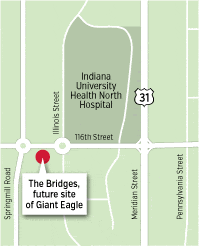 Kroger spent $72 million in 2012 on renovations in its central division–which includes more than 130 stores, mostly in Indiana and Illinois–to stay competitive and meet customer demands, according to a company report.
This year, it completed nearly $5 million in renovations to Indianapolis stores at 2629 E. 65th St. and at Linwood Square Shopping Center on East 10th Street.
Keeping pace with competitors is important but not a critical factor in the company's decision-making, Kroger spokesman John Elliott said.
"We don't worry about it, but we certainly pay attention to what our competitors are doing," he said. "When it comes down to it, the most important consideration is what our customers expect of us."
Walmart making play
Traditional grocers like Kroger and Marsh continue to get squeezed in the local market by big-box retailers such as Meijer, Target and Walmart, though Kroger seems to be holding its own.
Walmart is the largest grocer in the area, with a 31.8-percent share as of 2011, according to data from Chicago-based Stagnito Media, publisher of Progressive Grocer. No. 2 is Kroger at 28.5 percent. It's followed by Marsh at 12.9 percent, Meijer at 10.5, and Target at 2.3.
Arkansas-based Walmart, however, is stepping up its game in Indianapolis by offering consumers an alternative to its cavernous supercenters.
It opened its latest Neighborhood Market in September at 5835 W. 10th St, with plans to open two more next year, at 5607 N. Michigan Road and 131st Street and State Road 37 in Fishers.
All told, Walmart would have five Neighborhood Markets in the Indianapolis area. The other two are at 8010 E. 38th St. and 3805 S. Keystone Ave.
Neighborhood Markets measure about 40,000 square feet, roughly a third of the size of a typical Walmart Supercenter and closer in size to the specialty grocers.
Among the most aggressive specialty players is Whole Foods, which is in the process of expanding its Nora store and is in line to open a 33,500-square-foot store in a $25 million mixed-use project proposed in Broad Ripple.
In addition, Flaherty & Collins Properties hopes to attract a specialty grocer to the ground level of the 28-story tower it plans to build on part of the former home of Market Square Arena downtown.
Livingston, the supermarket analyst, cautions that the specialty sector might become overly saturated.
"At this point, it's kind of the me-too development," he said.•
Please enable JavaScript to view this content.