Not much rattles Laura Noblitt, but roundabouts make her short list.
An occupational therapist with 25 years of experience in geriatric rehabilitation, the Zionsville resident has spent half a decade riding shotgun with elderly drivers in central Indiana, determining whether it's safe for them to stay behind the wheel.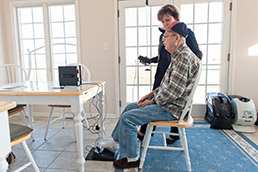 Laura Noblitt, working here with Joe Messick, conducted 250 driving assessments this year. Her goal is to come up with safety plans to keep seniors behind the wheel, but that's not always possible. (IBJ photo/Eric Learned)
Even the most skilled tend to have trouble with the increasingly popular traffic circles.
"I'd rather get on the interstate with someone," she said.
Luckily, navigating roundabouts is just one of more than 30 skills Noblitt evaluates during the hour-long road tests. And before she hands over the keys to her specially equipped car—which she can control from the passenger seat if necessary—she spends twice as long looking at things like her clients' cognitive abilities, medical conditions and physical limitations.
"If I feel like it will put them, other road users or myself in danger, we don't go out," said Noblitt, 57.
That's the point of her 5-year-old business, Senior Driving & Mobility Services LLC. She is one of fewer than 20 certified driver rehabilitation specialists active in Indiana, and the only one who focuses solely on older drivers.
It's a particularly vulnerable population. More than 5,500 seniors died and 214,000 were injured in vehicular accidents last year, according to the National Highway Traffic Safety Administration. Its research also shows that people over age 65 are at greater risk of dying or suffering serious injuries, even in relatively minor crashes.
And as baby boomers age—the number of seniors licensed to drive is expected to nearly double by 2030—keeping them safe is becoming an increasingly critical issue.
Case in point: The NHTSA this month rolled out a safety plan intended to help mitigate that risk and "keep older people safely mobile."
That is Noblitt's goal. Although she sometimes has to suggest clients "retire" from driving, her preference is to help them maintain their independence.
"I try to keep them on the road, if I can," she said.
Bev Coppinger is one of the lucky ones. The 78-year-old Indianapolis resident was referred to Noblitt after she and a passenger were injured in an accident in May. The incident totaled her car and dented her pride, but Noblitt got her back behind the wheel so she could keep a pet-sitting gig.
"It was huge for me and for my family. Everyone was really worried," Coppinger said, adding that her daughter and two sons were reassured by her acing the driving test. "It gave me confidence, and it gave them confidence."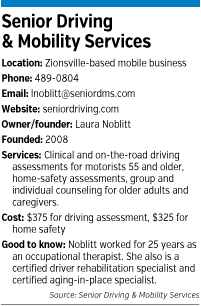 Noblitt's recommendations can run the gamut from green light to stop sign, with plenty of ground in between for restrictions like limiting driving to certain distances or conditions. She also can propose vehicle modifications designed to overcome shortcomings such as a reduced range of motion or muscle weakness.
"So many things can be done to keep people safer longer," said Andrea Vrobel, a certified driving rehab specialist who handles marketing at Indianapolis-based Superior Van and Mobility. "But the unfortunate reality is, some people have reached the point in time when they should retire from driving."
Noblitt visits clients in their homes, toting a red suitcase packed with the tools of her trade, including a computerized brake-reaction timer (complete with gas and brake pedals) that measures clients' responses when a table-top stoplight changes from green to red. She also brings a sophisticated vision scanner and a battery of written tests.
But the "gold standard" test is the on-road assessment, which starts in the client's neighborhood to ease some of the to-be-expected anxiety.
Keeping her right foot poised above the passenger-side brake, her left foot ready to hit the gas, and her left hand free to grab the wheel, Noblitt directs drivers on a route that typically includes destinations they frequent.
She evaluates their control over speed and steering, how smoothly they accelerate and brake, how well they navigate parking lots and, yes, roundabouts. If a client makes a mistake, she corrects him or her and offers a second chance.
Noblitt keeps a mental checklist of what went well and what went wrong—note-taking during the test can distract the driver—and shares her findings afterward, both orally and in writing.
"I try to really paint a picture, whether it's good, bad or indifferent," she said. "It helps the family, and even physicians, for me to be the middle person who comes in."
Although recommending that someone hang up the car keys for good is the hardest part of the job, Noblitt said she makes sure to educate those clients about alternative transportation options—"if they're still talking to me."
Her recommendations are not legally binding, but they're usually followed. Clients are told upfront that if they refuse to "retire" from driving, Noblitt will file a report with the Indiana Bureau of Motor Vehicles, which could take official action.
It doesn't come to that often, she said.
"Families are ready to take control at that point," she said.
Business is busiest from February to October, when the road conditions are less likely to be treacherous, but Noblitt said she also sees an uptick this time of year—after adult children have visited their parents for the holidays and begin to worry about their safety. Slow, steady growth has her on track to handle about 250 driving assessments this year.
During slow periods, she focuses on Senior Driving & Mobility's other service lines, including home-safety assessments. Noblitt, who also is a certified aging-in-place specialist, spends about 20 percent of her time on that segment of the business.
She'd like to build that part of the business, eventually doubling her staff by bringing on daughter Ann, an occupational therapist who now works in home health care.
But Noblitt's primary passion is helping elderly drivers, one way or the other.
"Supporting them and building their confidence to drive—that's a really, really good feeling," she said. "And being strong enough to say they're not safe, hopefully that will save some lives."
"It's hard to be the one who says someone must change their life so drastically."•
Please enable JavaScript to view this content.